This post may contain affiliate links. Please see my full disclosure policy for details.
Best Outdoor Water Toys : Need ideas for family fun in the sun this summer? Check out our best water toys for kids. Great ideas for birthday gifts and Easter basket fillers, too!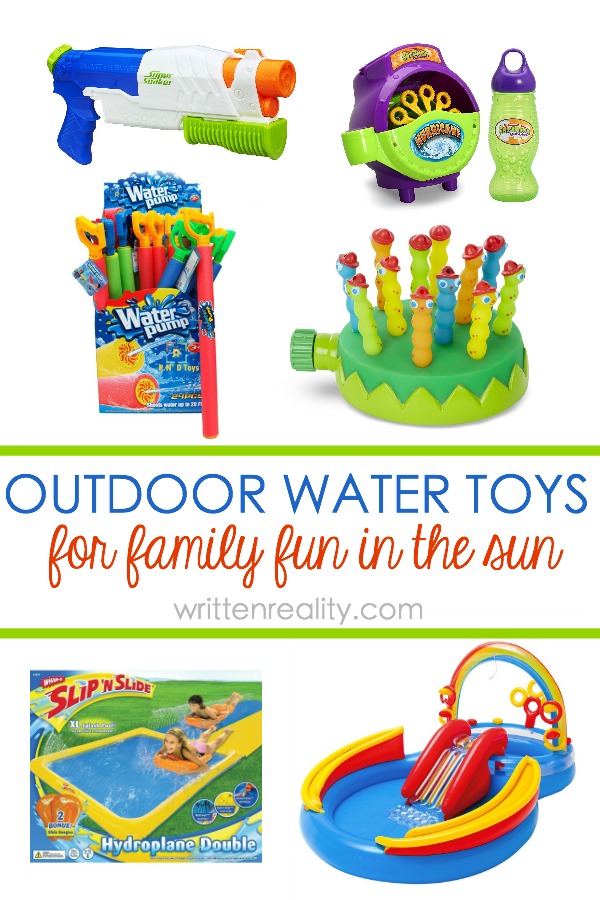 It's hot and humid where we live in the summer. That's why we love any sort of excuse to go swimming or splash around in a lake somewhere. Since we don't have a large pool, we find other ways to get wet while outside. Here are some of the best backyard water toys you'll find these year. They're great ideas to keep cool all summer long.
>>Check out our Best Beach Essentials, too!<<
Best Outdoor Water Toys
Kiddie Pool – Nothing cools us off on a hot summer day like a kiddie pool. They come in all sorts of fun colors and shapes. Some of them include super cool extras, like a water sprayer and a slide.
Little Tikes Wet & Dry First Slide with Slip Mat – I love this toddler slide with the slip mat. Simply attach your garden hose to spray the water, and it's hours of fun in the sun.
Slip N Slide Hydroplane Double with 2 Slide Boogies – The slip n' slide has come a long way since my childhood summers. This one has everything you need to keep the kids entertained. It includes 2 inflatable slide boogies for super easy sliding. Plus, there's an extra large splash pool at the end for more fun.
Melissa & Doug Sunny Patch Splash Patrol Sprinkler Toy – Who doesn't love to cool off with a run in the water sprinkler? This sprinkler toy makes the experience even more fun. It features 12 Splash Patrol characters that squirt water and is a great choice for the whole family, too.
Gazillion Bubble Hurricane Machine – Why not pull out this bubble machine, too? After all, you're already outside getting soaked from the water sprinkler. This one is a great idea for birthday gifts or even Easter basket ideas, too.
Nerf Super Soaker Scatterblast Blaster – Don't forget the water guns! Our boys have always loved a great water gun fight in our backyard. This one is great for all ages and is perfect for summer fun with teens and tweens.
>>Find more NERF GUN FUN here!<<
Blade Blaster Foam Water Gun Soaker – These water pumping soakers are great for family fun and outdoor parties. They can shoot up to 30 feet and are lightweight and easy to handle.
Other Topics You May Enjoy