This post may contain affiliate links. Please see my full disclosure policy for details.
These super easy apple desserts are filled with the apple flavors we love. A roundup of our 22 apple recipe favorites your family and friends will love, too.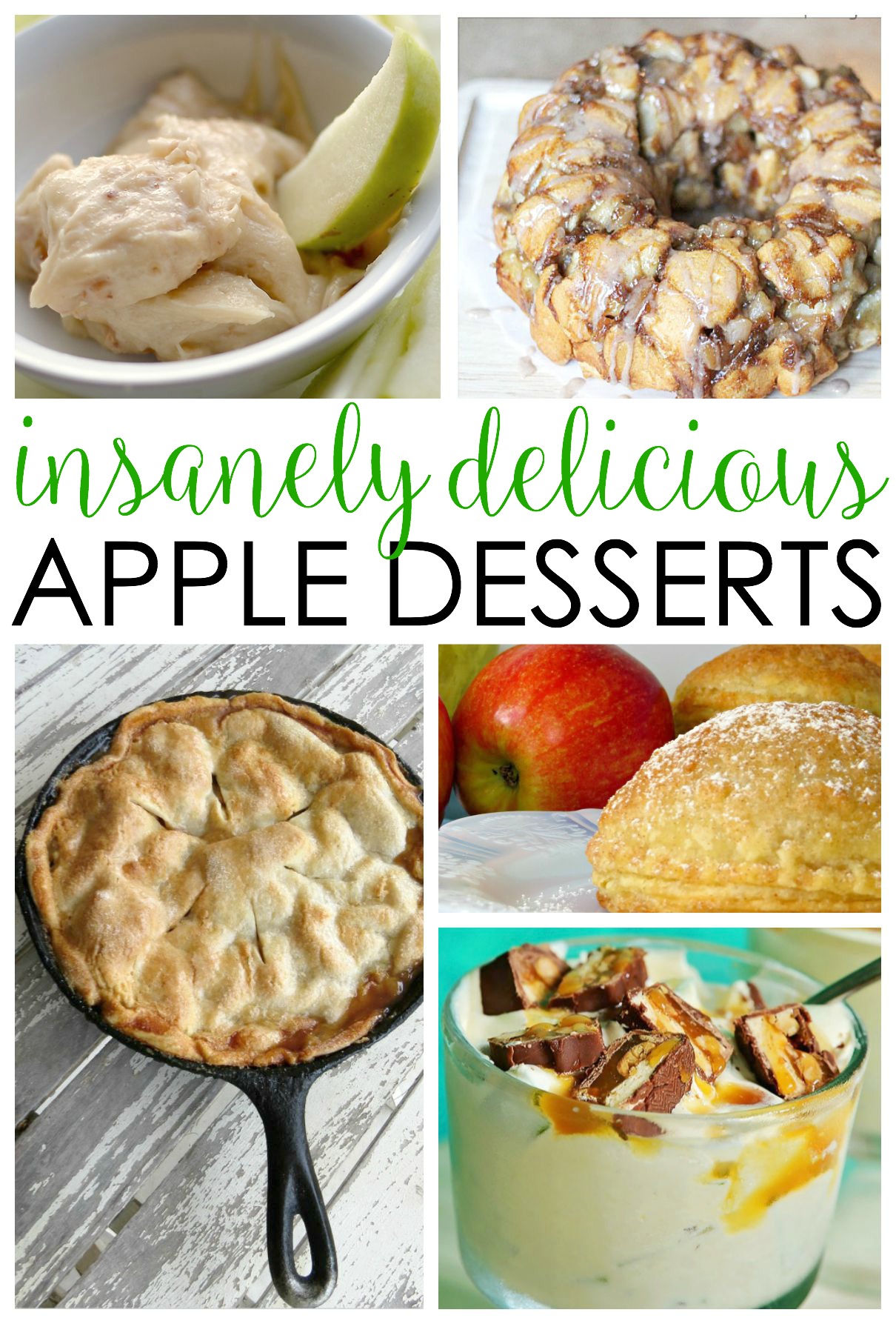 Insanely Delicious Apple Desserts Perfect for Fall Click To Tweet
Super Easy Apple Desserts
The perfect combination of apples, cinnamon, and tender biscuit pieces, Apple Pie Monkey Bread makes the perfect fall breakfast recipe for the whole family! –The Pinning Mama
Surprise your family with this Easy Skillet Apple Pie tonight! It's baked in a cast iron skillet for a sweet and flaky sugar and cinnamon crust.
Be prepared; this dip is addicting! –Whimsy&Hope
Buttermilk donuts with apple cider and cinnamon sugar.-A Grande Life
Who can resist the warm cinnamon apples surrounded by a flaky crust? That's why I love baking apple puffs. They're miniature apple pies that's just the right portion–and they are awesome served alongside a scoop of vanilla ice cream!
The flavors of fall cider in a slushie, Apple Cider Slushies are good for young and old. –Real The Kitchen and Beyond
Apple Oat Drop Biscuits pair well with everything. –Real The Kitchen and Beyond
Without a doubt. I love the tangy-ness of the granny smith apples and the sweetness of the snickers bars and caramel. –Whimsy&Hope

Looking for something extra to spice up your cheesecake recipe? Here's a quick and easy way to create one sweet and creamy cheesecake with a little extra crunch.
My winning Apple Pie recipe is based on 3 varieties of apples and a lattice top crust. –A Day in Candiland
Sharing this deeelish Apple Cinnamon Puff Pancake recipe with you because it is so tasty, easy and healthy! –Faith Filled Food For Moms
Serve these buttered pastries with a scoop of vanilla ice cream and a drizzle of caramel. So delicious!– Summer Scraps
Salted Caramel Apples are messy to make but they sure do taste yummy at the end! – Stockpiling Moms
A big batch of Apple Chips is the perfect crunchy and healthy snack for kids to take on the road.- Living Sweet Moments
Go and make this smoothie. It literally tastes like apple pie. It is so refreshing and super easy to make.- Eat Good 4 Life
I love all the versatility of this salad yet how well it all comes together. You get so many different textures and flavors but each one complements the other. – Cooking Classy
So light and chewy, and very easy to make too! They have the same texture as our favorite store bought granola bars, without any weird ingredients. – Lovely Little Kitchen
These Apple Butter Snickerdoodles are a sweet Fall twist on an old favorite cookie! – Crazy For Crust
Very simple to make and are perfect as a stand alone treat or over a scoop of vanilla bean ice cream. –Budget Savvy Diva
Apple Pie Popsicles, a blend of two of my favorite desserts! Easy, fun, and delicious! – The Cookie Rookie
If you're looking some new quick desserts, these Two Bite Apple Pies are perfect! They're easy to make and easier to eat!- It Is A Keeper
This Apple Peanut Butter Snack Cake is easy to make and the perfect dessert or snack! – It Is A Keeper

Other Topics You May Enjoy