This post may contain affiliate links. Please see my full disclosure policy for details.
Welcome to another week of Motivation Monday!
Each week, bloggers from everywhere share inspirational, DIY project ideas, recipes, and other fun posts by linking up right here. After that, their posts are shared on 6 sites– that means, when YOU share, your posts will have 6 TIMES the exposure that will then be pinned, tweeted, and posted by many of their followers, too!
Here's a list of all our hosts. Be sure to link up, check out their post favorites, and follow their networks:
Follow the Motivation Monday Hosts
Facebook | G+ | Pinterest | Instagram | Twitter
Facebook | G+ | Pinterest | Instagram | Twitter
Facebook | G+ | Pinterest | Twitter
Facebook | G+ | Pinterest | Twitter
Facebook | G+ | Instagram | Twitter
Facebook | G+ | Pinterest | Twitter
Features

Barb- A Life in Balance
1. Don't Harden Your Heart | Faith Filled Food For Moms
2. 5 Tips for Handling Your Child's Food Obsessions | Crowe About Farm
Mitzi- Written Reality
3. Cheesy Mummy Hot Dogs | Raining Hot Coupons
4. Homemade Baby Toys | Little House Living
Lauryn- A Vintage Mom
5. 6 Fantastic Flowers to Plant in your Fall Garden | The Farm Girl Gabs
6. Homemade Apple Cinnamon Bars | Mommie and Wee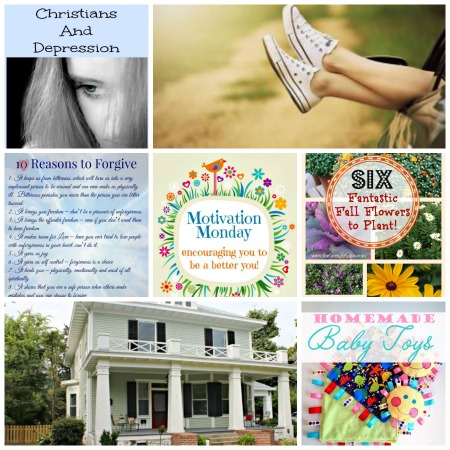 Katie- Mom Favorite
7. Crock Pot Stuffed Peppers | Daily Leisure
8. Copycat Chick Fil A Chicken Nuggets and Sauce Recipe | Cincy Shopper
Marie- Normal Everyday Life
9. Proud Momma Here | Starting Over… Again
10. The Exterior Gets Some Love Part 1 | 702 Park Project
Toni- Tickles and Time Outs
11. Christians and Depression How Can Your Help | Satisfaction Through Christ
12. Pumpkin Pie Dip | Nepa Mom
Never Miss a Post