This post may contain affiliate links. Please see my full disclosure policy for details.
Are you feeling a little discouraged?
Or maybe you need a little boost of inspiration to plow through your busy day. Today, be encouraged!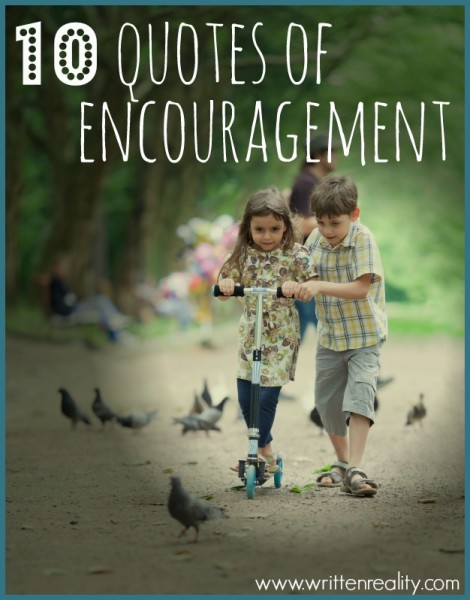 10 Quotes of Encouragement:
#1 [Tweet "In the middle of every difficulty lies opportunity.— Albert Einstein"]
#2 What then shall we say to these things? If God is for us, who can be against us? —Romans 8:31
#3 Never give up, for that is just the place and time that the tide will turn.–Harriet Beecher Stowe
#4 [Tweet "Of one thing I am perfectly sure: God's story never ends with 'ashes'― Elisabeth Elliot"]
#5 I have set the LORD always before me; because he is at my right hand, I shall not be shaken.—Psalm 16:8
#6 [Tweet "Never be afraid to trust an unknown future to a known God.—Corrie ten Boom"]
#7 In order to succeed, your desire for success should be greater than your fear of failure. – Bill Cosby
#8 Believers, look up – take courage. The angels are nearer than you think.—Billy Graham
#9 We gain strength, and courage, and confidence by each experience in which we really stop to look fear in the face…we must do that which we think we cannot.–Eleanor Roosevelt
#10 For I am sure that neither death nor life, nor angels nor rulers, nor things present nor things to come, nor powers, nor height nor depth, nor anything else in all creation, will be able to separate us from the love of God in Christ Jesus our Lord.—Romans 8:38-39
What about you?
What encouraging quote or scripture have you held to?
Who else needs encouragement?
Share these encouraging quotes with someone else who may need them today!
a little encouragement goes a long way