This post may contain affiliate links. Please see my full disclosure policy for details.
Need help believing? Here's how to trust God and run with the truth of His word.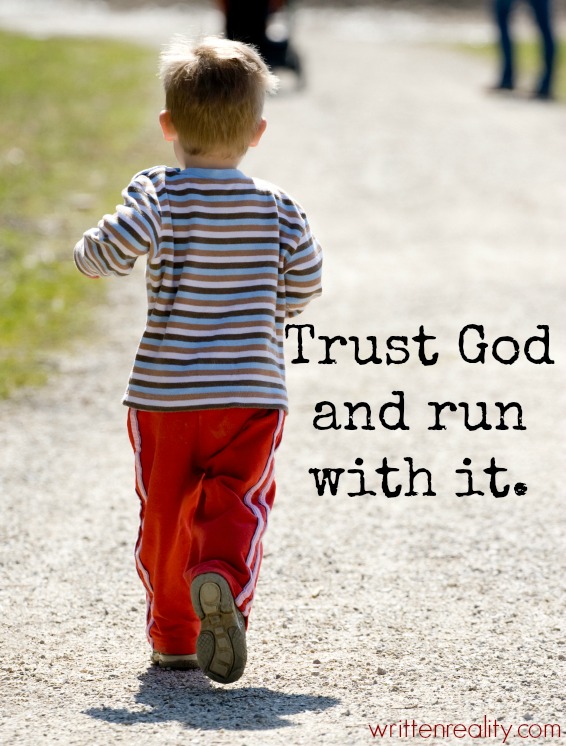 How to Trust God
Who else feels like a fraud?
We want to believe God for who He says He is. We want to stand on the Word of God, surrender our plans, and let Him take the lead.
But then there's the everyday living that gets us. When the world doesn't fit in our textbook scenarios and our loved ones let us down, or walk out, or surprise us with a whole new character that we can't understand. That's when those questions crowd us and we react in the craziest of ways.
It's one thing to claim the truth. But to run with the truth requires a completely new reality.
Trust the Word of God and Run With It
Life's too messy to walk through it with uncertainty. There are too many opinions and persuasions that will try to hitch a ride on our backs–to either confuse us enough to keep us standing in the same place or distort the truth enough to lead us in a different direction.
And the LORD answered me: Write the vision; make it plain on tablets, so he may run who reads it. Habakkuk 2:2
Reality requires running the distance where we not only live by faith, but we love by faith and forgive by faith, and even grieve by faith.
There's a great gap between our belief in God and our living our lives believing Him. God can do what He promises He can do. We set the pace for how far He's allowed to go. Oftentimes, we question God and complain that He doesn't hear us or answer when we're praying. We are easily confused by what others say about scripture or we start wondering how God's word even fits within our modern day lives or in what we believe to be different circumstances today. The reality it, God doesn't change. That's the rest of us. God is constant and consistent and continues to love us like no one else.
The problem is within our own priorities and how we're living on a daily basis. If we aren't praying daily or taking moments to sit still and listen, how will know when God's speaking? If we aren't reading His Word on a regular basis, how will know the truth and recognize when someone else distorts what God wants us to know?
I trust the Word of God, so I want to run with it.
I want to be focused enough on His promises to keep the pace and move forward.I want to be wrapped so tight in His truth that it's impossible to separate Him from any other part of me. But to do that, I have to live it. I must set my time with God as a priority over everything else.
I choose how I spend my time daily. I make the chose of where I'll go, what I'll spend time reading, watching, and the words I'll choose to internalize and continue to listen to over and over again. And what I choose to take in today will make such a difference in what I believe about myself tomorrow.
Trust God and run with it.
Click To Tweet
Other Topics You May Enjoy