This post may contain affiliate links. Please see my full disclosure policy for details.
Today take comfort in God's Word. 1 Corinthians 16:13 remind us to be strong and brave, and to always stand on God's truth.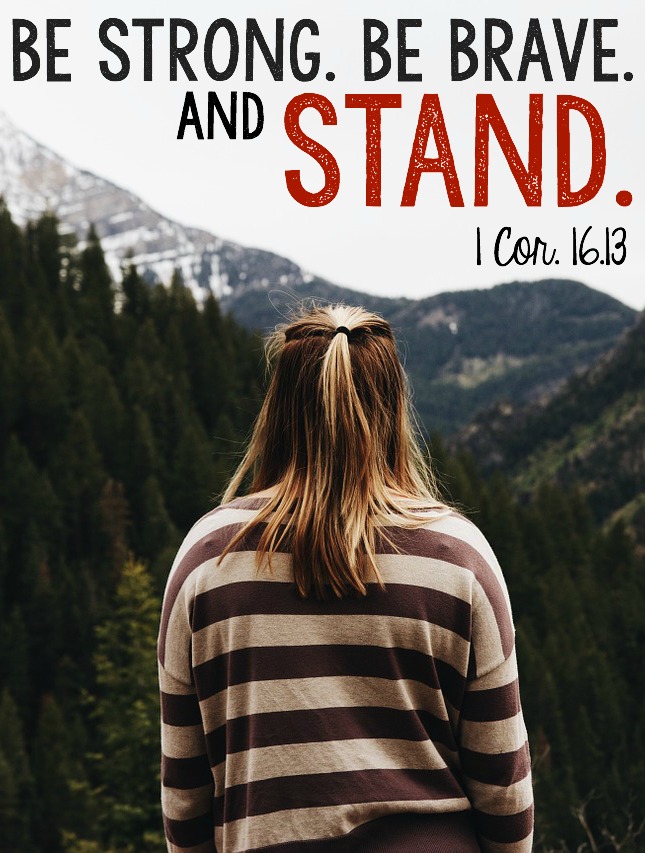 One of the simplest memorials, yet most profound, is inscribed on the monument of Lord Lawrence at Westminster Abbey. Along with his name and the date of his death, the inscription reads, "He feared man so little because He feared God so much."
Find courage in your Creator
Today: Be Strong, Be Brave, and Stand.
"Watch, stand fast in the faith, be brave, be strong." 1 Corinthians 16:13
Watch— find courage in your Creator by rising from the ashes. Courage arises when we arise. We awaken to His calling and guard ourselves with His Truth.
Be Strong—We exchange our own mortality and weaknesses for His strength and incorruptible life.
Be Brave–-Our courage will never come from knowing all the answers. Instead, courage comes when we offer our own frailty in exchange for His promises.
Stand Fast in the Faith—Our faith grounds us. Fixed in the faith of His Truth, we can overcome any obstacle.
Are you worried?
weak?
or troubled?
Today, find courage in your Creator. Be strong. Be brave. And stand.
Courage comes from the One who holds the answer. Today, be strong, be brave, and take a stand. #1Cor.16:13
Click To Tweet
Interested in Bible Journaling? Check out how to get started.
Other Topics You May Enjoy