This post may contain affiliate links. Please see my full disclosure policy for details.
Bible Journaling Supplies : Looking for ways to expand your Bible journaling art? Or maybe you are just beginning your Bible journal and need help getting stared. Here are the basic Bible journaling supplies to get you started and a few creative tips and ideas to help you with your journaling, too.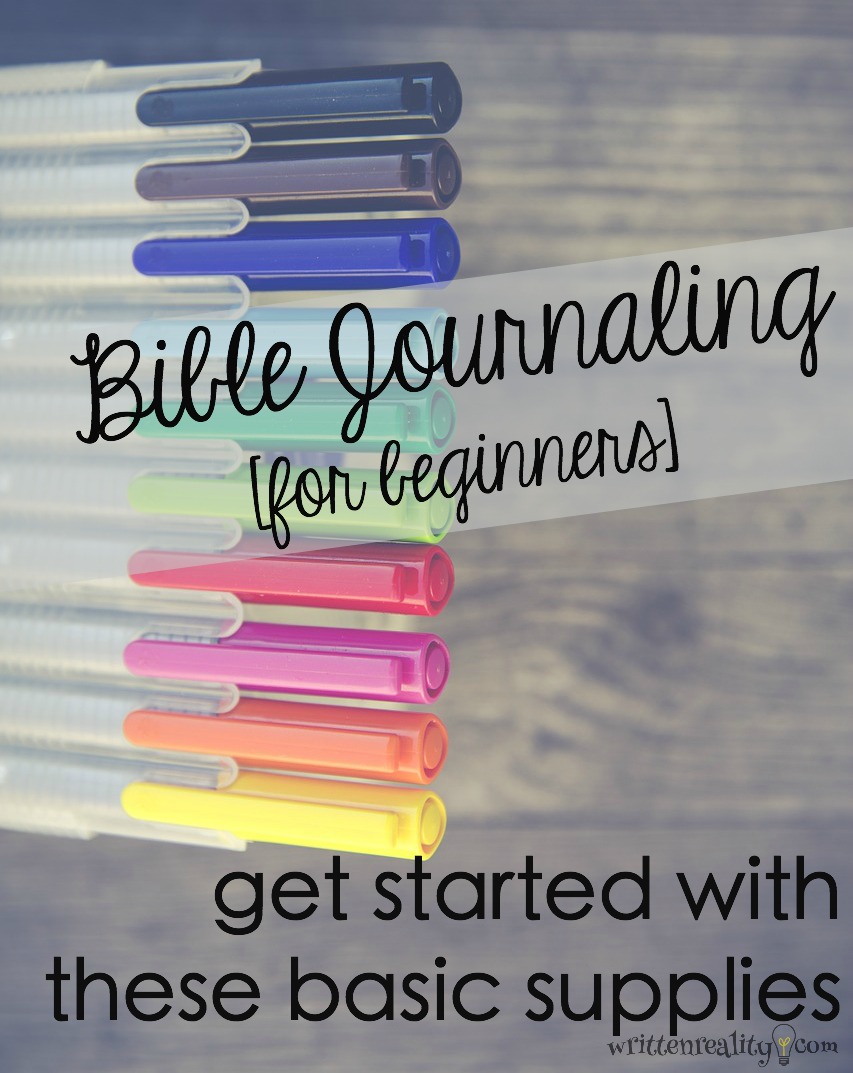 If you read my previous post on the basics of Bible journaling, you already know how much I love words and writing. Even more than that, I love God's Word. There is nothing that has changed me more than the Bible. There is no better way to start your morning than reading the truth of God's Word and listening to what God has to say to us personally.
>>50 Awesome Reasons to Read the Bible<<
That's why I am in love with Bible journaling. It has been such a wonderful way to help me dig deeper into Scripture and focus on what God is teaching me. Bible journaling is such a personal experience and a powerful one. It's a great way to express your creativity while absorbing God's truth to really understand each passage so that you can remember it and apply it throughout the rest of your day.
If you've never tried Bible journaling, I'm so happy you found this page. Chances are, you clicked over to this post because you are already interested in Bible journaling and you're looking for the best tools of the Bible journaling trade. Good news! You only need pen and paper to get started journaling.
However, if you've already tested the waters a bit and want to get a little more creative, I've got a few supplies that are perfect for Bible journaling. So if you are interested in experimenting with other Bible journaling art techniques, here are a few basic Bible journaling supplies to get you started.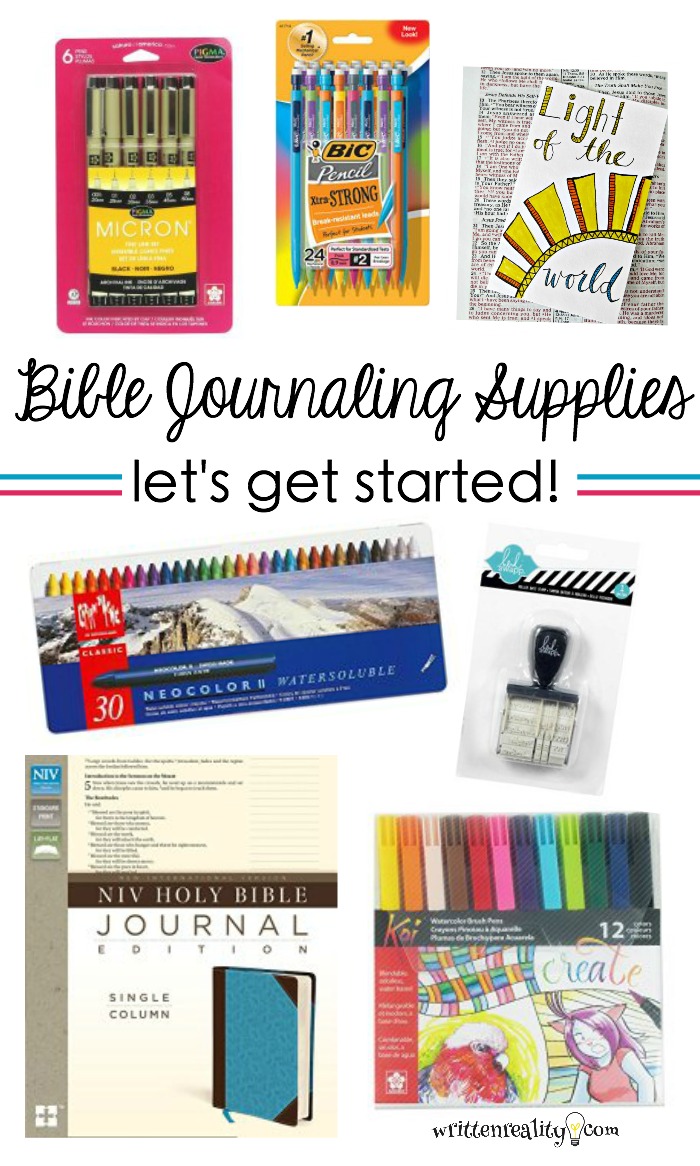 Bible Journaling Supplies
For years, I've kept simple notebooks as my companion for Bible journaling, but now that I enjoy doing more creative expressions as well, I'm really enjoying this Bible that was created specifically for journaling in its margins. With wide margins on each side of every page, there is plenty of space to jot thoughts and express yourself as you study the Bible. This is the one I chose, but there are other options, so be sure to check out some others in your favorite translation, too.
I love the Micron pens and use them every single time I journal. They write smooth without bleeding through the page, which is what you need for Bible journaling, since the pages of the Bible can be so thin. I love the thickness of the Micron 05, but I also use the Micron 03 and even the Micron 01 when I need a really thin line. My son uses these in his art classes at school as well, so I think they're pretty much standard as a go-to favorite for all sorts of artists, too.
I like to sort of plan out what I'm going to write with a pencil before committing to anything in pen.
Here's something I learned quick: The right pencil is a must-have. I love a good #2 pencil. It's like something I always have handy and, for some reason, I love to write with a #2 pencil more than anything else. However, when I began Bible journaling, I read that you really needed to use a mechanical pencil for its precision. With that advice, I went out and purchased a couple of cheap mechanical pencils and let me say, I made a mess of it.
The points were way too sharp for my thin Bible pages. And, even worse, the lead in those things were so fragile that I kept breaking them and wasting lead all over the place. I actually went back to just using a simple #2 pencil after that and the Bic Xtra-Strong (pictured above) is the only mechanical pencil I am comfortable using for Bible journaling because they don't break so easily. All of that broken lead just drives me crazy.
Just like a basic #2 pencil, I have always kept a few of those classic pink bar-type erasers on hand, too. However, if you don't like all those eraser crumbles all over the place, the Staedler Mars eraser is awesome. It's a great eraser when you're working with art supplies.
Bible Journaling Supplies to get you started! Click To Tweet
Some may think colored pencils are too basic for Bible journaling, but I love them and I think I like the Crayola Twistables better than anything else. They keep a great point for coloring in those little spaces, and since I like coloring in my chunky lettering, they are perfect.
I am constantly pinning Bible journaling pages, and I've noticed watercoloring supplies have become super popular. So, of course, I had to try my hand at some watercoloring in my Bible journal, too. I decided to start with the watercolor crayons since I already loved crayon pencils. I found this set of Neocolor Water-soluble Crayons in a pack of 30 that are just beautiful! The crayons go on smooth and look great just as a basic color, but when you add a little water, it really pulls out the color to create a vibrant, smooth look that I really love. Just make sure you get the water-soluble version because they have a variety of crayons to choose from.
And, be sure to play around with these watercolor supplies before using them in your Bible journal until you are comfortable with how to apply them and how much water you need with each application, too. It does require some time to play with until you get the right consistency, but boy do I LOVE these crayons. They just have this special consistency and such vibrant colors. It really makes your journaling pop.
I never, in a million years, thought I would ever use markers in my Bible. I mean, yes, I use highlighters, but markers bleed all over the place. So I really didn't think markers could be used for any sort of creative embellishing on such thin pages. I am so glad I was wrong and tried the Koi Brush Pens. These are my all-time favorites for adding color to my Bible journaling pages.
I have the 12-piece set, but I hope to purchase another set soon, because I want more colors. They have great brush tips and they go on just like a paint would. Of course, try them out on something first before adding to your Bible journal. But I suggest giving these beautiful colors a try.
I haven't used many embellishments yet in my own personal Bible journal, but I have bought a few things and I think they are great to add a little fun to your pages. I did pick up a stamp pad and date stamp that I am in love with, though. My date stamp is the Heidi Swapp and I love it because it stamps in a fun cursive font that goes well with my journaling style.
If you aren't comfortable writing and drawing all over the pages within your Bible, there are plenty of fun notebooks and journals to use instead. I've found these two notebooks that I think would make a great companion for Bible journaling where you can record your thoughts, prayers, and responses to God's Word.
These are not Bibles, but leather-bound journals that work well for journaling and Bible study.
Other Topics You May Enjoy