This post may contain affiliate links. Please see my full disclosure policy for details.
Reasons to Read the Bible : Are you struggling in your Bible study and wondering if it's even worth the try? Here's why you should read the Bible. Check out these 50 awesome reasons to read the Bible.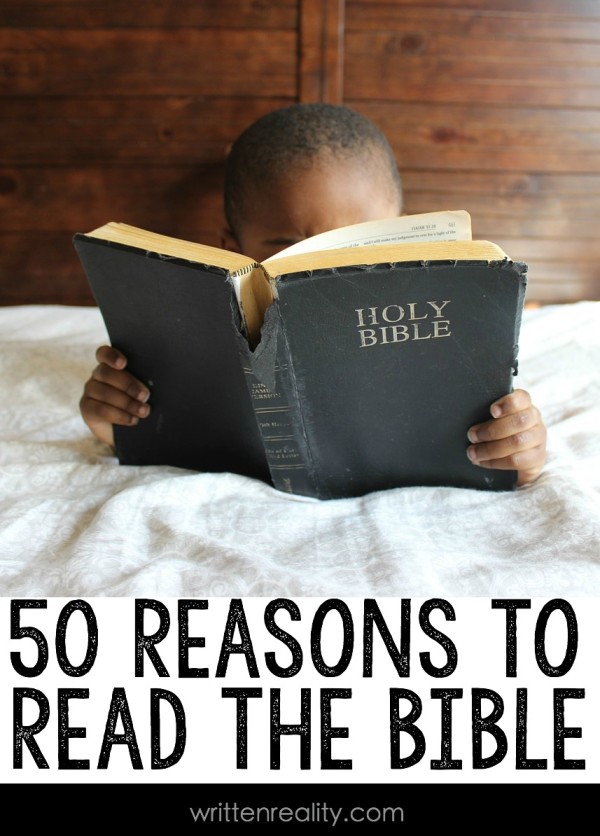 Changes. So often I make a go of it on my own. And so often I fall on my face and fail. If only I'd started with the Truth in the first place. How much more could I have accomplished?
For me, God's Word is my filter for everything else. It keeps me focused on what's most important when I could so easily drown in the daily of it all. It teaches me mercy and forgiveness and how to push ahead and move forward, reminding me that He has created me with a special purpose and that all I need can be found within Him.
Need help with parenting? finances? relationships? Are you trying to kick a bad habit or figure out how to free yourself of debt or live a healthier lifestyle? God's Word has the answer. Here are 50 awesome reasons to read the Bible.
10 Bible Verses Every Christian Should Know By Heart
You can also print out your own copy of these awesome reasons why you should read the Bible. Just click this link: 50 Reasons Read the Bible Printable and attach the reasons to your fridge or place in a binder to celebrate God's Word everyday.
50 Reasons to Read the Bible
teaches forgiveness
brings me joy
provides clarity
opens my eyes
directs my steps
demonstrates love
teaches mercy
gives me strength
blesses
counsels
revives
gives me courage
sheds light in the dark
breathes life into that which was dead
heals my body
delivers me from evil
offers a better solution
shows the better way
transforms
keeps me focused
pushes me forward
guards my thoughts
fights temptation
provides peace
builds better relationships
provides a greater perspective
empowers
changes my outlook
fills my mind with affirmations
gives me confidence
reminds me who I am
feeds my soul
sets me free from deceits
satisfies my thirst
organizes my priorities
motivates me to help others
relieves stress
exchanges my guilt for His grace
helps me conquer addictions
helps me maintain a healthy lifestyle
teaches me stewardship
keeps me out of debt
helps me discover my purpose
equips me to live out my purpose
settles my anxieties
arms me with truth
strengthens my relationship with God
preserves
protects
and pleases God
Ready for a change? Remember these 50 reasons to read the Bible and be encouraged. God is who He says He is and God offers the truth of His Word to accomplish His purpose within us. As you dig deeper into reading the Bible and studying, you may want to try Bible journaling. It's a great way to get creative as you spend more time with God while learning the truth of His Word.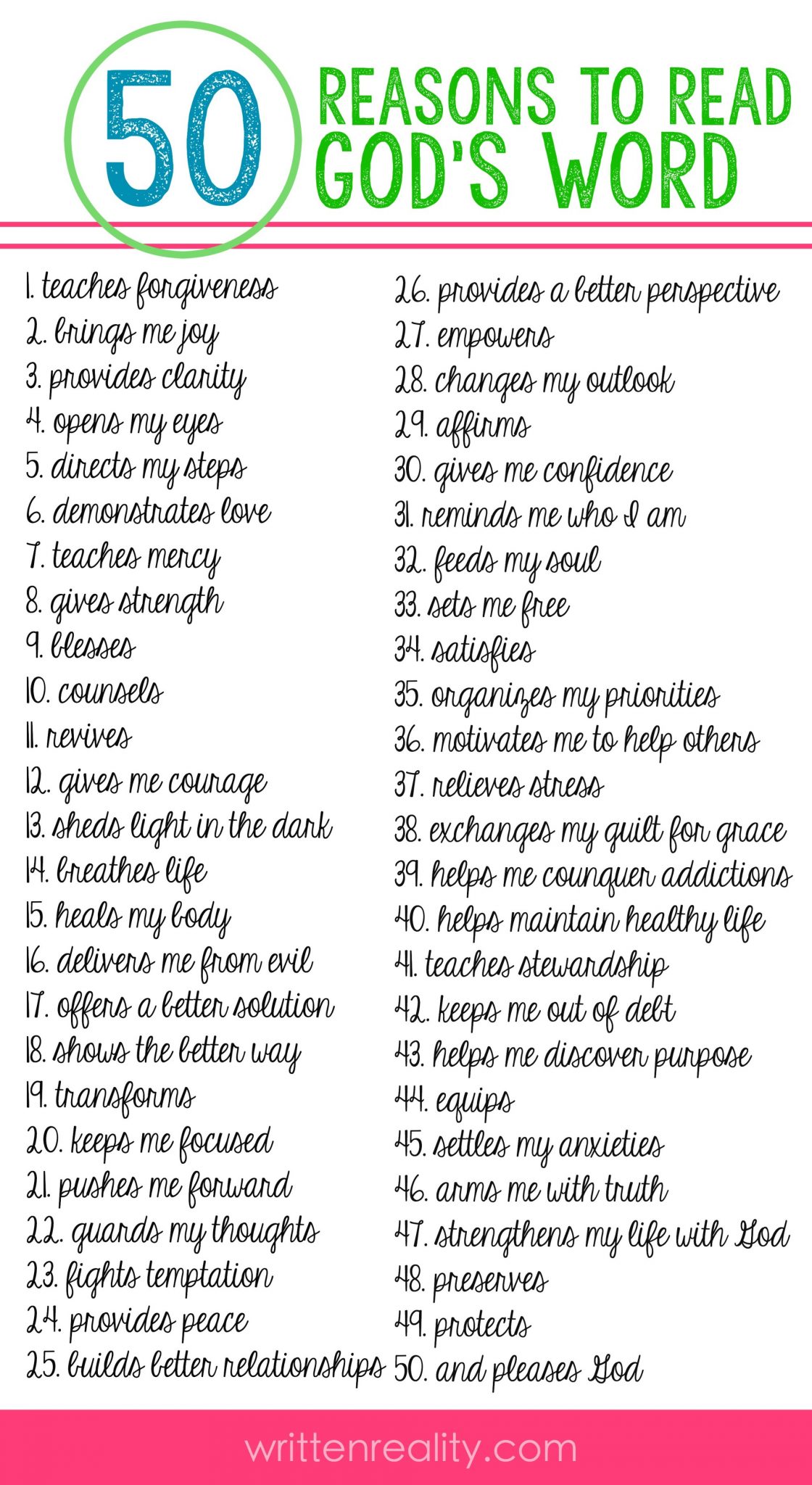 All Scripture is given by inspiration of God, and is profitable for doctrine, for reproof, for correction, for instruction in righteousness, that the man of God may be complete, thoroughly equipped for every good work. 2Timothy 3:16-17
Reading God's Word changes everything else. Click To Tweet

Other Topics You May Enjoy