This post may contain affiliate links. Please see my full disclosure policy for details.
Bible Journaling Beginners : Looking for a new way to study the Bible and memorize Scripture? Discover the basics of Bible journaling and learn how to study Scripture in a powerful, life-changing way. Here's my Bible Journaling Beginners version to give you a quick jumpstart.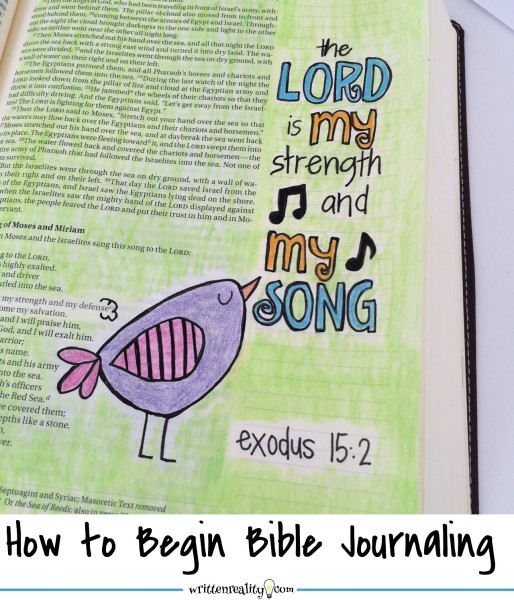 I've been a writer for as long as I could hold a pencil. Being a girl who loved her books and every type of school supply, journaling was sort of an automatic response to everything. I've filled diaries and notebooks with my thoughts and reflections for years as an attempt to make sense of the world around me and, more than that, make sense of myself and where I belong.
However, Bible journaling digs much deeper than your everyday journaling or keeping a diary. Bible journaling makes a miraculous connection between my words and God's Word, and provides an ever-changing process where I'm always interacting with Scripture in fresh new ways.
Regardless of how well you write or your level of artistic ability, your own desire to dig deeper into Bible study is all you need to accomplish your goals and make your Bible journaling journey a true success.
>>50 Awesome Reasons to Read the Bible<<
Bible Journaling Beginners Version
What is Bible Journaling?
Bible journaling is a powerful spiritual discipline to help you interact with Scripture and make connections between the truth of God's Word and your everyday life.
It takes daily Bible reading and Scripture study to a whole new level where you spend quality time meditating on individual Bible passages, learning to listen to God's voice, and reflecting on each passage as it pertains to your own personal life in a fresh and engaging new way.
Regardless of skill level or even how much you already know about God's Word, Bible journaling can be a wonderful opportunity to experience the power of His Truth in a way that transforms every part of your life to deepen your understanding of who God is and the particular purpose He has created within you to live out right now.
The Benefits of Bible Journaling
In the busy fast-paced world of today's ever-changing technology, it's so easy for us to become distracted and neglect our time studying the Bible. With hectic schedules and way too many places to go, we often struggle to even read a daily devotional or set to memory one Bible verse that we know will help encourage us throughout our day.
Bible journaling allows us to listen. As we read the Scripture and reflect on the passage through writing and art, we settle ourselves. We begin to breathe easier and allow our thoughts to be emptied, until we are truly open and ready to receive whatever it is that God has to say.
The truth is, God wants to reveal Himself and speak to us. We're often just too busy to listen or too involved within our own agenda to really get to know Him or hear what He needs to teach us.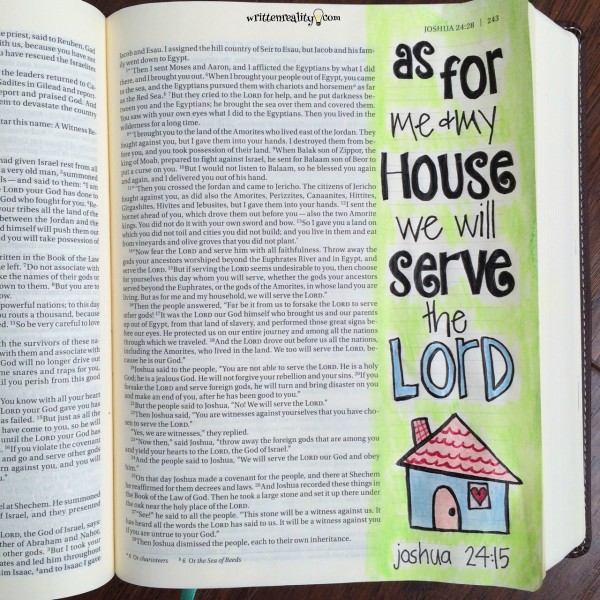 How to Bible Journal
So how do you do it? And where do you even begin?
Bible journaling is not at all complicated. In fact, the routine we create should be the simplest process possible if we ever hope to utilize journaling as a lifelong habit we incorporate into our daily routine.
Although there isn't a right or wrong way to journal successfully, there are best practices to help us get the most out of the process. Here are just a few basic principles to keep in mind as you begin journaling your way through the Bible and apply the truth of God's Word.
1. Designate a Sacred Space
This is the most important step in the process and, if at all possible, I suggest you make room for that sacred space of time in the morning before you have all the other distractions to cram every nook and cranny of the rest of your day.
God will reward your effort to set aside time, not only to pray and read the Bible, but more important, to take the time to be silent and listen, so that He, too, can speak to you.
2. Choose Your Sword
Choosing the right Bible for journaling will depend on your own personal preference and process for studying God's Word. I like to have a few Bible translations handy while I'm studying, so that I can dig deeper into the meaning within the context of each passage and grasp the truth of what God is speaking on that particular day.
After a significant time of studying the Word, I then use my journaling Bible for more of a creative response. I chose this NIV translation because I like its wording best and I think the 2 inch margins on each side is just the right amount of space for me to get creative and respond:
3. Prepare the Path with Prayer
Pray.
Before ever opening your Bible, take some time to prepare your heart and mind for worship. Confess whatever you need to, take a few moments to thank God for His goodness, and ask God to open your heart and mind to receive the truth He has for you.
Pray and keep praying.
4. Read and Reread
As previously mentioned, I always read through the passage I'm studying from several translations. Since it seems to take me quite awhile to focus, reading the Scripture takes up a good portion of my time.
Take your time to savor the message.
Read the passage over and over until you grasp it. Then look for other places in the Bible where that same topic or word is mentioned, to get a clearer understanding of what the Holy Spirit is conveying.
There have been times when I stayed on one short passage for a week before I could move forward, but that time was never wasted. I waited on the Lord and I listened. It's within those long, extended periods where God moved in the most powerful ways.
Here's how to begin Bible Journaling! Click To Tweet
5. Respond to God's Truth
Responding is more than just an art project. For me, it's fun to experiment with new pens and markers, and try out new methods for hand lettering, too. However, I can easily get caught up in comparing my journaling to others and how inadequate I am when it comes to artistic expression. The point is to respond to what God is saying from your heart and your own experiences. Bible journaling is a personal journey and, just as in all other areas of life, it isn't perfect. Allow yourself to get messy in the process and simply enjoy your time with God as He speaks to you.
Bible Journaling Supplies
Other than your Bible and pen and paper, you really don't need anything else to get started. After you are comfortable with the Bible journaling process, you may want to get even more creative and experiment with other art mediums to dive into Bible art journaling, too.
For more details on what I use for journaling, check out this post: Bible Journaling Supplies.
What about you?
What is your favorite study Bible and what is your favorite method for Bible journaling, too? I would love to hear about your Bible journaling journey, so please share your ideas and comments with us!
Bible Journaling Beginners: Other Topics You May Enjoy