This post may contain affiliate links. Please see my full disclosure policy for details.
How To Blog Resources
For me, the real struggle in learning to blog was making choices. There were too many blogging tools and resources to choose from, and I had no idea which ones I really needed or where I should invest money and most of my time.
That's why I'm sharing the best blogging tools to get you started. These blogging tools are what I call my most essential elements for everyday blogging. It's what I use on a daily basis to create my posts, share them on social networks, and build an audience. I hope they'll help you, too.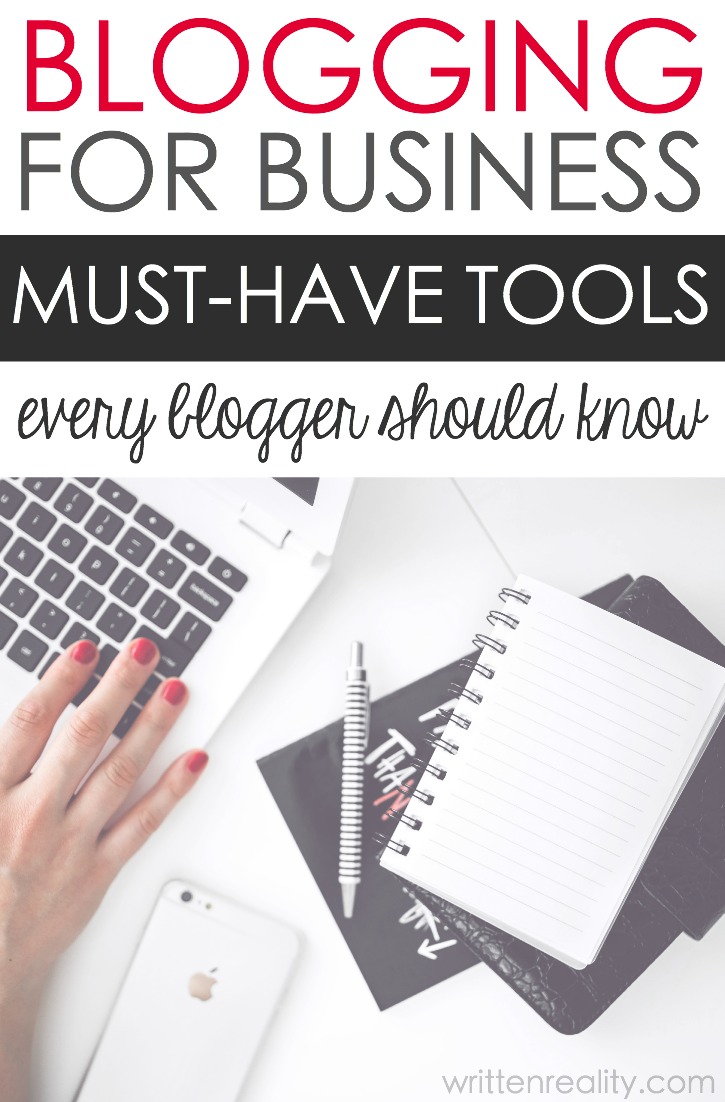 Tools to Start Your Blog
Bluehost– Bluehost is one of the most popular hosting companies for bloggers because they have this super easy process for getting your blog running on WordPress. They also have free domain registration, too, so you can even set up your domain name and the your site all at the same time. I didn't know about it until I'd already started my site, but I always mention it because so many bloggers use it.

WordPress Themes – WordPress is the way to go for blog themes. With it, you have tons of options for free themes available to get you started. I suggest starting with a free theme so that you aren't committing yourself to the premium themes that will cost a little cash. You can easily upgrade to a premium theme later after you've written a good amount of posts and built a substantial audience.
Studio Press – Studio Press is what I use on Written Reality to run premium WordPress Themes, and what many popular bloggers use to personalize their site. It's powered by the Genesis Framework, and then you choose a child theme, or package of child themes to add all those extras.
Blogging Tools for Growing Your Audience
ConvertKit – Convert Kit is the email marketing service I use to send my readers updates via email. It brands itself as the tailor-made email service for professional bloggers because it focuses on setting up triggers and automations to create a chain of emails or what we refer to as drip campaigns. I switched to Convert Kit because of its super simple template format where I pretty much can just copy and paste.

Coschedule – Coschedule is a tool I use to promote and schedule my content to social media. It's set up in a calendar format so that you can see everything you have scheduled with one glance. You can easily drag and drop the content on the calendar and share your posts to all of your social media in one sweep.
Tailwind – Tailwind is the best pinning tool I've found for bloggers. My Pinterest followers started growing like crazy as soon as I started using it and still continues to grow every single day! Tailwind makes pinning so easy by scheduling out your pins at optimized times and helping you discover the types of pins your Pinterest followers want to see. I love Tailwind. Even better, you can try it out for FREE.
If you're ready to take your blog from hobby to business, then Skyrocket Blog Pageviews is the best place to start. The course offers 30 step-by-step tasks showing you exactly how to grow pageviews, increase profits, and actually keep readers on your site. After going through these tasks, I was able to gain over 100,000 monthly views in less than 2 months, which tripled my ad revenue, too.
Blogging Tools for Writing Viral Posts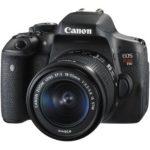 Canon EOS Rebel T6i The Canon EOS Rebel T6i is super popular with bloggers because it's not only more affordable, but takes awesome shots. I also like the video recording function on this one, which is something you'll want as a blogger for quick video tips to help grow your audience, too. Hands down, my camera is one of the best investments I've made for my site.
Photography Lighting Kit – The best lighting for taking pictures is natural light. That's why I usually shoot my pictures beside the window in my office. It streams in the best light during the day and it's an open space where I can easily work. However, this isn't always possible, so you'll need to invest in some sort of artificial light kit to make sure you have the best images for sharing on your post.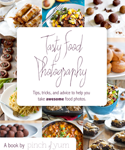 Tasty Food Photography eBook – This resource is one I recommend to any blogger who wants to improve their images. This little book changed everything about how I take my pictures and helped me learn to create awesome pin-worthy images that have now gone viral. It's a must-have resource if you need help with blog photography.
Best Resource For Earning An Income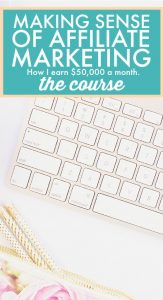 The Making Sense of Affiliate Marketing Course is hands down the best resource I've found to teach bloggers how to earn an income. The course covers everything you need to know to start implementing affiliate marketing, as well as a detailed step-by-step guide as to how Michelle used affiliates to earn over $300,000 from a single post.
I recently posted an interview with Michelle about this program, so you may want to check it out for more details.