This post may contain affiliate links. Please see my full disclosure policy for details.
Need help getting readers to your blog posts? This is how I gained over 100,000 page views in less than 2 months, easily. Here's one simple strategy to increase page views on your blog right now.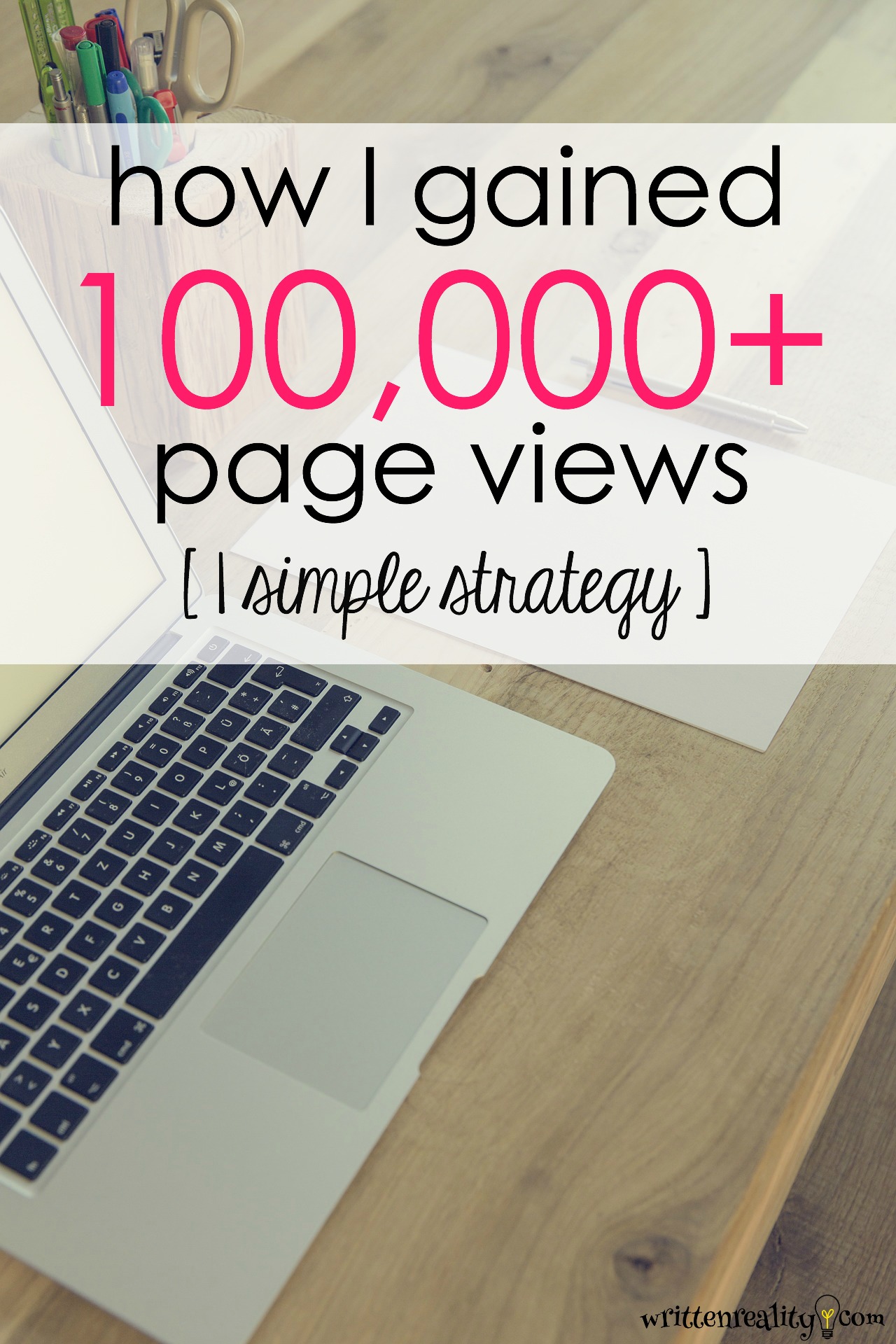 Increase Page Views on Your Blog
When I first began blogging years ago, I assumed gaining readers would be easy. Well, a whole lot easier than it has been. After the initial shock of just how much competition is out there, I started taking my blog much more seriously. I realized that my website was my personal brand, or platform, and I could use it to influence people from all over the world.
The thing is, I had no idea what I was doing in the beginning. At first, I just wrote whatever my heart desired at the moment. And, you guessed it. No one cared. I think my husband was my only loyal reader. Either he did genuinely care about my daily details, or maybe he was just trying to show me a little encouragement and support.
Years later, I've learned that blogging can be hard work and filled with some major competition. However, I've fallen in love with the process and after many hours of research and trying new methods, I now have a blog that's a thriving business with a beautiful community of loyal readers that continues to grow everyday.
The Problem With Growing Page Views
As a blogger, I am sure you are always trying to grow your audience. And, if you've been in this business long enough, you've found that half of the advice you hear doesn't work for you or doesn't work as easily for your blog as it seems to for others. Believe me. I think I've tried most of it. I hate to even think of all the time I wasted on some of these blogging tricks that sounded so easy, not to mention the money I spent on countless other resources, like online classes and books.
The truth is, every website is different. Every site serves a different audience which means the readers will respond and share–or not share–your blog posts differently than the audience on another site. There are basic practices every blog must follow in order to be successful in this business.
Most important, you need quality content. And, you need to keep providing great content so that your readers will want to come back. But sometimes we have awesome content that no one seems to notice. Or we may have content that we created years ago that's just sitting there forgotten and filed away.
How I gained 100,000+ page views on my blog-easily Click To Tweet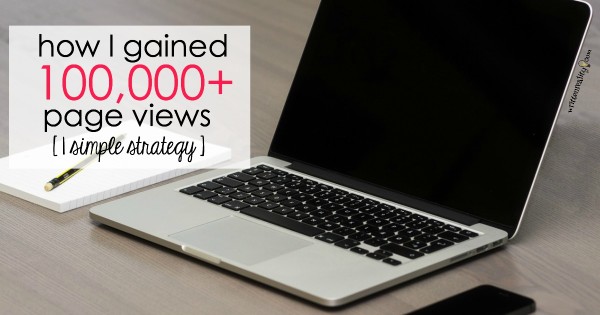 How I Gained Over 100,000 Page Views [Easily]
Seriously, I can't believe it took me this long to figure this out for myself. I have been blogging for a very long time and I have spent countless hours doing all sorts of things to increase page views. The struggle is real, my blogging friend. I've thought of throwing in the towel tons of times before. But now I'm so glad that I stuck with it and kept pushing forward. I hope you'll take this strategy and try it, too.
So here's the simple strategy I used to increase my page views. In fact, I increased page views in less than two months by over 100,000 using this one strategy alone. –and it was super easy.
I provided valuable information in a timely fashion.
I know. That sounds vague and maybe confusing. However, it's the basic groundwork for any successful business. Start by providing valuable information to your audience in a timely fashion and your page views will grow overnight.
So what does that mean exactly? In other words, I learned what my readers wanted, when they wanted it, and how they wanted it delivered.
No, I didn't follow trends or what other bloggers were posting. Instead, I analyzed, in detail, my readers. I learned their age, where they lived, and where they went after leaving one of my blog post. This is amazing and very telling information. After discovering these basic details about my readers, I was even able to make all sorts of predictions about what posts they would most enjoy next and what posts they would most likely share.
Yes, in the beginning, learning your audience is time consuming. It takes hard work and you must set aside time on a daily basis to check out your Google Analytics to learn these details. However, after so many years of spinning my wheels without success, I've found this strategy worked, and would work for any blogger who was willing to put in the effort to increase page views, too. Now that I have learned how to use my Google Analytics, it is actually super easy!
Know Your Reader and Your Page Views Will Grow [automatically]
Once you have a good grasp on your reader's behavior and habits, writing content comes easy. One you know your reader well, you'll know which social networks deserve more attention and what time of day your content will most likely be shared.
The truth is, compared to all the wasted time on chasing what I call tricks of the trade, this doesn't take as much time as you may think. Now that I know how to do it, it's just part of my daily routine that actually saves me time in the process.
Here's a confession. I didn't learn this strategy by accident. If you read my previous post, The Easiest Way To Make Money Blogging, you know that I've learned how to utilize my Google Analytics and how to learn more about my readers from the Skyrocket Blog Pageviews ebook, my most recommended blogging resource.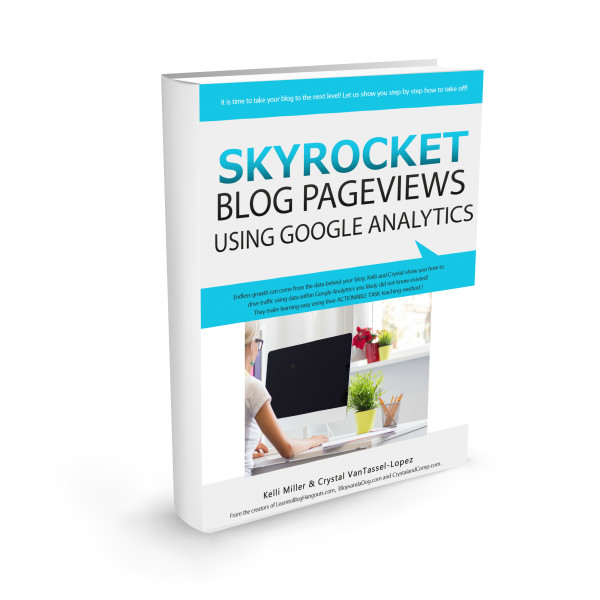 I wish I would have written this one because I think it's the most helpful resource for bloggers. If you don't have a copy of this ebook, I encourage you to grab one. It teaches you how to analyze all sorts of data about your readers, so that you can know what blog posts keep them on the page longer, what blog post is most often their exit point, and what things on your site they love to share.
You really can increase page views drastically by implementing this one simple strategy. I simply went through the challenges in the Skyrocket ebook and within a week my page views had drastically increased. Within a month, my page views had increased by over 50,000 and within the next two weeks my increase was well over 100,000.
Even better, it continues. It's all because I know my readers. And because I know my readers, I am able to provide them with relevant information when they need it.
Don't blindly create content for you blog and hope it's good enough for sharing. If you really want to increase page views, then make sure to set aside time this week to look over your site's Google Analytics. Get to know your audience. They will reward you for it–guaranteed.
Other Topics You May Enjoy