This post may contain affiliate links. Please see my full disclosure policy for details.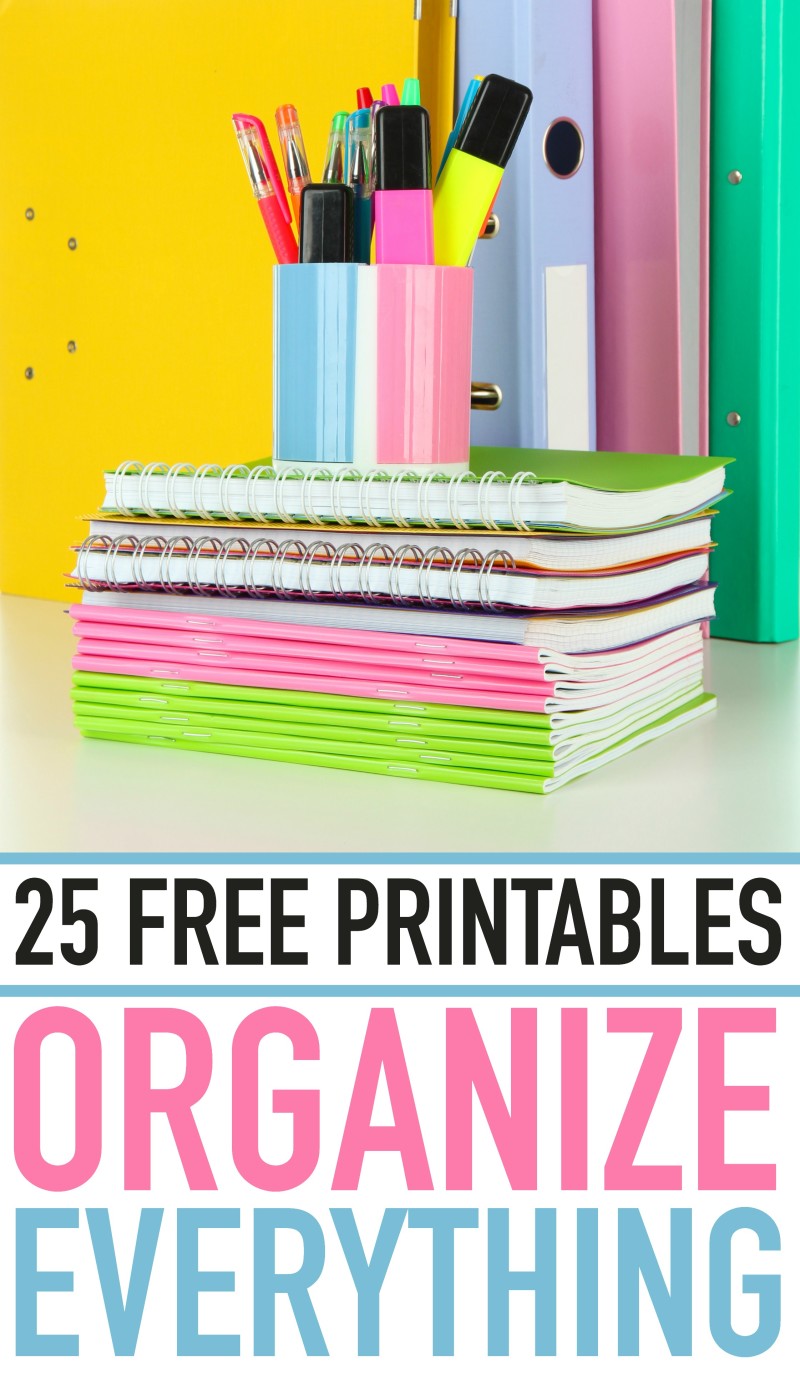 Free Printables Get Organized : Need help getting organized this year? Here are 25 awesome free printables organizing your life the whole year through.
I love all tools for organizing everything. From fun storage containers to sticky notes, I love daily planners, calendars, and making lists to get things done. That's why printable organizational tools are fabulous. There are labels to help us clear the clutter and daily checklists to keep us sane.
This year, let's get organized. Over the next few weeks, let's roll up our sleeves and get busy around the house doing whatever it takes to make our home a happy place we all want to gather. I think these printables to organize your life are great tools to get us started. They'll help kickstart us in the right direction to form habits of keeping things tidy and organized in our homes.
So I've rounded up 25 of the best free printables organizing everything and, even things you may have forgotten. There are lots of them, so I have divided them by household needs. Simply scroll down to find the ones that best suit your needs right now.
Here are free printable to organize everything. It's a list of downloadable printables to organize your money, house cleaning, cooking, and everything else.
>>Don't Miss Our BEST PLANNERS for 2019<<
25 Free Printables Get Organized
For the Budget
Need extra help organizing your family budget this year? Here are a few fabulous printables to do just that. They're perfect for setting financial goals and reaching them to help you save money and live debt free.
1. Free Printable Budget Binder – Here is a great idea for creating a binder for your family budget with downloadable printables.
2. Family Budget Worksheet -You can take control of your family's spending habits when you record all your spending to see where all the money goes. Here's a great worksheet to do just that.
3. Bill Payment Checklist -One easy way to get your finances organized easily is with a monthly bill payment checklist. Jot down all the bills that come through in a typical month and organize them by due date.This simple spreadsheet is a perfect overview of your monthly bill payments and can help you more easily manage your account balances.
4. Printable Budget Cash Envelopes -The best way to control how much you spend and stay within your budget is to put a specific amount of cash in each envelope and only spend that much each month. You see how much you have left to spend and make smarter decisions.
5. 52 Week Savings Plan– If you want to start saving money and, well, you don't have much to spare each week and you don't even know how or where to start, then do yourself a favor and go print off this savings plan. It's where I started and WOW! It really helped.
Handy for Housekeeping
I love daily and weekly house cleaning checklists. They help keep me on a schedule so that daily chores don't become overwhelming. Here are a few helpful ones for daily housekeeping and even a couple of printables to help you deep clean your space.
>>Refrigerator Storage Solutions to Keep You Organized<<
6. Daily House Cleaning Checklist -Want to keep your house clean easily? Use this free daily house cleaning checklist to make keeping your house tidy super easy and fast, too!
7. Weekly Cleaning Schedule– Here's a simple weekly cleaning schedule you can print out to keep the house clean.
8. Deep Cleaning Checklist– If you want to do a little more deep cleaning, then grab this one as a detailed guide to cleaning your house.
9. House Cleaning Challenge Checklist– Sometimes I do better at accomplishing my goals when I think of those tasks as a challenge. Here's a house cleaning checklist that's presented just that way.
10. One Year Organizing Plan– I like this one as a way to start the year off on the right track. It's pretty much just a way to think about all the zones in your house and the goals you have for organizing them and keeping them clean and tidy.
Check out these 25 Printables to Organize Your Life! Click To Tweet
Labels for Everything
Who doesn't love labels? They're great for clutter control. By adding labels to your storage bins, it's easy to keep your shelves and closets nicely organized. Labels are helpful reminders that every item in our home should have its own designated space.
>>Save TONS OF SPACE with this DVD Storage System!<<
11. Printable Fridge Labels– Add a little personality and organization to your fridge with these cute free printable fridge labels.
12. Labels for Storage Bins, Bags, and Baskets– This one includes free printable label designs in 3 sizes for you to download to print at home.
13. Pantry Labels to Edit and Print– I love the look of these pantry labels. They have a fun farmhouse feel to them with a chalkboard background. Super cute.
14. Herbs and Spices Jar Labels– If you like the farmhouse look on your shelves and pantry, here is another set of printable labels for herbs and spices.
15. Freezer Labels to Edit and Print -Here are some freezer labels that you can save, fill out on the computer, and then print.
16. Toy Bin Labels -I love these colorful toy bin labels. They would look great in any playroom or kid's bedroom. It's a great way to get those kids to pitch in with the tidying, too.
>>The Surprising TRUTH About the Popular KONMARI Method<<
For the Cook
Need help in the kitchen? I'm amazed at how much more organized I feel when my kitchen's in working order. By keeping a weekly meal planner and an ongoing grocery list, I save lots of time in the kitchen and save money, too.
17. Recipe Cards -Here is a great way to organize all of those favorite homemade recipes. There are recipe cards to print and dividers, too.
18. Weekly Meal Planner -Here's a meal planner that helps you organize your cooking schedule each week. It's a great way to clean out the pantry and use what you already have.
19. Grocery List -This free printable grocery list and meal planner will make your next trip to the grocery store fast and easy.
For the Daily
Here are just a few other helpful printables for those day-to-day activities. These printables would be great to keep in a binder or on a clipboard when you're on the go.
>>Simple Storage Ideas to Organize Your Kitchen Right NOW<<
20. Printable To Do Lists -Here are 8 free printable to do lists that will help you get all those things you've been meaning to do finally done this year.
21. 2021 Calendar -Who else is so ready for 2021? Use this simple calendar to plan your schedule, organize events, manage your goals, keep track of activities, and everything else.
22. Printable Password Keeper -Here's a printable if you like to keep a hard copy of passwords tucked away somewhere.
23. Important Information Log -This is a great tool to use to keep track of all of your important numbers that you may need on a moment's notice. It's perfect to use for babysitters or anyone else that may be caring for or helping your family out.
24. Printable Chore Chart for Kids -This one is great for getting those kids organized when keeping up with their chores.
25. Printable Student Binder -These printables can help students keep all of their important school and class information organized, setting them up for success from the moment they head back to school!
Favorite Money Saving Books
Here are just a few of my favorite money saving books if you're looking to set a budget, save money, and pay off your debt this year.
Reading The Total Money Makeover by Dave Ramsey was one of the best things I've ever done for our family. Finances are such a huge part of marriage, family life, and well, just living in general. You have do decide for yourself and as a family what you're going to spend your hard earned money on each week. This book helped me take a step back and look at where the money was actually going, because sadly, I really didn't know.
It was an eye opener and it started me on a journey to debt-free living. That's such a wonderful place to be. So if you haven't ever read it, I highly recommend it as one to start of your year.
After reading The Total Money Makeover, then you can move on and read Retire Inspired by Chris Hogan. This one focuses on what to do after you've paid off all of that debt. It's about looking to the future and what you want that to look like.
Then, you may want to pick up Love Your Life, Not Theirs: 7 Money Habits For Living The Life You Want by Rachel Cruz, too. I think it's a great one for moms and women in general because it's from a woman's perspective about money. In this one she shares how to avoid the comparison trap that leads so many of us down the drowning in debt trail.
The Budget Book Organizer -I love notebooks to keep me organized and this one is all for your budget. It helps you keep track of spending, bills, and there are pockets, too, for each month to keep receipts and bills.
Other Topics You May Enjoy