This post may contain affiliate links. Please see my full disclosure policy for details.
Best DVD Storage Solution : Tired of your large DVD collection taking up too much space? Here's the best way to store your DVDs that will fit in even the smallest of spaces. Easy DVD organization starts now.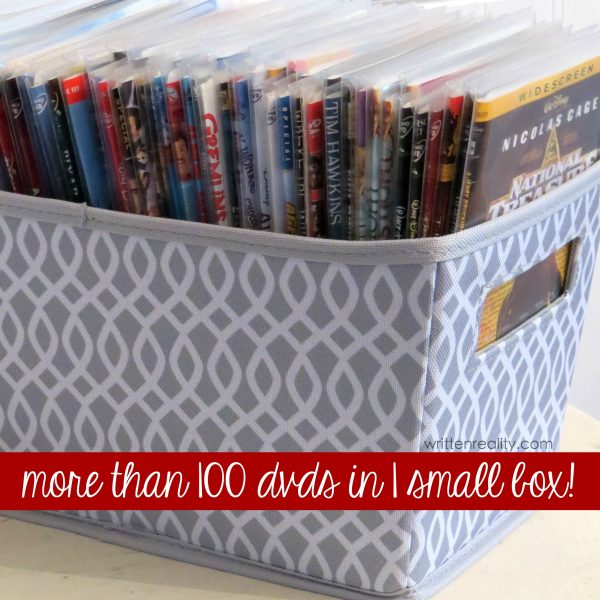 Best DVD Storage Solution
We have way too many movies and TV shows in our family's personal DVD collection. And a few months ago, I decided I'd had enough of all those cases spilling out everywhere. Between the boys and my husband, we had accumulated enough DVDs to fill up a media cabinet, an upstairs bookshelf, and several large storage baskets that were completely spilling over. We had even started another stack beside the TV stand on the floor.
Organize Your DVDs
The first thing I decided to do was just figure out what we had in our way-too-many DVD collection. So, just as I had done when using the KonMari method, I pulled out every single DVD from the entire house and piled them all together in one place. At this point, I was pretty overwhelmed by it. However, after a couple of hours of sorting into a donation pile and organizing by categories, I took note of what we could get rid of and what I was willing to keep.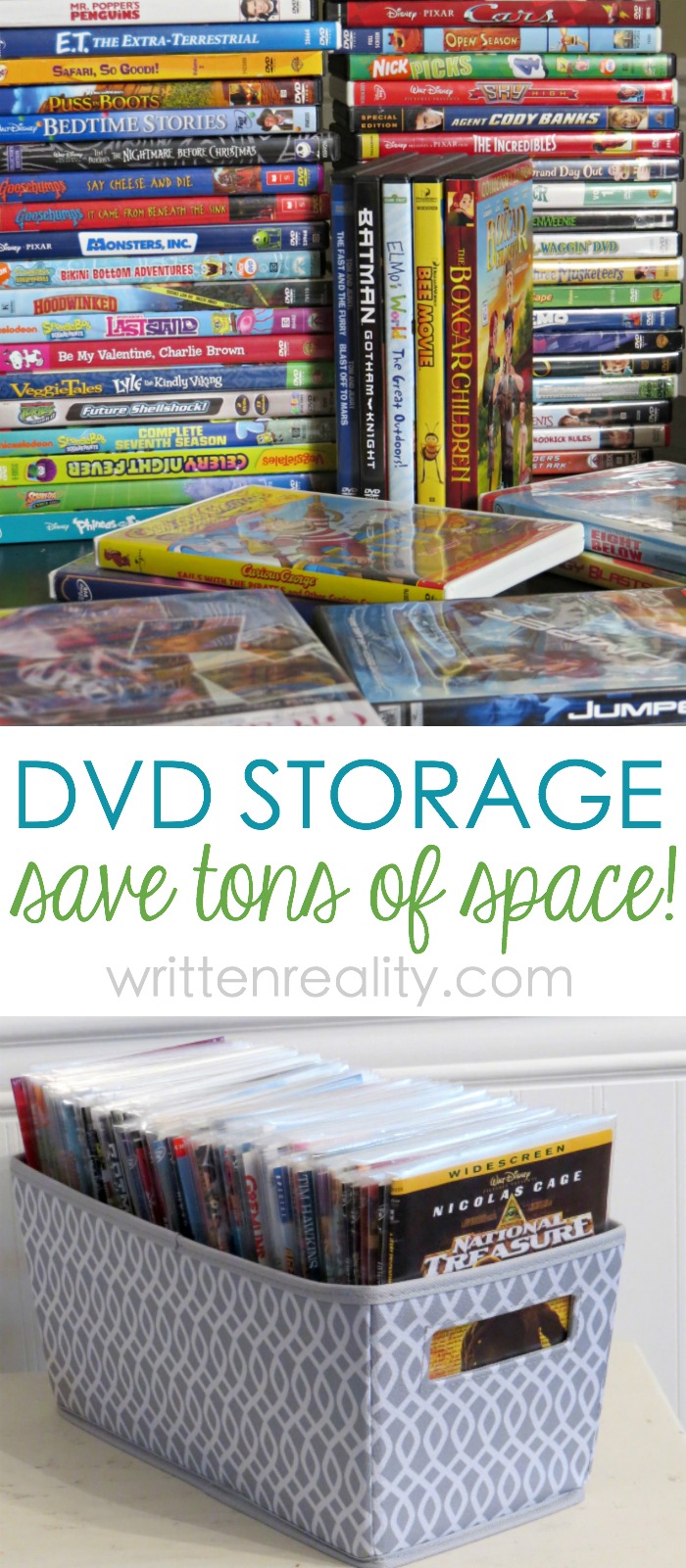 DVD Storage Baskets
The problem for me was all those blame storage cases. They are bulky and, if you're a family of four or more with a decent collection, those seemingly small cases quickly add up to take up way too much storage space. So I found the perfect solution. I ordered a couple of packs of clear plastic DVD sleeves that would fit into one small storage box.
I'm really impressed with just how many DVDs I was able to comfortably fit into such a small amount of space. The storage boxes I chose each holds over 100 sleeves and many of those have 2 set DVDs inside. The box is made of some sort of stiff fabric, so it provides just enough give to make flipping through the DVDs super easy. Plus, the pattern makes the storage a little more stylish, too.
DVD Storage Cases
I didn't get rid of every single DVD storage case. My eldest son (aka my hoarder child) was not at all pleased by the idea of destroying his DVD cases, so I did have to make a few compromises. Instead, I used what I think is the best DVD storage solution for most of our movies and then kept our special complete collections, like Star Wars, MacGyver, and The Andy Griffith Show, all in their original cases. That means I still have one small media cabinet that houses a few of these special collections, but with my new storage organization, I've been able to free up a lot more space throughout the rest of the house.
Other Topics You May Enjoy