This post may contain affiliate links. Please see my full disclosure policy for details.
Best Back to School Movies : Looking for family movies? Now's the perfect time of year for school movies your whole family will enjoy. Check out these back to school movies you'll love.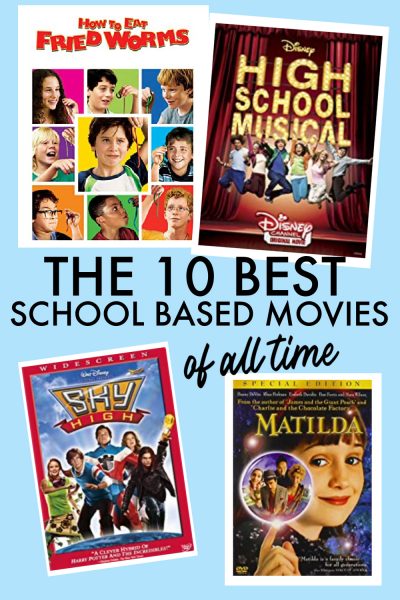 Can you believe it's BACK TO SCHOOL already? It seems like we just sorted through last year's backpacks and now it's already time to stock up on more supplies! With only a few weeks left of our summer vacation, we're taking a couple of steps here and there each week to organize our closets and ready ourselves for that first day.
Looking for a great way to kick off the upcoming school year? Share one of these school movies at your next family fun night. All of our choices are family movies, so that, regardless of age, everyone can enjoy them.
This is a list of some our favorites at the Smith house. They are family-friendly, school related, and entertaining enough to watch again and again. Even better, we found most of these titles included in our local library's movie collection where we can check them out weekly for FREE!
Best Back to School Movies

Here's a Roald Dahl fantasy classic.
It's the story of a girl genius with horrible parents, a dreadful principal, and her colorful friends. Just as all Roald Dahl stories, this one is filled with all sorts of outrageous scenes from his wild imagination, creating fan-tastic fantasy fun.

The Smith House loves this one and we all love watching it again and again.
Another fantastic story, it's the tale of some very special teens- with superhero parents–who are trying to find balance somewhere between fighting evil and an everyday life of normal routine.
(BUY THE BOOK)

You have to know this one! And it's so popular that there are now several movies in this series, too.
The story of ordinary Greg Heffley and his humorous struggles during his first days in sixth grade. It's based on the popular Diary Of A Wimpy Kid Books By Jeff Kinney
, and since both of my boys devoured every title, we marked our calendar every time one of the new movies came out, too.
This first one, however, is the most school-related, and is great for upper elementary or older kids who know all about those first day of school jitters and can easily relate.
>>10 Books To Keep Boys Reading<<

Of course, I loved this one. It's a musical.
And I love the fun songs and their contagious tunes.
However, my husband and the boys–not so much. Though I do believe they enjoyed it the first time, they'd never admit it.
But for me, and most girls, it's a great one to watch again and again.

My son actually suggested this one for the list. It's a made for TV (Nickelodeon) movie, but it's a perfect choice for a Back to School night.
It's based on that one wish we've all had the night before school starts: to relive our last summer day all over again.
If only our favorite summer day could last forever. . .
A great one for the whole family and a perfect one to celebrate those last days of summer, too.

I am so in love with the kids of Recess. These kids rock with relevant everyday school kid situations, and they always take me back to my own childhood and the years when I taught third grade.
If you haven't seen this one, grab a copy.
Your family will enjoy it's typical school fun and the kids who share the many adventures within everyday school life.

I loved this movie just from the trailer alone. So like Diary of a Wimpy Kid, we made sure to catch it while it was in theaters.
And it's such a great movie, we can easily watch it again and again.
This one takes us back to college, before Monsters, Inc., to share the story of how Mike and Sulley first met.

Who doesn't love Arthur the beloved aardvark?
It's a great one for younger kids who may be entering school for the first time or maybe to watch after reading a few books from the Arthur Series
collection.
Who remembers these fun short segments?
Filled with great opportunities to review all sorts of educational topics, this would be a fun one to share with your kids, and relive a few of your favorite childhood moments, too.
One the very first day of school, Billy faces a bully who gives him the option of eating 10 worms in a single day or suffer the consequences of not meeting the challenge.
School movies are perfect to get the kids revved up for going back to school. Here are some other school-related topics you may find helpful, too.
>>Middle Grade Books Boys Love<<
Other Topics You May Enjoy