This post may contain affiliate links. Please see my full disclosure policy for details.
Ready to shop for back to school clothes? Build a back to school wardrobe easily. Here are five super easy steps to build a budget-friendly back to school wardrobe.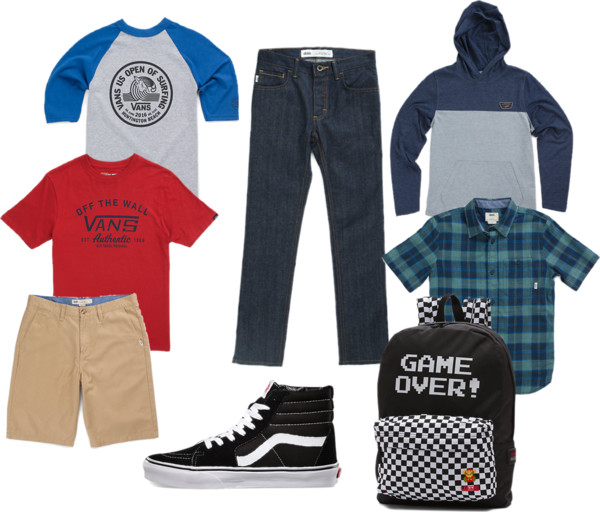 It's amazing how much we spend on back to school clothes when most of the time our kids can easily begin school in what they have already. Still, as a mom I want my kids to have a great First Day of School outfit and I love the idea of being well-stocked in socks and underwear, along with all those typical back to school supplies.
So what does a kid need for a back to school wardrobe?
What are the budget basic essentials?
If I do have a little extra cash for back to school shopping, where should I splurge?
After several years of prep work with my own kids and many years of experience from a teacher's point of view, I've created a list of budget-friendly basics that will save you time and money, and help you dress your kid for success.
#1 Divide and Conquer
Spend a day taking everything from your child's closet, then sort the entire wardrobe into piles by categories–pants, t-shirts, dress shirts–you get the idea.
Make sure to designate three more piles:
1. Donations for things that don't fit.
2. Throw-aways for stained and worn beyond repair.
3. Recycled clothes for play.
Take the extra time to have your child try on things you're unsure about or had forgotten. That way you have a better idea of what really fits and works well pieced together.
Make sure your child is equally involved in the process.
Although my boys would rather spend the afternoon doing anything but trying on clothes, they help me clean out their closets. This allows for discussion about what outfits they really like wearing and what pieces are more like torment. A discussion now will save a lot of time–and money– when you're out shopping later.
#2 Note the Needs
When all the clothes are sorted, take note of what piles are lacking as well as those that are plentiful. Play around with combinations and think outside the box a bit. Since most of us are creatures of habit, we tend to wear the same shirt with the same pair of pants.
A different combination creates a brand new look.
Here's a basic list of what most kids need in the closet:
socks/underwear -8 pairs
tops-10
sweaters/sweatshirts- 2 or 3
bottoms -7
shoes-1 pair of sneakers, a pair of dress shoes, and a pair of sandals or flip-flops
also, 2 nice outfits for special events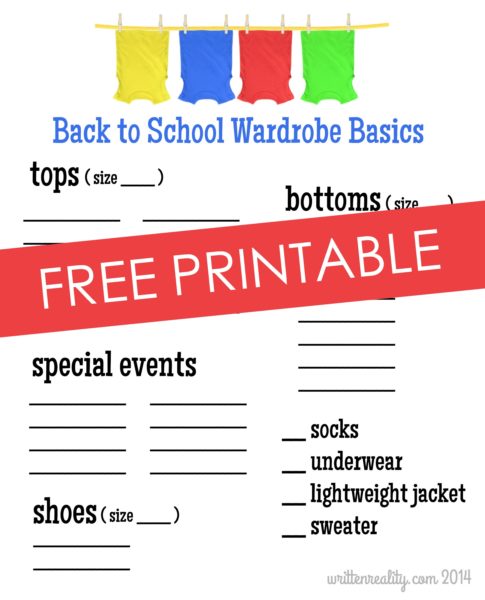 #3 Take Note of Neutrals
Neutrals build a wardrobe and we all need them in our closet as a starting point.
To save time and money, make it easier by sticking to neutral bottoms that will go with every top and/or basic tops that blend well with patterned shorts or skirts.
#4 Remember the Rainbow
I'm a magnet toward anything black, and if I'm not careful, I could look like I'm attending a funeral every day of the week.
Color adds interest to a wardrobe and kid clothes can be a great opportunity for colorful fun.
Look over your piles and note your colors. That way when you do shop, you'll be on the lookout for new colors to brighten up the neutrals you already have and will complement your child's wardrobe instead of creating just another outfit of the same old thing.
#5 Make a Shopping List–and stick to the plan!
It's so easy to blow our budget during seasonal shopping and other sales events. Create a list of the basics beforehand, noting what you already have that can easily go well with something new. Be specific with colors and descriptive enough to avoid buying that trendy top that doesn't match a thing.
Other Topics You May Also Enjoy