This post may contain affiliate links. Please see my full disclosure policy for details.
Declutter Your Home: Need some help getting your home in order? Here are a few simple life-organizing secrets to declutter your home and keep your space clutter-free.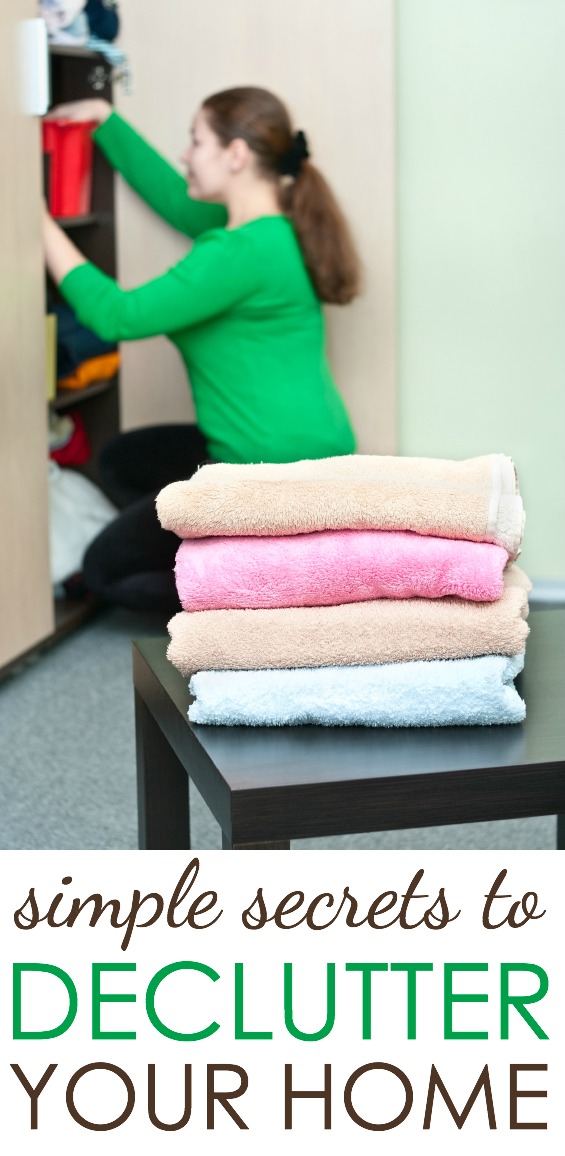 Our home should be a haven where we feel safe and protected, and where we can decompress and relax after a hard-working day.
But when our house is cluttered, it's much harder to relax. So here are a few simple secrets to let go of the stuff and live clutter free.
Simple Secrets to Declutter Your Home
#1 When One Comes In, Another Must Go
It's one of the easiest clutter-free living rules to remember: when one thing comes in, something similar must go out.
So if you buy a new shirt, another shirt must go.
For every big item, such as those extra large toys that take up as much room as the furniture, another piece of similar size must go.
#2 Simple Bedding
How many pillowcases and bed linens does a bed actually require for sleeping?
One of the easiest ways to store bed linens is on the bed rather than jammed in the closet after fighting to fold those frustrating fitted sheets.
Toss bed linens in the laundry then immediately return them to where they're intended– nicely tucked around your mattress and pillow without requiring any extra space.
Avoid piling the bed with too many accessories, like complicated bedskirts or fancy pillows. Remember: each item you add must be moved and adjusted every single time you climb in and out of bed.
Simple bedding not only saves time, but also provides you with a clutter-free environment where you can relax and ready yourself for a good night's sleep.
#3 Hot Spot Containers
We all have them. It's that one spot in the house–the kitchen counter or that table at the entryway–that seems to always accumulate junk mail, car keys, and whatever we carry with us as we come and go.
To avoid piles of papers and cluttered countertops, provide small baskets or containers at your hot spots to corral those items. Set aside a few minutes before bed or after dinner to sort through your hot spot, trash all the junk mail immediately, and clear that space.
#4 Donate Box
Just as the container in your hot spot will keep the space clutter-free, a small donation box can clear unwanted items every week.
Set a routine for everyone to tidy their closets, toss old toys, and sort through outgrown clothes on a weekly basis. Then drop off the items immediately at your local donation center where someone in need can use them.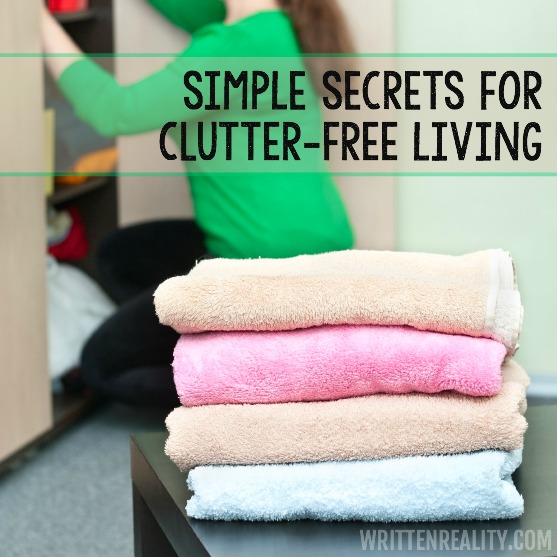 Super Easy Secrets to Actually Declutter Your Home Click To Tweet
Other Topics You May Enjoy