This post may contain affiliate links. Please see my full disclosure policy for details.
Are you a blogger who is struggling to earn an income from your blog? Here are some helpful tips to get started! It's the easiest way to make money blogging, starting right now.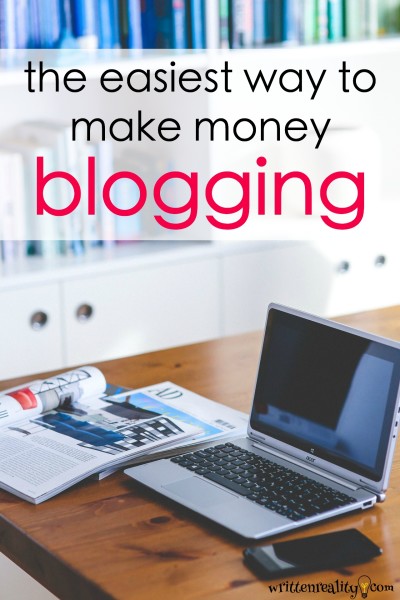 The Easiest Way to Make Money Blogging
Like anything else in life worth pursuing, building a business is hard work. However, I've learned the easiest way to make money from my blog is to work smarter. This method has helped me save time and grow a great audience of readers, too.
1. Utilize Your Google Analytics
I am ashamed to say that for many years I didn't know anything about Google Analytics. Sure, I had set up my analytics almost from the very beginning and, though I knew that it served as a measuring tool for my blog's traffic and page views, I had no idea all of the valuable information it provided.
If you want to create an authentic money-making business from your blog, you must treat it as a business and work that way. Thriving businesses know their numbers. They know how much they are spending out and how much money they're bringing in each day. A booming business is one who knows every detail of the who, what, and when of those purchasing their products.
Thankfully, I picked up a wonderful e-book, Skyrocket Blog Pageviews Using Google Analytics, that taught me how to utilize my site's data in the most productive and time-saving way.
2. Work Where It Counts
After Skyrocket taught me how to read my Google Analytics effectively, I was able to focus my attention so that I didn't work in circles.
By going through the Skyrocket challenges, I learned what resonated best with my audience. That way, I could give my readers more of what they wanted. And, in return, they rewarded my efforts. They became a loyal reader within my community, came back again and again to read even more of what I had to offer, and even better, began to share my posts across their other communities, too.
Don't compare your blog to another one. Learn the most about your audience and what they're looking for from you, so that you can work where it counts. Learn how to use your Google Analytics to your advantage. That way you know your reader and know where to focus your efforts.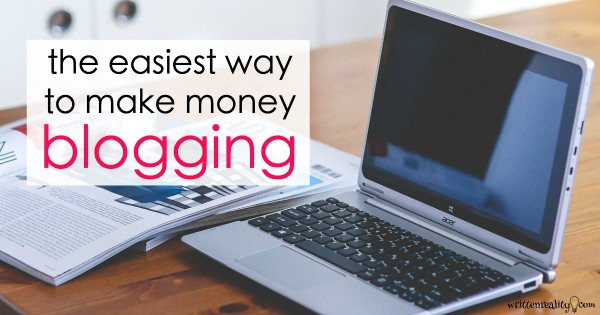 Here's the easiest way to make money blogging! Click To Tweet
3. Choose the Best Way to Monetize
Learn to utilize your Google Analytics and you'll grow your audience immediately. Grow your audience and you'll easily create a profitable marketplace, too.
If you know your reader, you'll know what she's looking for and where on your site she'll probably go next. With this vital information, you can position advertisements in prime locations and offer your own products at key spots and areas. That way, you are helping your readers rather than hounding them. You'll save time by offering products and affiliate ads that are the most relevant and beneficial to your reader.
Here are just a couple of super easy ways to monetize on your site.
Display Advertisements
Think of these display ads as billboards strategically placed across the pages within your site. There are many advertisement networks who offer bloggers the chance to advertise for them.
One of the most popular and, I think, easiest to use is Google Adsense. In fact, you can even include your Google Adsense in your Google Analytics to give you even more details about what advertisements are most popular with your readers. Google Adsense shares all sorts of ads according to the reader's search history, so that's a bonus for you as the publisher. Even better, Google Adsense gives all sorts of tips on the best place to insert your advertisements and which size would work best.
For me, Google Adsense was the easiest to utilize, and since it didn't set traffic requirements, (many of the advertisement networks require a certain amount of traffic before you can sign up), I thought it was a great place for me to start. Here are a few other ad networks that provide great opportunities for advertising on smaller sites, too:
Affiliate Marketing
Where display advertisement works as random general commercials, affiliate marketing helps you specifically advertise for whatever product you think your reader will appreciate. These type of ads are great to use when you are looking for certain products that fit your brand and the topic you're sharing.
Just a sidenote: If you want an AWESOME resource for affiliate marketing, then check out the Making Sense of Affiliate Marketing course. It's by far the best tool for learning about how to effectively implement affiliates into your blog posts. Michelle Schroeder-Gardner, your instructor, shares how she has made $100,000+ some months using these strategies. It's the only resource you need for affiliate marketing.
Here are a few affiliate marketing networks you could try:
Commission Junction– I think this network claims to be the largest affiliate network in the U.S. It includes so many companies, so if you want to start using affiliates on your site, this would be a great place to go.
Escalate Network -think coupons on this one. If your site is budget-savvy, this may be just the thing your reader would like to know.
Amazon Associates– I'm a huge fan of Amazon because I use it often myself. Just like Google Adsense, it's one of those networks that is user-friendly and I love that I can easily link up to products as I mention them within each post. That way, readers know exactly what I'm talking about.
If you are just starting out blogging or working toward increasing your page views, including display advertisements and affiliate links are by far the quickest and easiest way to make money on your blog.
Just remember, you must know your reader so that you can choose the best type of monetization for your site and offer the products your readers will appreciate. Then, you'll be amazed at how easy you can make money, even while you're sleeping, as your business continues to grow.
Other Topics You May Enjoy