This post may contain affiliate links. Please see my full disclosure policy for details.
Do you want to learn the one strategy that will make money blogging? Check out this blogger's story of how she made over $100,000 last month alone.
Make Money Blogging
As a blogger, I am always researching ways to make money blogging and the best strategies to improve my blog. Let me just say that there is a ton of advice out there and most of it, unfortunately, didn't really help me since they were based on a specific type of business or blogging niche.
That's why I am thrilled to introduce you to my friend, Michelle, who taught me the best strategy for earning a blogging income and now, earning an income is so much easier for me. I honestly cannot believe how her one strategy has saved me tons of time and how much more money I'm making per month. Michelle is also a full-time blogger, so she completely understood my struggles. And now she's created a course showing how she went from blogging as a hobby to making over $100,000 just last month alone. Check out the interview below where Michelle shares her strategy for making the most money from your blog.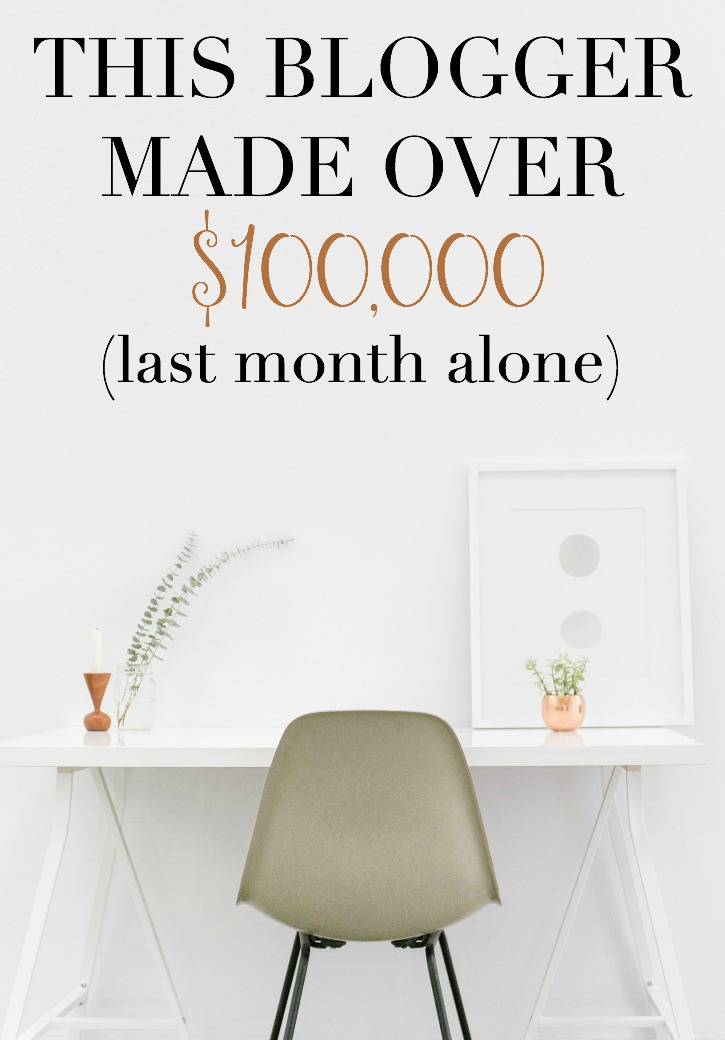 Tell us a little bit about yourself and your blogging history.
Hello! My name is Michelle and I run the personal finance blog Making Sense of Cents. I have three finance-related college degrees and I actually used to be a financial analyst.
In the summer of 2011, I started my blog with the aim of teaching people how to save money as well as journaling my personal finance journey after reading a magazine that featured a personal finance website in one of their articles.
I became extremely interested in that website and my interest in blogging just grew from there. This is interesting and hilarious because before that same summer, I had no idea about what blogs were, that they could even make money, or anything along those lines
I did not create my blog with the intention of making money blogging. It was all just a hobby and an outlet I then realized how much I loved blogging and realized that it was for me, so now I am a full-time blogger! I went full-time in October of 2013 and I haven't looked back once. Blogging has completely changed my life for the better and it's something that I recommend everyone try if they are interested.
On my blog Making Sense of Cents, I talk a lot about different ways to
make extra money
, the best ways to save money, achieving your dream life, RVing (me and my husband RV full-time), and more. I love running Making Sense of Cents and I am very happy that this is now my full-time career, my business, and pretty much my life.
What is affiliate marketing?
Affiliate marketing can sound intimidating when you haven't done anything with it yet, but I promise that it's something any online influencer (including you!) can do.
Affiliate marketing is when you make income by putting affiliate links on your website, social media account, influencer platform, etc. and have people purchase a product through your link. If you get someone to sign up through your affiliate link, you are then rewarded by the company for promoting their product with either money or referral credit.
Are there certain types of blogs or blogging niches that benefit more (or less) from using affiliates?
Nope. Everyone can benefit from affiliate marketing and promoting affiliate products on their platform. It's all about doing it correctly, which is something that I teach in my
Making Sense of Affiliate Marketing
course.
What do you think is the biggest mistake bloggers make when promoting affiliates?
You cannot, I repeat CANNOT, just slap affiliate links on your blog and hope to make affiliate income. You have to have some sort of strategy, which is what I teach in my course
Making Sense of Affiliate Marketing
. So many bloggers make this huge mistake and usually lose followers or waste their time because they don't realize that there is a correct way and a wrong way to approach affiliate marketing!
For those bloggers who have never used affiliate marketing, what is the best way to get started?
My best piece of advice would be to just try affiliate income and get started! I waited so long to try my hand at affiliate marketing, and I regret waiting so long. Even if you have a low amount of followers or if you are a brand new blogger, you can still be successful at affiliate marketing.
In Making Sense of Affiliate Marketing, there are 6 modules, over 30 lessons, several worksheets, bonuses, an extremely helpful and exclusive Facebook group, and more. I go through everything that you need to know about affiliate marketing, and more! Students of the course will learn:
•The basics of affiliate marketing, what it is, etc.
•The positives of affiliate marketing and why all online influencers should be doing it
•The exact steps I've taken to earn over $400,000 from a single blog post
•How to pick the correct affiliate products to promote
•How to increase conversions
•How to build trust and not lose followers
•Required disclosures that you need to know about
•The one major tool you need for affiliate marketing
•Different strategies to use to promote your affiliate products
•How to use Pinterest to succeed at affiliate marketing (yes, this includes the newest Pinterest affiliate rules!)
Don't wait. If you are struggling to make money blogging like I was, then check out the Making Sense of Affiliate Marketing course. I can't wait to hear all about your blogging success!
Other Topics You May Enjoy