This post may contain affiliate links. Please see my full disclosure policy for details.
Have you ever watched a butterfly break from its cocoon?
It's quite remarkable–and the first time, a little frightening.
As first, her wings are folded and damp.  She doesn't fly right away.  Instead, she must pump blood to her veins to dry out her wings.  To see her in those first moments, you may assume she's broken or somehow injured.  But after her wings dry, she does what she's made to do and flies away in search of nectar.
We often view the butterfly as a symbol of hope and freedom.  Transformed from its old life as a caterpillar, the butterfly reminds us of our new life received through Jesus Christ.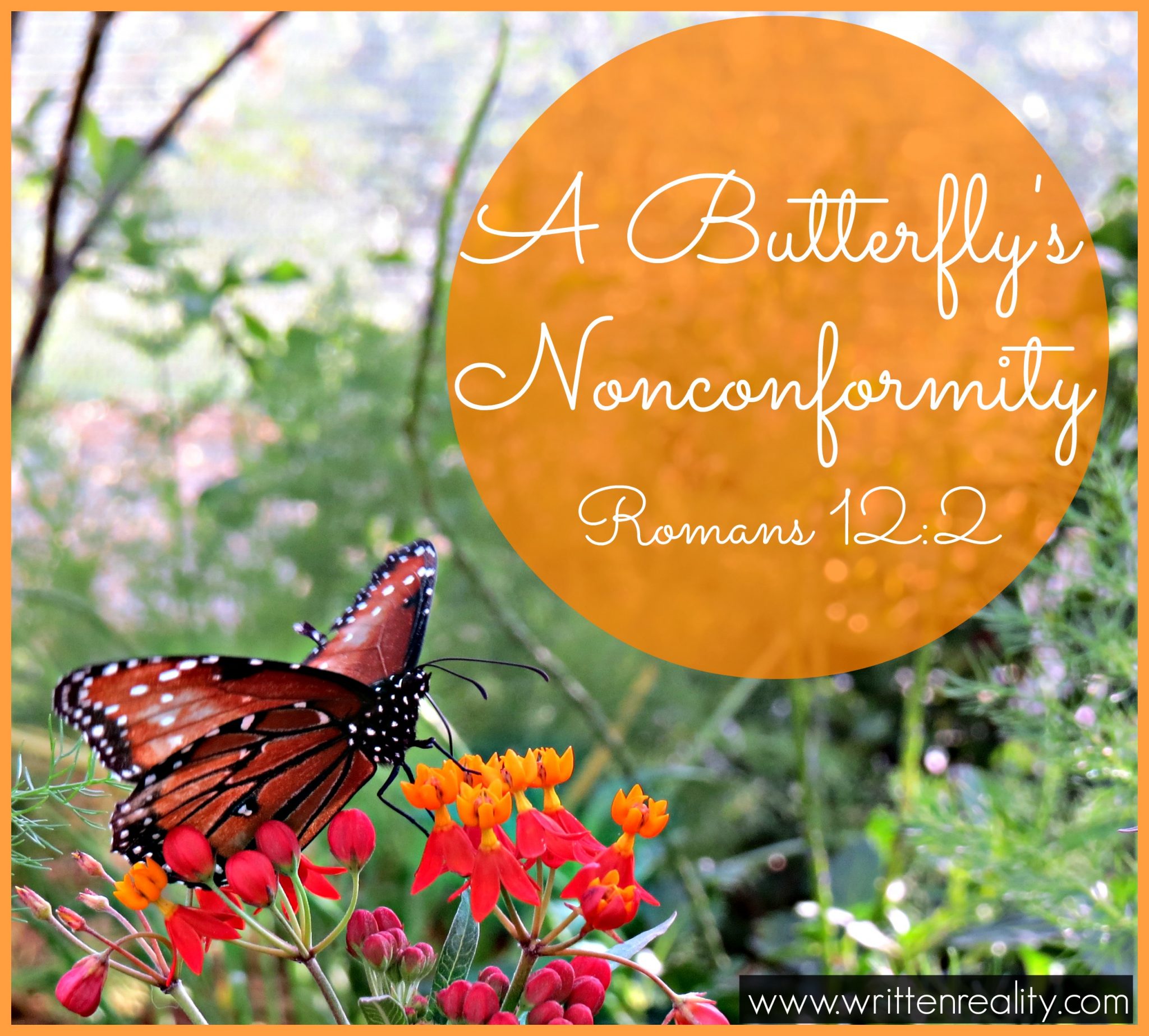 But what if our butterfly had been a conformist?
Led by peer pressure, what if she'd waited for permission to break from her cocoon?
Looking in her full-length mirror, what if the butterfly compared her new scrawny wings with those of her other sister butterflies who'd already taken flight?
What if she'd taken another's advice on prepping her new wings?
What if she'd simply given up, without ever attempting to fly?
[Tweet "Conformity keeps us living within the same mundane lives as everyone else. "]
Following the world's advice controls us.
Comparisons cripple our progress.
And do not be conformed to this world, but be transformed by the renewing of your mind, that you may prove what is that good and acceptable and perfect will of God.Romans 12:2 NKJV
Follow the example of a butterfly's nonconformity.
Our minds can only be renewed and readied for our purpose by our Creator.  God works the transformation.  Just like the caterpillar in her cocoon, our only work is to wait within His promises.
When we choose to rest in His truth, listen to His voice, and follow His lead, He breaks away the weights that were holding us down and readies us with new wings to fly.
Waiting on the world's opinions, the butterfly would have missed her moment. Follow the example of a butterfly's nonconformity. Listen to His Truth and learn to fly.
[Tweet "Conforming to the world confines us. God's transformation sets us free."]
How is God transforming you?
Leave us a comment to share your story of God's transforming power.