This post may contain affiliate links. Please see my full disclosure policy for details.
"The further a society drifts from the truth, the more it will hate those that speak it."
–George Orwell
Truth is valid, but not welcomed in distant places.
George Orwell's warning becomes a reality when those who know the Truth refuse to speak it. But we can't speak the truth if we don't first live the truth that we know.
Jesus told Pilate He came, to "bear witness to the truth. Everyone who is of the truth hears My voice." John 18:37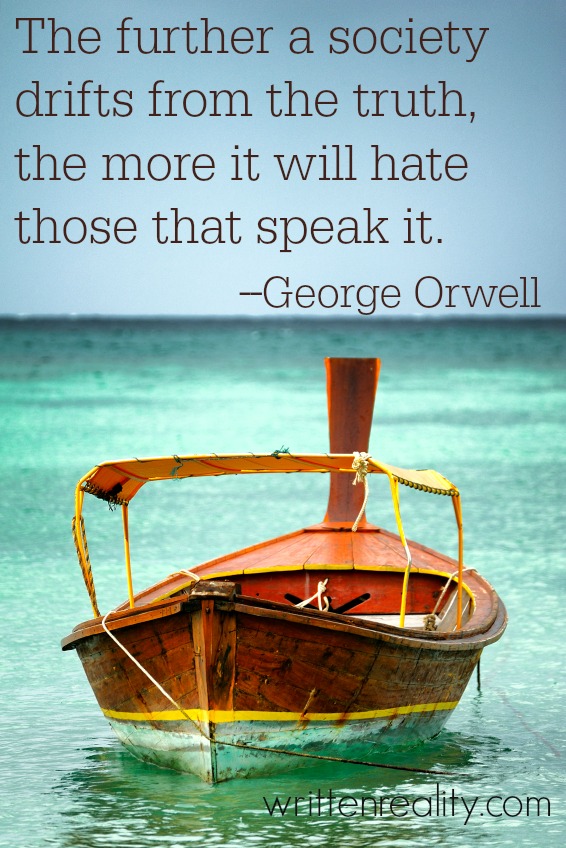 As we serve within our purpose, we continue to bear witness to His Truth: He is the way, the TRUTH, the life. John 14:6
A life of truth is anchored in reality.
Click To Tweet
We follow ordered steps within reality to fulfill our purpose within His truth.
1. We Hear
2. We Know
3. We Live
4. We Speak
5. We Guard
We follow the ordered steps from hearing to guarding, allowing the Truth to first transform us. Through this transformation, our lives become transparent vessels of truth to speak His truth to everyone else.
Today, truth may not be easy–but it's worth our sacrifice.
The drifting world needs truth.
Hurting people are in desperate need for those who know the truth to share its redemption. Do we love them enough–as Jesus did– to live it?
Are we willing to live, speak, and guard the truth–as His witnesses to the world?
May we fasten the belt of truth around us, keeping truth within our hidden places. Psalm 51:6
We are only as effective as the truth within us.
Click To Tweet
Looking for Daily Encouragement? Follow us on Pinterest!