This post may contain affiliate links. Please see my full disclosure policy for details.
I wish I had Jane Jetson's Morning Mask. Think of the time saved if I could jump from bed, grab my mask, and look as if I'd just stepped from an expensive salon.
You can assume my response to the Jetson Mask benefits:
-save time
-feel confident
-be the envy of everyone else
Isn't that the real reason for the cover-up? To keep up appearances for everyone else?
My morning mask requires a lot more time and effort than a simple string and plastic molding. And though my makeup and hair products may be time-consuming, it's the other masks I've worn that caused the greatest grief.
My self-made masks made me–and others–the most uncomfortable. Though no one bought their illusions, everyone kept silent while I walked around wearing the plastic faces, only aiding my assumption to continue in my own facade.
. . .and so are the Masks of Our Lives
We have tons of masks to hide beneath. Ever wear any of these popular faces?
Happy Face I am happy and I want you to know it, so clap your hands.
Funny Face  for the girl who's added laughter to her Happy Face in attempt to keep from crying 
Xena-Warrior Princess  The world is crumbling at my feet, but I'm tough and can't be broken.
I've Got it Under Control  I am perfectly capable of being Susie Homemaker, Corporate Woman CEO, and my husband's hot date –all at the same time.

Art of Perfection  an attachment to accessorize the I've Got it Under Control
Mother of the Year  to be easily exchanged with Single of the Year, Wife of the Year–who is married to the Husband of the Year, or Superwoman–depending on the fearless and wonderful life stage of womanhood you now so easily conquer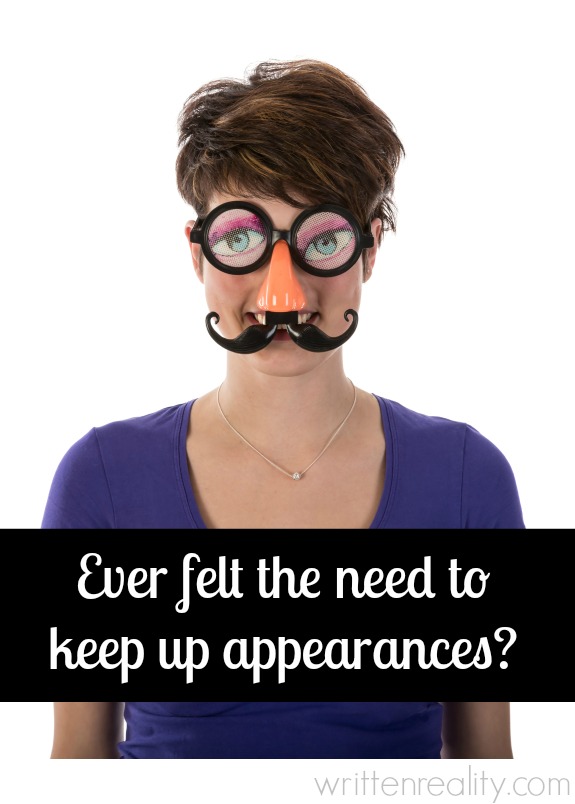 Can you relate?
I've worn them all. Not all at the same time, of course, but often, trying to find one to fit over my clueless and not so fearless face. The truth is, I'm never all that together. And though I would love to control my environment, the kids, and my husband– so far, I haven't figured out how to control the things within my life where I have absolutely no control.
We fear our own authenticity. We fear the thought of being viewed as not so perfect.
[Tweet "Though we fear exposing our humanity, it's the only place where anyone can ever relate. "]
Years ago, Casting Crowns began a song with:
Is there anyone that fails
Is there anyone that falls
Am I the only one in church today feelin' so small
Cause when I take a look around
Everybody seems so strong
I know they'll soon discover
That I don't belong
("Stained Glass Masquerade" VIDEO link)
[Tweet "How often does our masquerade keep others bound within their own?"]
I'm no one in light of who He is–and neither are you. That's the beauty of the gospel.  His strength is made perfect within our weaknesses. (2 Corinthians 12:9)
God has called us to serve as models of His redemption. As we openly lay our own failures and pain at the foot of the cross, others take notice and discover His love, mercy, and grace.
May we first believe Him for who He is in our own situations, so that we can drop facades and plastic attempts. Only then we will have the freedom to share His truth with everyone else.
What about you?
Ever felt the need to keep up appearances?
Share your comments