This post may contain affiliate links. Please see my full disclosure policy for details.
Bacon Pasta Salad: Add this creamy bacon pasta salad to your quick and easy pasta recipes. It's easy to throw together, makes a great side for you potluck dinners, and it's absolutely delicious!


Spring has sprung at the Smith House. Our front lawn is growing greener and our flowerbed is just beginning to show a rainbow of colorful blooms. And when spring arrives, I'm drawn to join it. I begin spending much more time outside in the garden or just sitting for a bit on the front porch enjoying the breeze.
With more time outside, I spend less time in the kitchen. And that's why I love this creamy bacon pasta salad. It's one of Mama's recipes I tweaked a bit to include in my quick and easy pasta recipes.
It's perfect because, for one, it's easy. And two, because it's serves along well with a sandwich, but hearty enough to make an entire meal on its own.
You can serve this one at any potluck dinner, it's great for picnics, and it's a perfect side dish to go along with your Easter dinner or your upcoming BBQ meals this summer, too.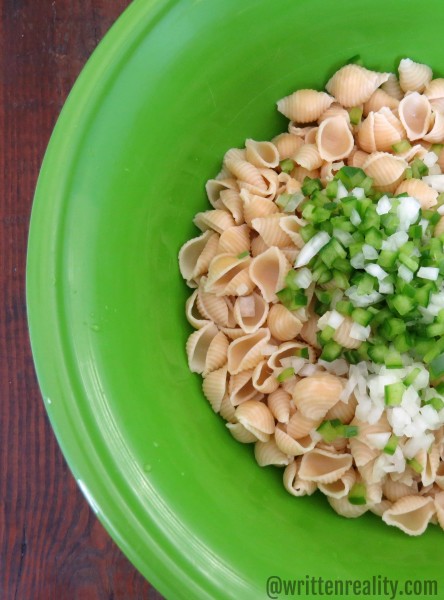 Bacon Pasta Salad
For this one, I use a box of pasta shells. I love the small ones because they give the salad just enough texture and add a little variety, as opposed to the elbow macaroni I use for macaroni and cheese. But feel free to use whatever pasta you want for this one or what you already have on hand.
I must admit, I'm not a big raw bell pepper or onion fan. I like mine grilled or sautéed a bit. But for this recipe, I chop them up so fine that you hardly even notice them, yet the flavor they add is just what it needs. And with the bacon? It. is. yummy.
So just tweak how you chop up your peppers and onions to suit your family's preferences. For me, it adds just enough extra flavor when they're chopped fine.
So if you're looking for quick and easy pasta recipes for the warmer months, I suggest you give this one a try. It's easy to tweak to suit your needs and tastes, and it is quick to mix together and keep in the fridge until you're ready to serve.
Did I mention bacon? Yep it's that crispy bacon that takes this pasta salad to a whole new level. I mean it's bacon and creamy pasta which is always so good.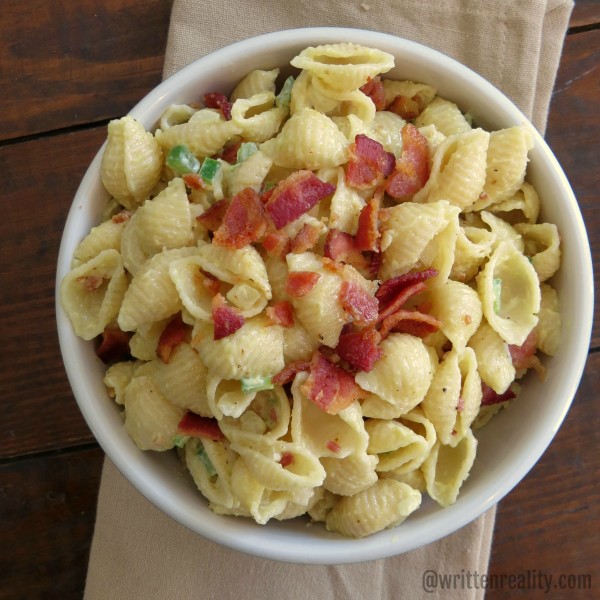 You can check out the step by step details of how I make it at the bottom of this post and make sure to pin it for later and share it with your friends.
I hope your family and friends enjoy it as much as mine. Happy Cooking!
Other Recipes You May Enjoy
How to Cook the Ribs on the Grill – BEST BBQ Ribs EVER!
A Dozen Insanely Delicious Deviled Eggs Recipes
The Best Ham Glaze Recipes That are Easy and Delicious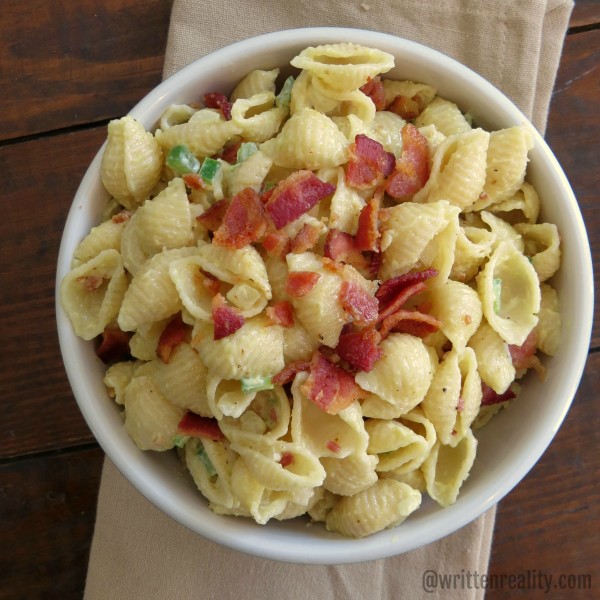 Creamy Bacon Pasta Salad
2015-03-29 11:31:32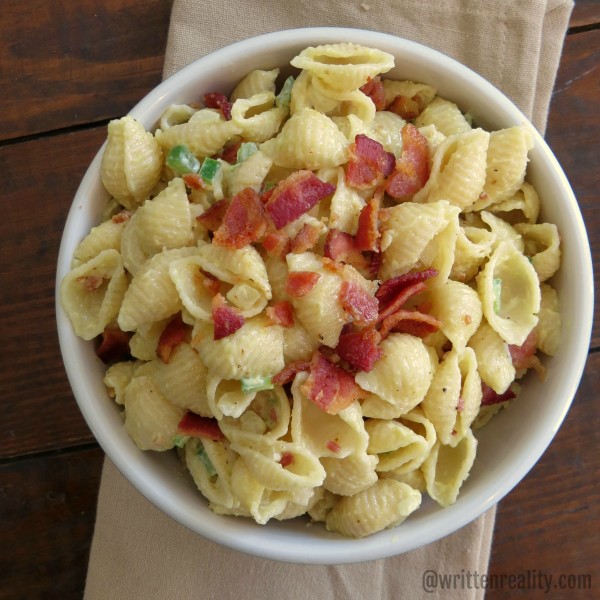 Ingredients
1 box pasta shells
3/4 cup mayonnaise
1 Tablespoon yellow mustard
1 Tablespoon white vinegar
1 Tablespoon sugar
1/3 cup finely chopped bell pepper
1/3 cup finely chopped onion
1/2 pound bacon, crumbled
Instructions
Prepare the pasta shells as directed on package.
Drain pasta and mix with all other ingredients in large mixing bowl.
Store in the refrigerator until ready to serve.
Enjoy!
Written Reality https://writtenreality.com/