This post may contain affiliate links. Please see my full disclosure policy for details.
This super easy skillet peach cobbler is filled with fresh peaches and quick and easy to bake, too.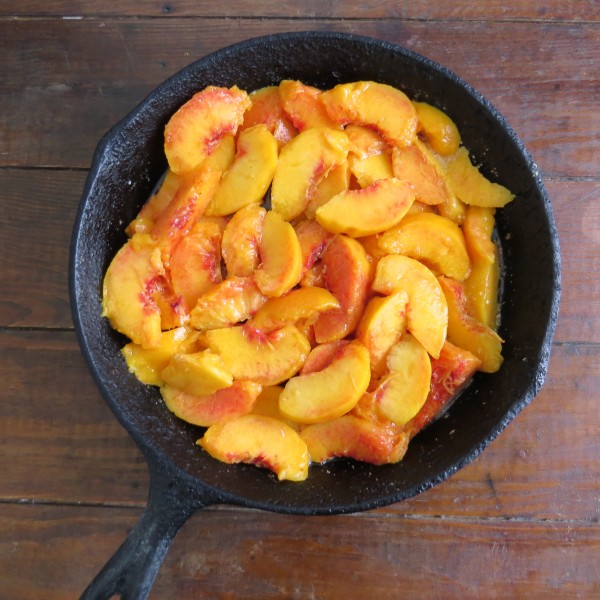 I live within driving distance from some of the best peach orchards. So every summer our roadside produce stands are filled with fresh peaches, and I must say it's one of the wonderful reasons I love spending summers in my own home state.
A couple of weeks back, Trenton hosted its annual Peach Festival, and we had a blast enjoying the music, crafts, and all things peachy– from sweet peach tea to peach ice cream.
Of course, I couldn't leave without a basket full of peaches. And later that evening, I decided to make a fresh batch of peach cobbler in my skillet to enjoy the next day at Sunday dinner after church.

Here's what I used to make this one.
Easy Skillet Peach Cobbler Recipe
Ingredients
5-6 fresh peaches, peeled and sliced (enough to fill the bottom of the skillet)
1 1/2 sticks of butter (1 stick melted)
2 cups sugar
2 cups flour
2 cups milk
2 tsp. baking powder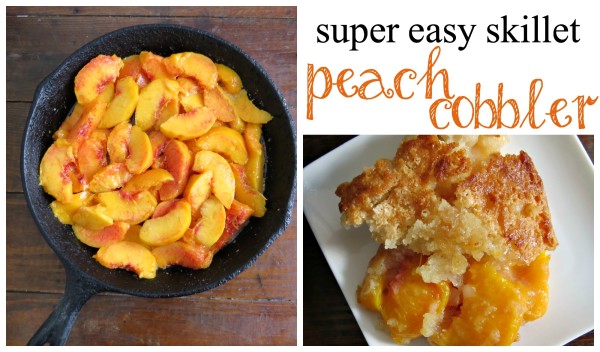 Directions
Rub 1/2 stick of butter around the bottom and edge of cast iron skillet and leave what's left in the pan. Place the skillet in the oven and preheat to 350 degrees.
While oven preheats, mix sugar, flour, milk, and baking powder and set aside.
Once the oven is preheated, carefully remove the hot skillet and add peaches.
Cover the peaches with the remaining stick of melted butter.
Pour the batter mix over the buttered peaches and bake for 45-55 minutes, or until the tops is golden and the edges have crisped a bit.
Here's a tip for this recipe:
If you don't have fresh peaches available, you could use canned peaches. Just make sure to get a large can of sliced peaches that's enough to fill the bottom of the pan.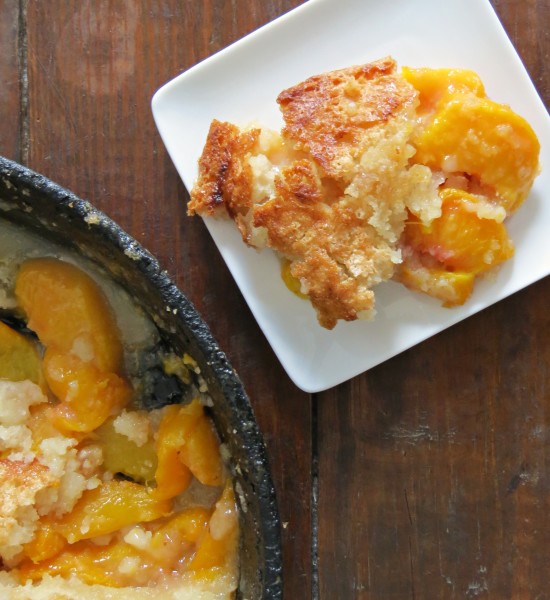 It's really a super easy recipe that's delicious, and during the winter months I try to keep some peaches in the freezer so that I can enjoy peach recipes all year long. I've included an easy way to freeze peaches below.
Just a note about freezer peaches
To me, these freezer peaches are absolutely wonderful! Sometimes I'll take a bag of peaches out of the freezer before church on Sunday, so that by the time we're ready for dessert after dinner they're perfectly thawed and ready for a topping of whipped cream. Seriously, there is no dessert so easy and delicious.
Other Recipes You May Enjoy