This post may contain affiliate links. Please see my full disclosure policy for details.
Why do I focus too often on the problems of weaknesses and worries or regrets and mistakes–when within every moment God is offering His goodness instead?
Why do I choose to overlook the beautiful moments within reality in exchange for pipe dreams or disillusioned entrapments that I neither need nor really desire?
Why do I take today for granted and waste time on petty arguments or seeking out flaws and imperfections?
Can you relate?
It's easy to shift our focus from the things that count and, for most of us, our troubles begin within those distractions. Yet, if we would only shift our thoughts above our catastrophe, we could see the beauty of His masterpiece with a lot less noise and a much better view of His plan.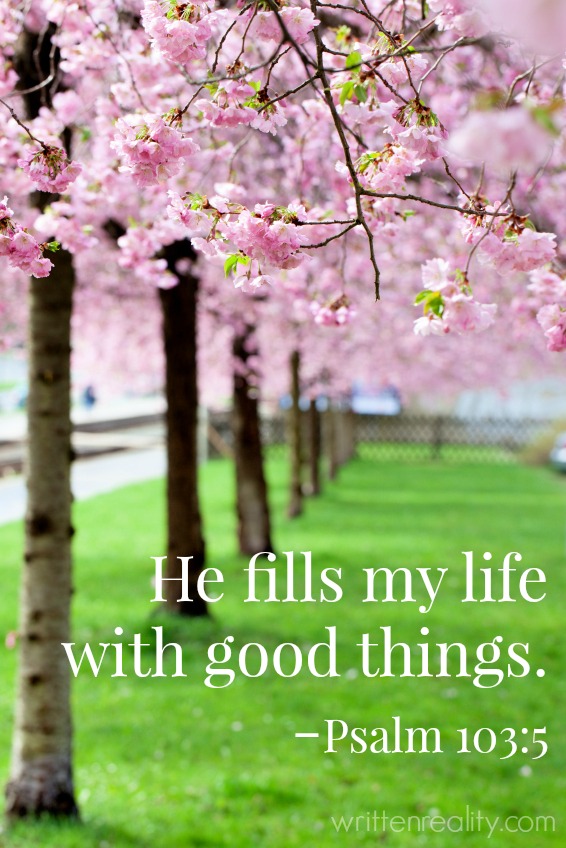 Every Good Thing
Every good thing is attached to our Creator. Click To Tweet
Life.
Love.
Renewal.
Restoration.
Abundance.
Beauty.
Mercy.
Grace. . .
God is good and offers His goodness to the rest of us.
Today, let's look to our Father and seek His goodness. Let's praise Him for filling our lives with good things. Let's live in the light of His revelation with assurance of His unchanging love and everlasting promises.
Every good gift and every perfect gift is from above, coming down from th Father of light with whom there is no variation or shadow due to change. James 1:17
What about you?
What are the good things God has given that you will celebrate today? Share your thoughts with us!
Other Topics You May Enjoy
10 Bible Verses Every Christian Should Know