This post may contain affiliate links. Please see my full disclosure policy for details.
Here's a delicious way we used up our leftover Christmas ham.
It's Ham and Dumpling Soup and its a hearty favorite that's perfect for Soup Month, too.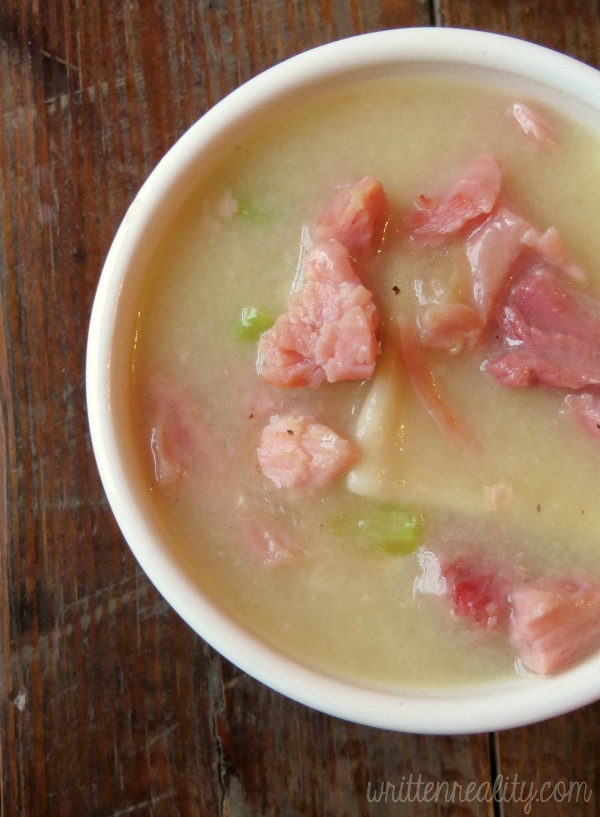 We love soup at the Smith House. And since January is Soup Month that gives me another excuse to fill this month's menu with some hearty soup favorites, too.
But this one was a spur of the moment sort of recipe. I had leftover ham from Christmas and a pack of frozen dumplings in the freezer. With that, another favorite was created.
Ham and Dumpling Soup
Saturday was a rainy and chilly one. And since my husband had the day off, we were taking down the tree to finally complete the Christmas decoration cleanup and ready the house for the upcoming "back to school and work" week.
And, well, I was feeling sort of somber about the whole thing.
This was my youngest's last Christmas as an elementary school kid.
Next year, he heads to 6th grade, which means another round of middle school for us. He'll be eleven in just a couple of months and I'm feeling sort of weepy and misty eyed about the whole thing.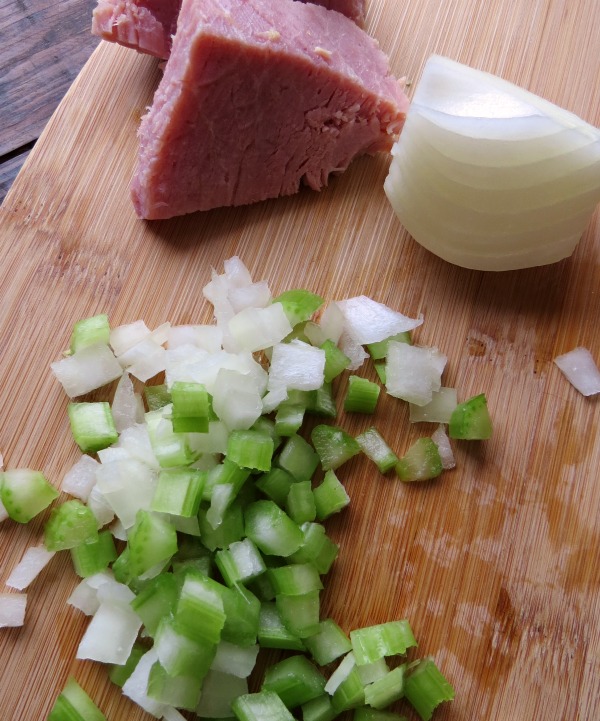 So making this soup was a comfort.
The smell of the ham bone simmering in the pot on the stove always reminds me of home. And the onions and celery mingled with it filled the whole house with a warm comforting aroma until all of us was chomping at the bit to try it.
Let's just say this soup hit the spot–especially since my youngest was so pleased by it. And with full bellies we savored not only the warm soup, but the last official weekend of this year's Christmas break.
Even better, the recipe made a big pot for us, so there was plenty left for dinner after church the next day, too.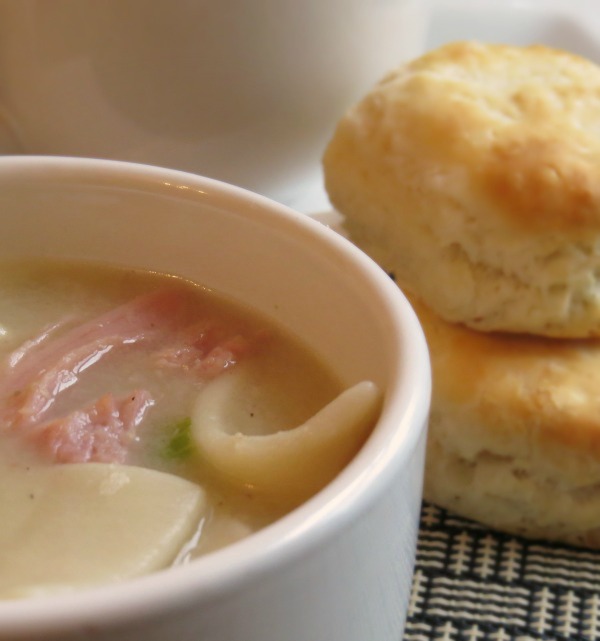 What about you?
What's your favorite way to serve leftover ham? Share your ideas with us.
Feel free to pin this recipe for later, bookmark the page, or print your own copy of how I made it at the bottom of the post.
Other Recipes You May Enjoy
Butter Crusted Parmesan Pork Chops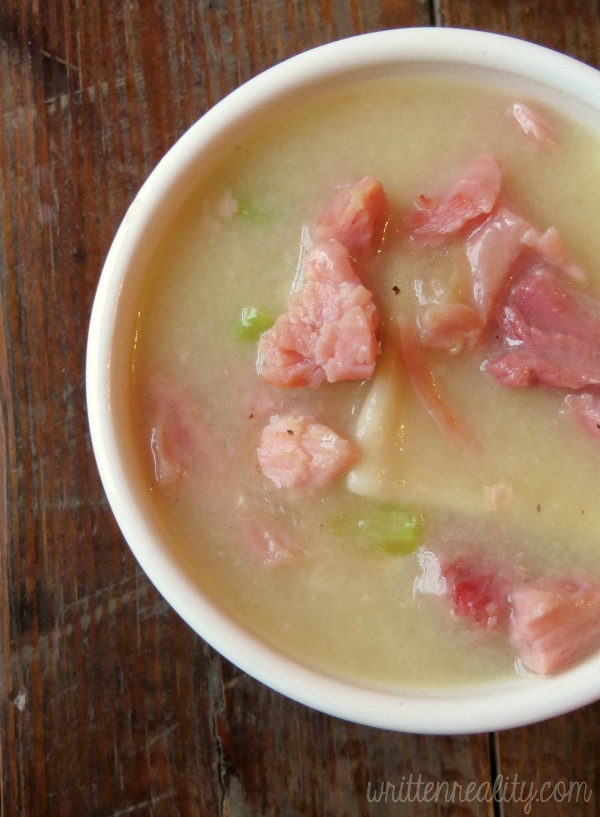 Ham and Dumpling Soup
2015-01-03 16:07:35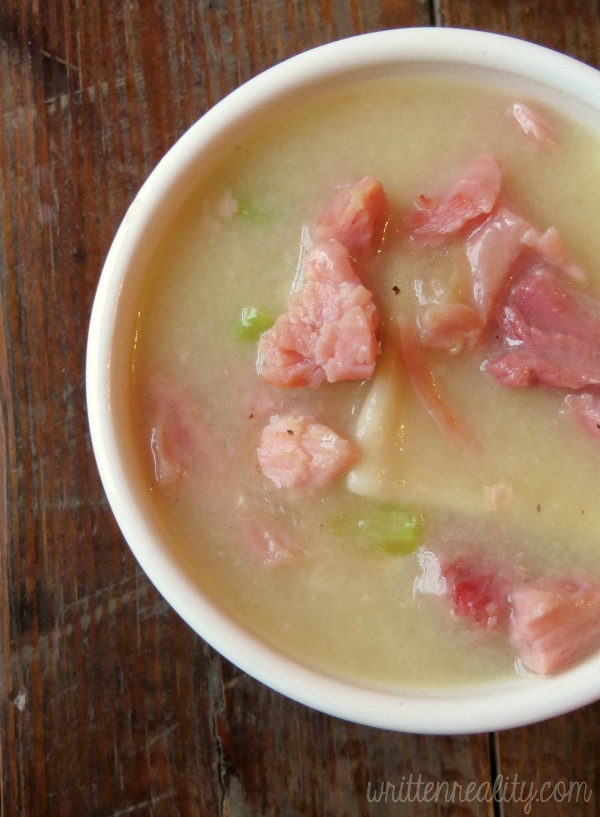 Ingredients
Leftover Hambone
3 cups of chopped ham
1 Tablespoon Olive Oil
1 large onion, chopped
3 celery stalks, chopped
1 pkg. frozen open kettle dumplings
pepper to taste
Instructions
Place leftover ham bone in a large pot and add enough water to halfway cover it. Bring to a boil.
Reduce the heat and simmer for about an hour.
Remove hambone and bring broth back to a boil.
Break the dumplings into thirds and toss into the boiling broth one by one.
After all dumplings are added, reduct heat and cover.
Simmer for about 45 minutes.
While dumplings simmer, sauté the onions and celery in olive oil in a separate pan, just until tender.
After dumplings have simmered and are thickened, add onions, celery, and ham.
Heat for about 10 minutes. Add water if too thick.
Pepper to taste.
Written Reality https://writtenreality.com/