This post may contain affiliate links. Please see my full disclosure policy for details.
I'm excited to share with you a post today that's all about staying confident even when you're battling a cold sore.
If you suffer from cold sores like I do, you know it isn't easy to feel confident when you get one. With the first sign of a cold sore coming on I reach for Abreva® to get rid of it fast. Then I follow the following simple tips to help keep my confidence high!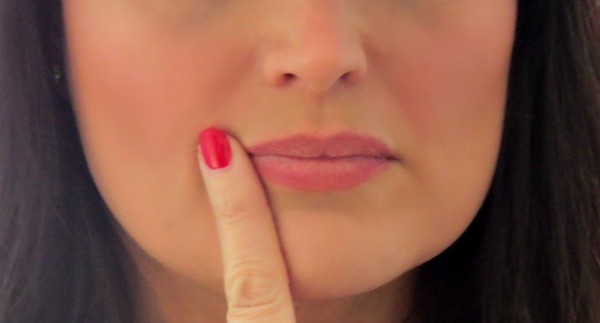 Ever suffer from a nasty cold sore? Not only are they an 'eyesore,' but they're painful, too. They cause us nothing but misery by making us feel insecure about our appearance and distracting us all day with their irritating discomfort.
Keep Confident and Kick Cold Sores to the Curb
It never fails. I'm super busy or in the midst of planning some major event when a cold sore pops up as an uninvited guest. When I get them, I don't want to go anywhere. They're unsightly, annoying, and painful.
Even worse, a cold sore will create more irritation when I try to hide it under tons of makeup, making me feel even more irritable and causing more stress.
That's why I choose to kick cold sores to the curb from the start. By keeping a tube of Abreva® Cream on hand, you can knock out a cold sore when used at the first signs. That way, you can spend your time staying productive without wasting more time worrying over a cold sore or how you perceive it looks to everyone else.
Confidence starts on the inside.
Believe me. That nasty cold sore is more worrisome to you than others. Its symptoms are painful enough, so don't let one little cold sore keep you feeling insecure about your appearance and hinder you from doing the things you love. Make the choice to live happy and healthy.
By choosing to eat a well-balanced meal, exercise regularly, and drink plenty of water, you'll be improving your overall well-being from the inside out.
Cold sores? Why bother? You'll be able to keep up that energy and kick that nasty cold sore to the curb. Celebrate all that you've already accomplished and focus on the upcoming successes that await. There's plenty left for us to accomplish without annoying distractions, like a pesky cold sore, to keep us down.
What about you? What's your favorite way to stay confident? Tell me in the comments to enter for a chance to win a $100 VISA gift card.
You could Knock out your cold sore in 2.5 days*. Only Abreva® can do it, when you treat at the first sign**. Try Abreva® Cream during your next cold sore! Click here to learn more about Abreva® cream. *Median healing time 4.1 days. 25% of users healed in 2.5 days. **Among Over-the-counter products.
Entry Instructions: No duplicate comments. You may receive (2) total entries by selecting from the following entry methods: 1. Leave a comment in response to the sweepstakes prompt on this post 2. Tweet (public message) about this promotion; including exactly the following unique term in your tweet message: "#SweepstakesEntry"; and leave the URL to that tweet in a comment on this post 3. Blog about this promotion, including a disclosure that you are receiving a sweepstakes entry in exchange for writing the blog post, and leave the URL to that post in a comment on this post 4. For those with no Twitter or blog, read the official rules to learn about an alternate form of entry. This giveaway is open to US Residents age 18 or older (or nineteen (19) years of age or older in Alabama and Nebraska). Winners will be selected via random draw, and will be notified by e-mail. The notification email will come directly from BlogHer via the sweeps@blogher email address. You will have 2 business days to respond; otherwise a new winner will be selected. The Official Rules are available here. This sweepstakes runs from 3/23/15 – 4/17/15. Be sure to visit Abreva brand page on BlogHer.com where you can read other bloggers' posts!