This post may contain affiliate links. Please see my full disclosure policy for details.
Remember your favorite bedtime story?
That one book that floods you with memories and, just at its mention, can wrap you in warm and fuzzy comfort to sweep you back to the moment when you first turned to its last page?
For me, it was a tiny little book I'd checked out from our school library.
And even though I was probably considered too old for it according to assumed interests and reading level, I read the little book over and over, and enjoyed it like a brand new discovery every time.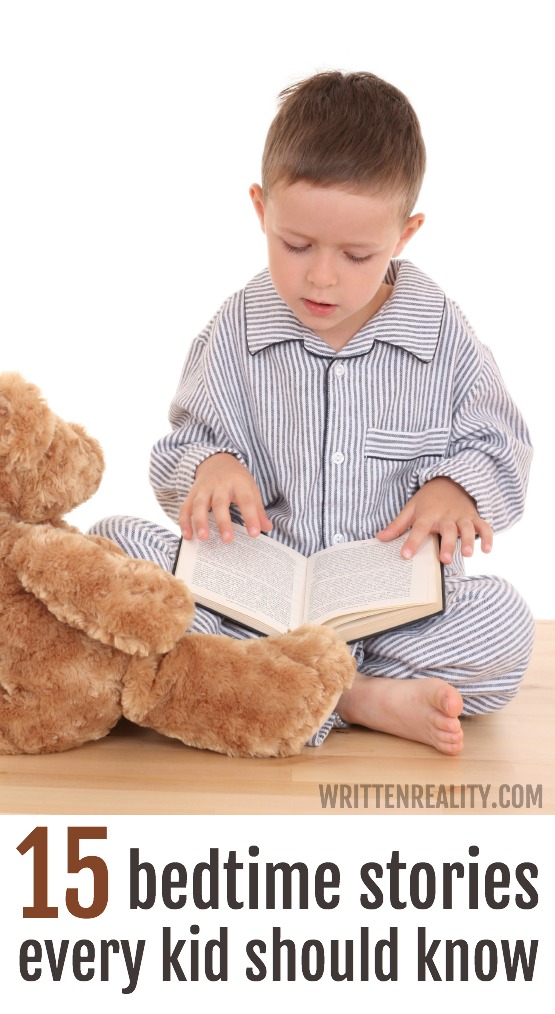 What makes a great bedtime story?
What is it about a story that pulls us onto the page where we experience every word of it? And even after, we relive it when we close our eyes and dream?
Bedtime stories can be magical moments for all of us. And helping your child discover his/her favorites can create beautiful memories for you both.
Too Many Great Titles
There are so many wonderful stories, and narrowing down to just a few isn't easy. So for this read aloud list, I chose picture books that dealt with bedtime issues–like stuffed toys and favorite blankies, night-time fears, and fighting sleep.
I also chose non-scary stories. Who wants to hear a creepy story to keep you up all night?–and the whole "sleep tight, don't let the bedbugs bite" warning is one I'll never understand.
15 Bedtime Stories Every Kid Should Know
#1

Bear Snores On by Karma Wilson

#2

Ira Sleeps Over by Bernard Waber
#3
#4
#5
I fell in love with Sarah, Percy, and Bill immediately. An all-time favorite book.–really sweet.
#6

Good Night, Gorilla by Peggy Rathmann
This is one of the funniest little books–I especially love the lights-out moment near the end.
#7

Goodnight Moon by Margaret Wise Brown
No bedtime read aloud list would be complete without it.
#8

What's the Matter with Carruthers? by James Marshall
This one is an old one but one of my all-time favorites! Carruthers is a grumpy bear in need of a long winter's nap.
#9

There's a Monster at the End of This Book by Jon Stone
Who knew monsters could be so adorable?
#10

Five Little Monkeys Jumping on the Bed by Eileen Christelow
#11


A Bedtime for Bear by Bonny Becker

#12

The Napping House by Audrey Wood
#13

How Do Dinosaurs Say Good Night? by Jane Yolen

#14


Imogene's Antlers by David Small
#15

I'll Protect You From the Jungle Beasts by Martha Alexander
Remember I mentioned my own favorite bedtime story? This was it.
Imagine my surprise when I discovered it for sale after digging around used bookstores and then online for years.
Fortunately, it's been republished so that others can enjoy it, too.
What about you?
What's your favorite bedtime story?
Share with us in the comments, so we can enjoy it, too!
Other Topics You May Enjoy:
10 Best Books to Make Multiplication Easy
10 Best Middle Grade Books For Boys