This post may contain affiliate links. Please see my full disclosure policy for details.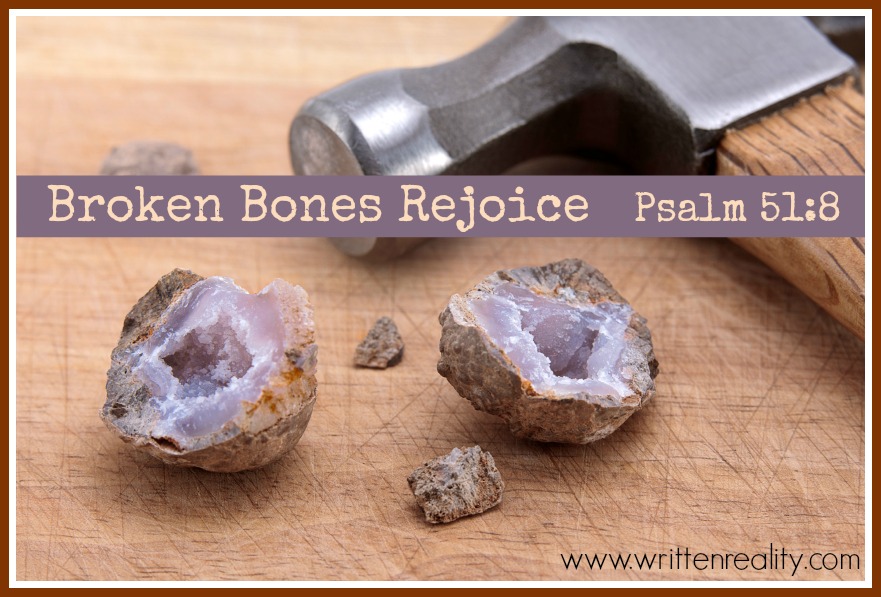 As a school teacher my students enjoyed geode exploration.  Though all the dull, gray rocks appeared the same on the outside, once broken, the students would discover beautiful crystal formations hidden within; each containing a unique blend of colors and patterns.
While the classroom filled with the sound of banging hammers, there was always one kid who refused to break open his rock.
I've often wondered what happened to those left unbroken.  Were they accidentally dropped somewhere between home and the bustling bus ride?  Did they make it home only to sit on a shelf somewhere forgotten?
Hammered Rock
We, too, are created as geodes where God has hidden His beautiful design. Often we resist His breaking, hoping to avoid the pain that may accompany our brokenness.  In reality, we live in a broken world where disappointments and suffering are inevitable.
However, we can't begin to imagine all the beautiful blessings that await us beneath the breaking of our hard surfaces.  Each day, as we allow God to chisel away our sinful nature, He perfects us into His masterpiece, transforming us into the people He designed for us to be.
When Broken Bones Rejoice
"Make me hear joy and gladness, That the bones You have broken may rejoice." Psalm 51:8
Though often painful, brokenness replaces our selfishness with sacrifice and our fears into courageous living.  Sometimes we find ourselves like my former students; holding on tight to keep life as we know it secure.  All the while life's greatest treasure remains locked away buried beneath the hard dull layer that could so easily be hammered away.
Our greatest desire can only be satisfied by our Creator. [tweetable]
Our greatest need can only be fulfilled in Him.
"But may the God of all grace, who called us to His eternal glory by Christ Jesus, after you have suffered a while, perfect, establish, strengthen, and settle you." 1 Peter 5:10
What about you?
Have you experienced shattering circumstances?
What has God revealed within your broken places?
Share your comments.
Today, I'm linking up @SimplyBeth for Three Word Wednesday. What are your 3 words this Wednesday?