This post may contain affiliate links. Please see my full disclosure policy for details.
Remember your BFF from high school? Or maybe your best friend from third grade?
Though these friends are treasured, as we grow older our friendships grow, too. Motherhood, careers, marriage–even divorce–change our priorities within our relationships and often shift the image of what friendship looks like, according to our individual circumstances.
Whether you live by the few faithful friends motto or with friends, there are never enough, these 5 women should be included within your own friendship circle.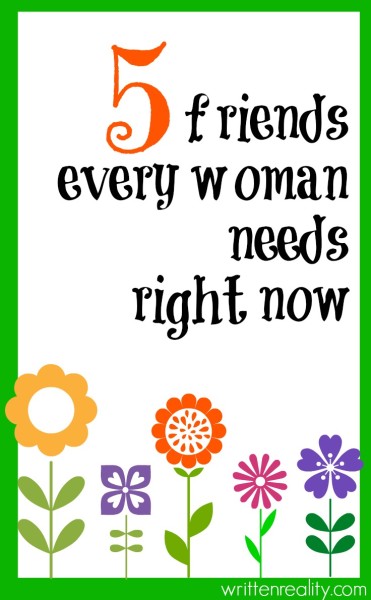 5 Friends Every Woman Needs:
1. EVE
(A Back to the Beginning Friend)
Childhood friends hold a special place in our hearts. Regardless of how much time passes, there's never a need to get reacquainted.
Childhood friends are comfortable–and comforting.  They celebrate our memories and remind us of dreams we may have buried or forgotten.
These friends take us back to our roots, keep us grounded, and stick with us as we move ahead.
2. MARTHA
(A Get Up and Go Friend)
You know her.  She's that friend.  The one who works circles around us.  The one we rely on to organize every get-together–the one who makes sure we're adequately prepared for all our events.
We all need a friend who pulls us off our lazy seats and forces us to get up and do something.
Energetic friends motivate.  They set goals and stay focused. They take away our excuses and pull us back up when we fail.
3. RAHAB
(A New Friend)
New friends push us from our comfort zone.  They teach us new things.  They give us a fresh perspective on our situations.
Best of all, they hold no baggage from our past.  With no former opinions, new friends are the most objective.
New friends offer great advice based on the big picture, rather than from our narrowed view within the circumstance.
Far too often we live in a box.  New friends give us a chance to break out of a that's the way we've always done it mentality, freeing us to go against the grain to somewhere new.
4. ESTHER
(A Now Friend)
We need friends to celebrate our big days and big announcements.  To cheer and clap in all the right places and laugh or cry at the right places, too.
We need friends to hug us when we're lonely and stand beside us, even when we don't deserve it.
We all need a friend who'll be there "for such a time as this"–whatever that time might be.
5. HANNAH
(A Praying Friend)
Who doesn't need a prayer partner?
With all that we face, praying friends are priceless–especially in times when we can't seem to find enough strength or words to even string together a sentence.
Our friends of faith pray us through.
Ointment and perfume delight the heart, And the sweetness of a man's friend gives delight by hearty counsel. Proverbs 27:9 NKJV
Do you recognize these friends in your own circle?
Share your comments with us.