This post may contain affiliate links. Please see my full disclosure policy for details.
Cutting down trees? Hanging stockings? Santa Claus?
What do any of these have to do with Jesus' birthday? More than you'd think!
Join VeggieTales creator Phil Vischer along with intrepid newsman Buck Denver and all his friends on an amazing journey into the world's most popular holiday! Enter the Why Do We Call It Christmas? Giveaway to win!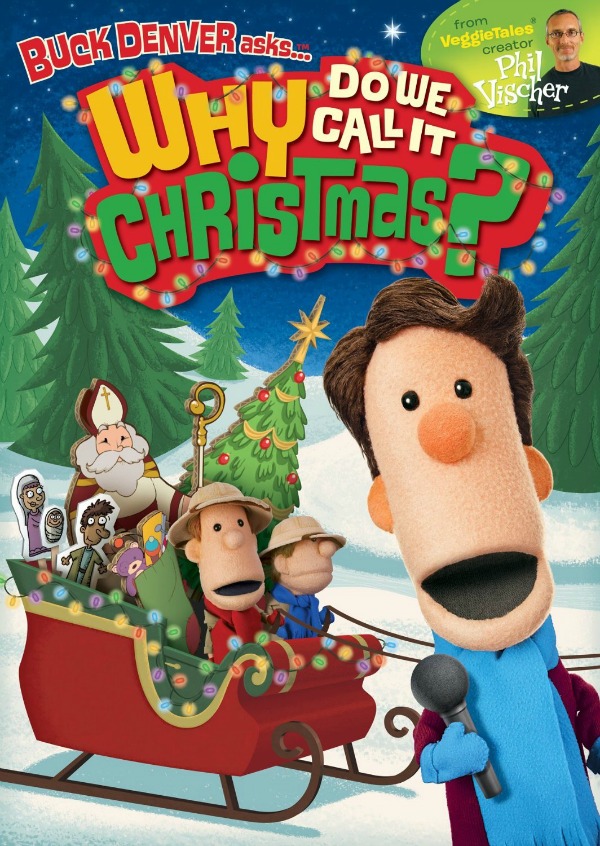 Ever since the boys were babies, I've tried to emphasize the true meaning of Christmas and focus our attention on that tiny little baby nestled in our ceramic nativity scene.
But within the hustle and bustle of holiday shopping, baking, and hanging our stockings by the chimney with care, I must admit the focus gets blurred until it blends in with everything else.
Though we celebrate Jesus through Advent and Bible study activities, and of course, through all the other events our church offers every year, we can too easily get wrapped within the holiday hoopla without centering our celebration on the gospel of Christmas– and the reality of what we actually have to celebrate.
Buck Denver Asks. . .Why Do We Call It Christmas?
That's why I'm loving this new Christmas DVD from the Buck Denver Asks What's in the Bible? series.
It takes a fun look at how Christmas traditions started and helps to explain how many of those key elements still center around how Christmas really began. I was surprised at how many topics the movie actually covered and just how well it shared historical facts and points through history without taking away from the entertaining story itself.
My ten year old was just as impressed as I was. He kept turning to me throughout the movie with, "I never knew that," and mentioned, when it was over, that he couldn't believe how much about Christmas traditions he didn't know.
Sure, you know the Christmas story. But do you know the story of Christmas?
The movie covers:
-Where do we get the word Christmas?
-When was Jesus born?
-What do Christmas trees have to do with Jesus?
-Who is St. Nicholas?
-What is Hanukkah?
-Who is Emmanuel?
-Luke 2 Story
The best part is, it's all shared in such an entertaining way, so your kids will want to watch it again and again!
Never Miss a Post
Why Do We Call It Christmas? Giveaway
Here's your chance to win your own copy!
Just enter the giveaway below for your chance to win your own copy of this Why Do We Call It Christmas? DVD
"Disclosure (in accordance with the FTC's 16 CFR, Part 255: "Guides Concerning the Use of Endorsements and Testimonials in Advertising"): Many thanks to Propeller Consulting, LLC for providing this prize for the giveaway. Choice of winners and opinions are 100% my own and NOT influenced by monetary compensation. I did receive a sample of the product in exchange for this review and post. Only one entrant per mailing address, per giveaway. If you have won the same prize on another blog, you are not eligible to win it again. Winner is subject to eligibility verification."
This giveaway is open to US & CANADA residents only.