This post may contain affiliate links. Please see my full disclosure policy for details.
Here's a recipe for Candied Cherry Bundt Cake with Almond Glaze. It's super easy to make and bakes up nice and even in a stoneware bundt pan every time.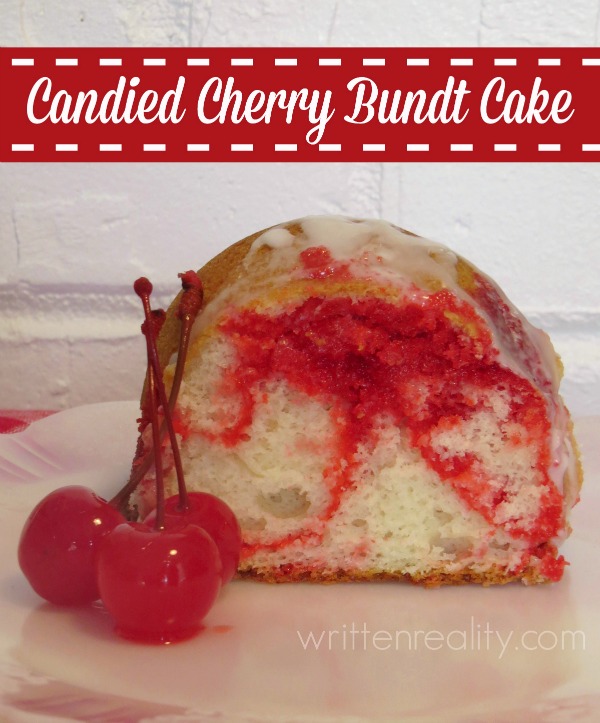 This past weekend I baked one of my family's favorite desserts: Candied Cherry Bundt Cake with Almond Glaze. Though it may look complicated, it's another one of my easy recipes, and its bright red swirl through each slice serves as a great presentation on a plate.
After trying several Bundt cake recipes, I adjusted a few flavors and added a simple glaze to create the perfect blend of sweet cherries and almonds.
Candied Cherry Bundt Cake with Almond Glaze
Ingredients
1 box of yellow cake mix
1 cup of sour cream
1/4 cup water
2 eggs
1 pkg. (3 oz.) cherry flavor gelatin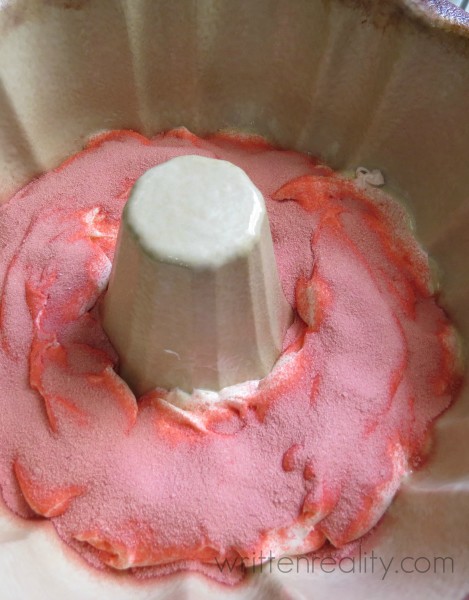 I love my Classics Stoneware Fluted Bundt Cake Baking Pan
! I've had this pan for years, and every cake bakes evenly and never sticks. One of the best tools in my kitchen.
Instructions
Combine cake mix, sour cream, water and eggs in large bowl.
Beat 2 minutes until creamy.
Spoon 1/3 of batter into well-greased and floured bundt pan.
Sprinkle with half the gelatin.
Repeat layers. Spread remaining batter over gelatin to cover.
Bake at 350 F for 45-50 minutes, until cake springs back when lightly pressed.
Cool in pan 5 minutes.
Remove from pan; cool on rack.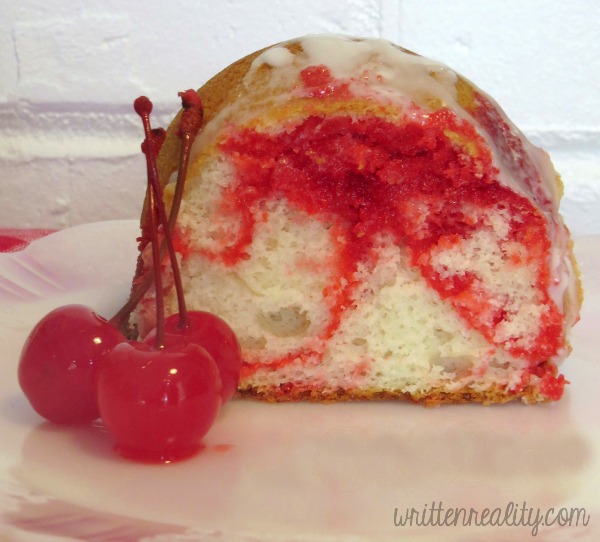 *Remember to allow the cake to cool completely for a thicker glaze on top.
Almond Glaze
1- 1/4 cup powdered sugar
1 tsp. almond extract
2 – 3 T. milk (depends on how thick you like the glaze, add gradually for desired consistency)
Directions
Whisk together sugar, extract, and milk.
Gradually add another tablespoon of milk for a thinner glaze if desired.
Drizzle glaze over cooled cake and allow a few minutes to set.
Enjoy!
What about you?
What's your family's favorite cake mix creation? Share your recipe ideas with us!
Never Miss a Post
Other Recipes You May Enjoy
Butter Crusted Parmesan Pork Chops