This post may contain affiliate links. Please see my full disclosure policy for details.
Looking for a sweet treat that only requires a couple of ingredients and is quick and easy to serve?
At the Smith House, we love a sweet treat after dinner. My husband claims I've spoiled my boys to expect it, but I'm actually the one who loves a little something sweet after our meal to enjoy with my final cup of coffee for the day.
Most times, our desserts are nothing fancy. However, whether it's a simple cookie from a package or a warm slice of pie straight from the oven, my desserts LOOK as if they've been prepared in a gourmet kitchen by some fancy chef somewhere.
My secret? Presentation.
I always serve up our dessert in a colorful bowl or on a fancy plate.
At our house, desserts create great memories. And it's just too easy to grab a cute dish to make those special moments a festive event.
Cherry Bites Recipe
So here's one that's SUPER EASY and only requires 2 ingredients–yep, just 2 little ingredients you probably already have tucked away somewhere.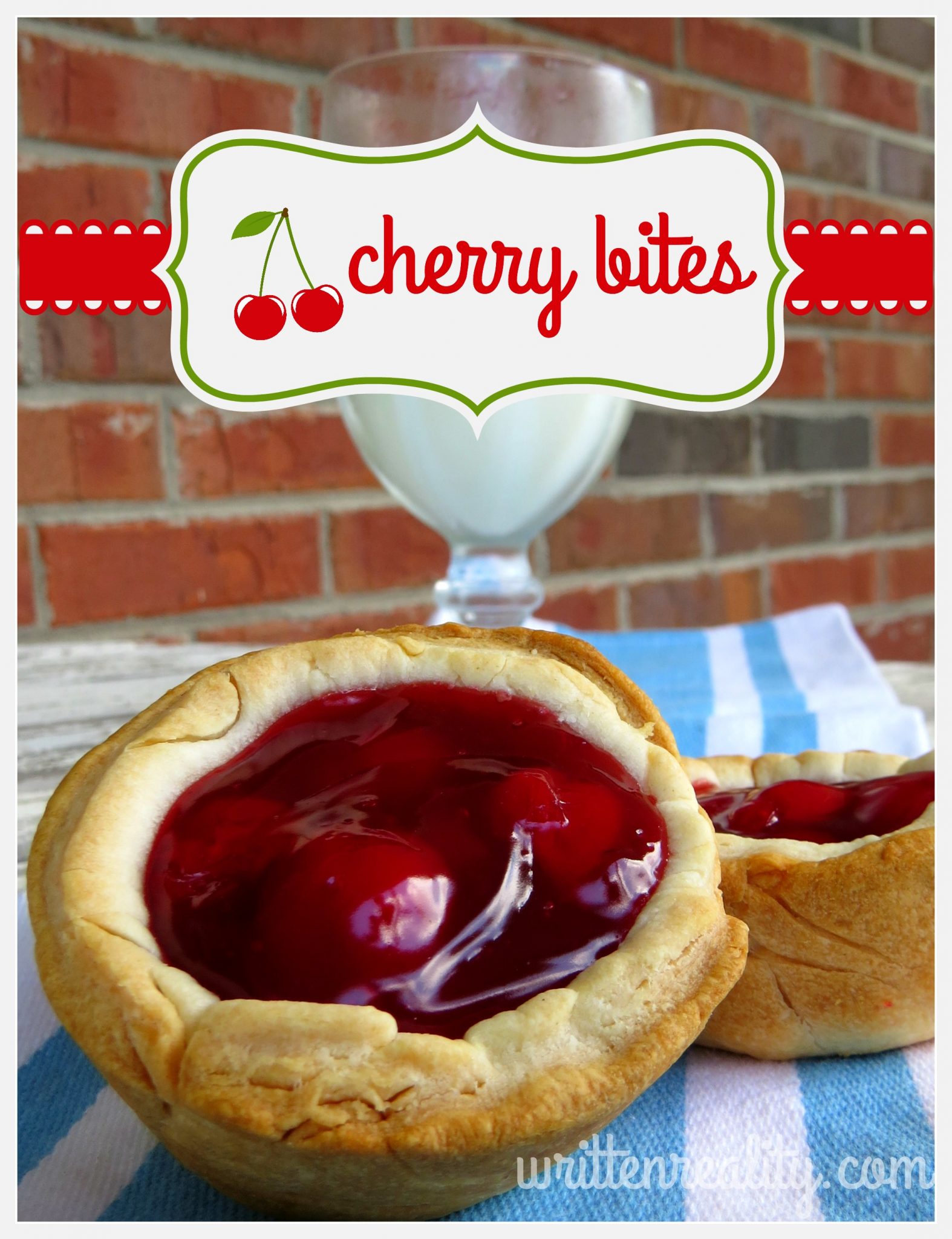 You can make these with any pie filling flavor you want, but since I'm a huge cherry flavor fan, the cherry pie filling is usually my pick. I also bake them in both a muffin pan for bigger bites or a mini muffin pan for a fun teeny treat.
The ones you see in the picture are actually ones I made with the leftover dough. That's right. Use all the dough and don't waste a bite! After cutting out the circles, I just roll the leftovers together and cut a couple more. For some reason, my boys like these better. Who knew?
Either way, my boys like them topped with a little whipped cream and my husband likes to warm his over a cup of ice cream.
Anyway you serve them, they're wonderful.
It's just another easy way to serve up a little something to make your daily meal a little special.
For more quick and easy recipes, hop over to my Foodie Fun Page OR hop over and follow me on Pinterest where I'm always adding fun recipes and tasty treats!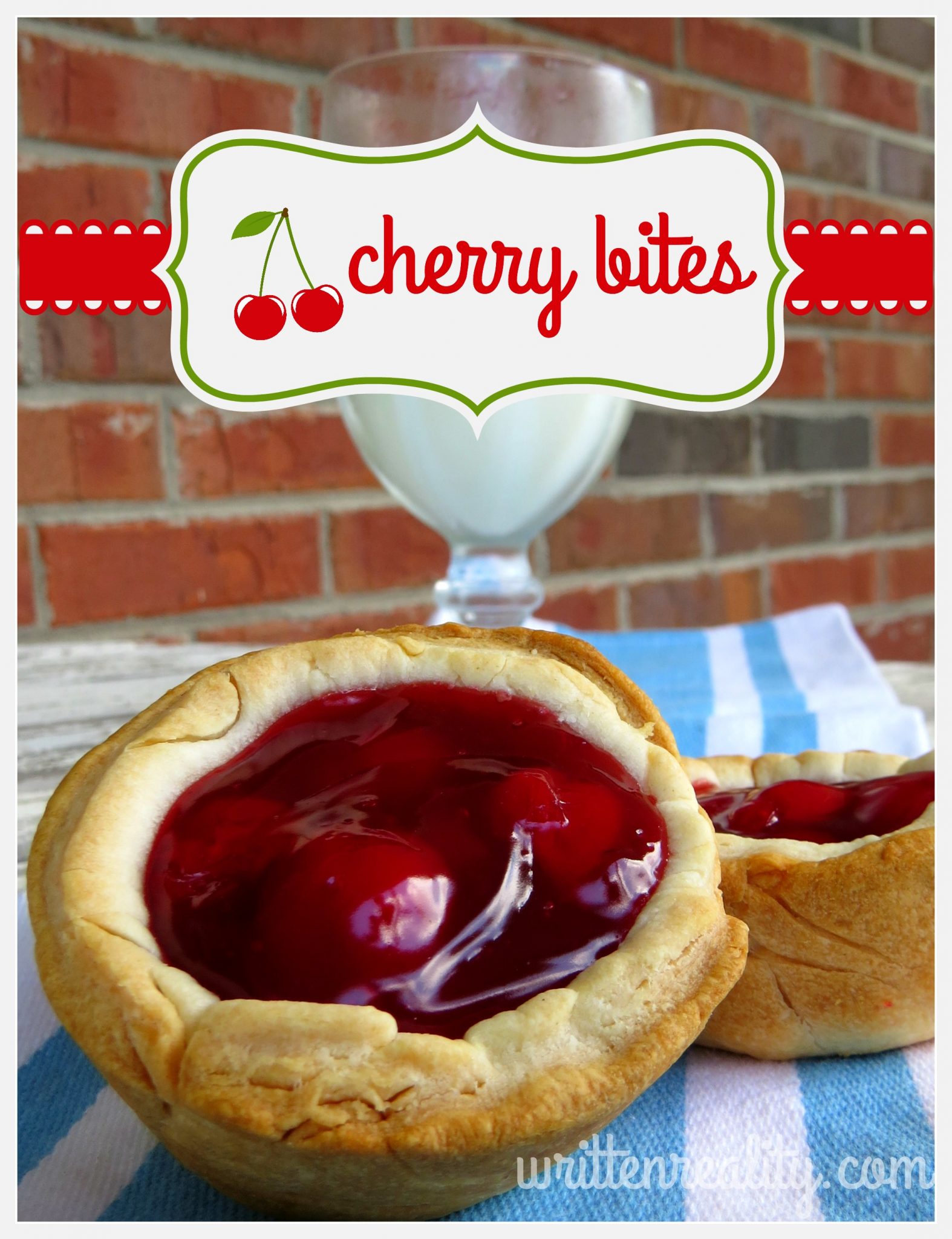 Cherry Bites
2014-06-25 10:05:22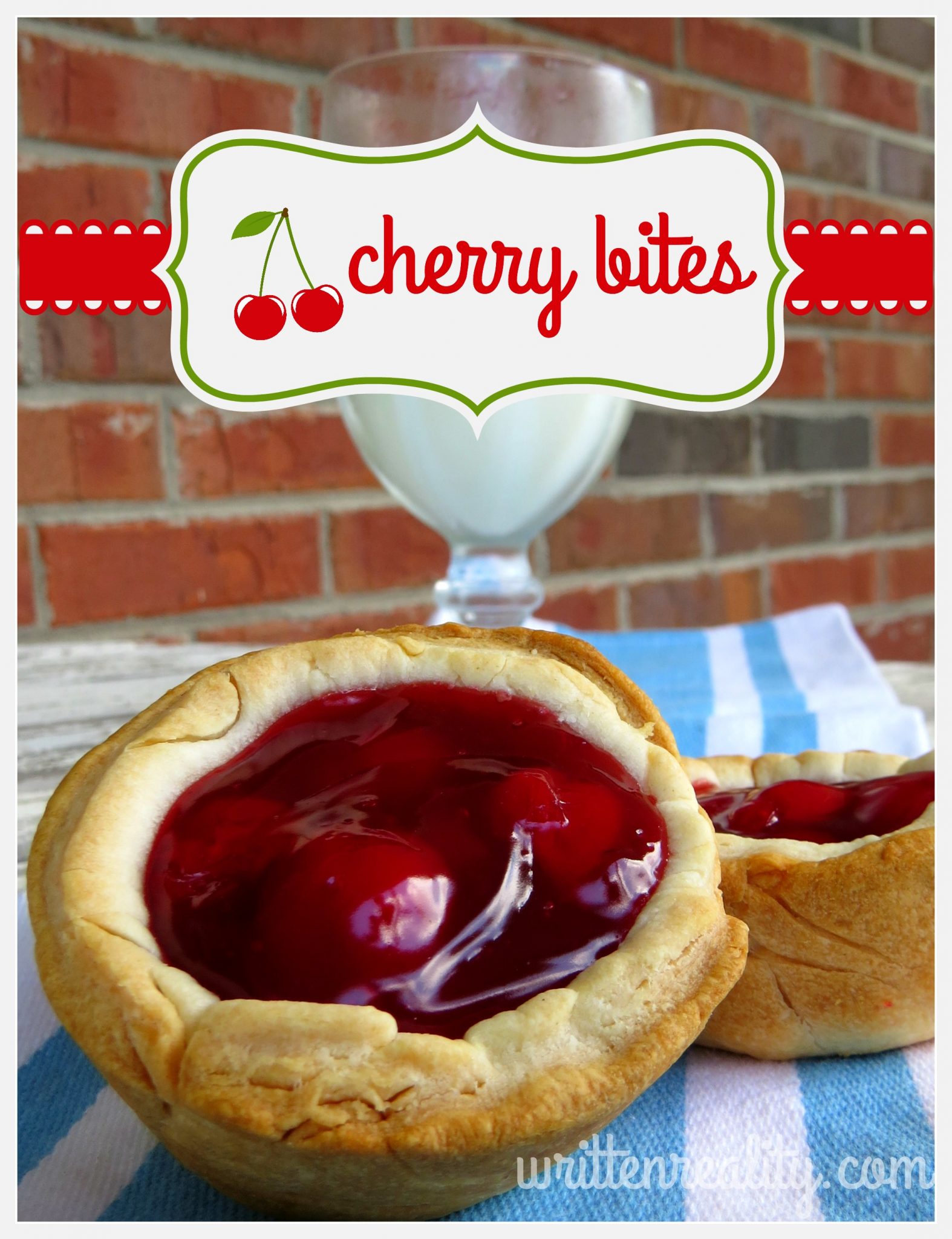 Ingredients
1 package refrigerated pie crust
1 can cherry pie filling
Instructions
Preheat oven to 375 degrees.
Spray muffin pan (or mini muffin pan) with cooking spray.
Roll out pie crust and use round cookie cutter or rim of glass to create circles.
Gently press the dough circles into the muffin pan. I usually have about 8 in muffin pan and/or 16 in mini muffin pan.
Bake about 15 minutes until pie crust is golden.
Cool and serve--enjoy!
Written Reality https://writtenreality.com/