This post may contain affiliate links. Please see my full disclosure policy for details.
My husband and I often joke about our dinner routine and how we've grown accustomed to it. Supper isn't in our vocabulary. And when out with friends, we're starved by the time dinner is served.
We eat our final meal of the day early.
By 4pm, we're sitting around the table enjoying our evening (for us it's evening) meal. And by 5pm, we're clearing the table and starting a pot of coffee to enjoy with a little something sweet.
Our dinner routine works well for us. It gives us time to enjoy each other's company where we're not rushing around trying to do all those other everyday things.
The best part comes after that. When we've cleared the table and tidied the kitchen, it's time for a little dessert.
That's when I pull out fancy plates and serve up something sweet. My desserts are rarely spectacular. Rather, it's the presentation that everyone seems to notice.
My husband and kids enjoy the routine of it. With just dessert dishes and a few sweet staples I can easily create something sweet my family will love.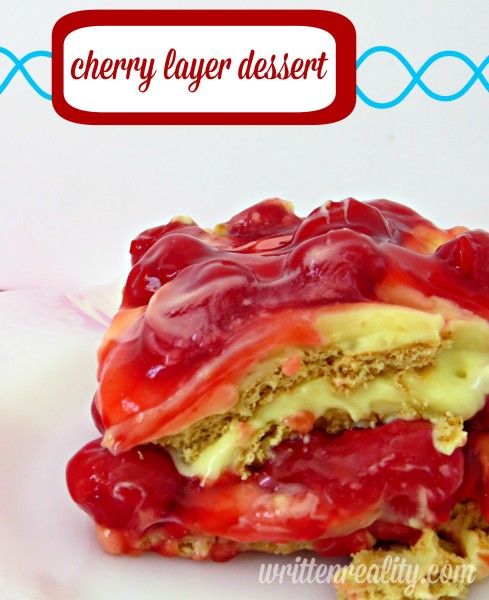 Cherry Layer Dessert
Cherry Layer Dessert is one of the easiest. It requires just a few basic ingredients, no baking, and it looks wonderful served on a plate or even in a fancy cup. Here is how I like to make it: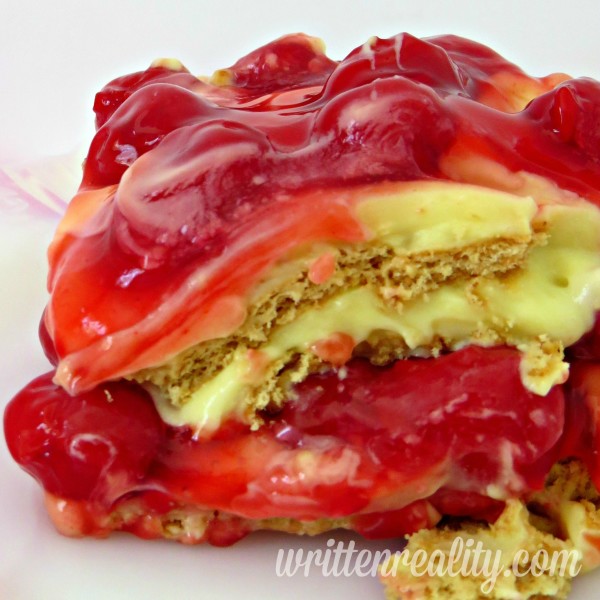 Cherry Layer Dessert
2014-05-12 08:03:03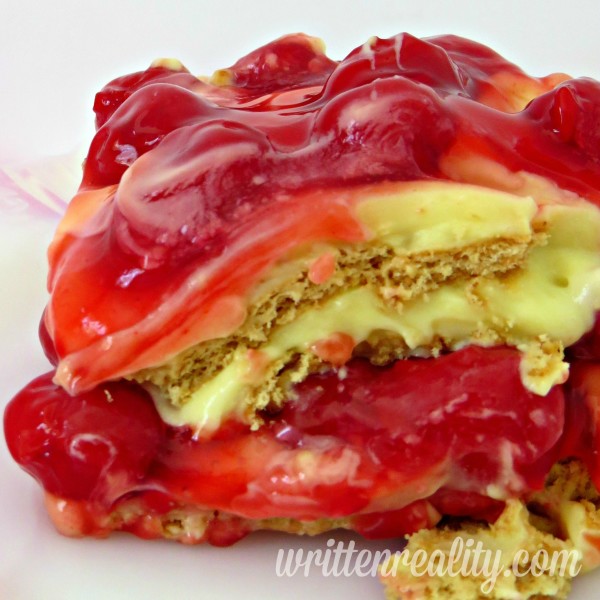 Ingredients
1 sleeve of graham crackers
large box of vanilla instant pudding
2 cups of milk
1 can of cherry pie filling
Instructions
Line the bottom of a 9 X 13 pan with graham crackers, breaking the crackers to cover the bottom of the pan.
In a medium bowl, mix the pudding and milk until it's blended well and thickened so that's spreadable.
Cover the graham crackers with 1/2 of the pudding mixture.
Repeat both layers.
Spread cherry pie filling over the top.
Cover and chill in the refrigerator for at least 2-3 hours. This will allow the graham crackers to soften into a nice, sweet crust.
Enjoy!
Notes
I like to top 2 slices on top of one another for an extra layer of cherry on the plate. Since my son doesn't care for all that cherry topping, I prepare it the original way so that everyone can enjoy.
Written Reality https://writtenreality.com/
What about you?
What's your family's go-to favorite for an afternoon dessert? Share with us!
[Tweet "Cherry Layer Dessert- 4 ingredients, no baking- simple and sweet!"]