This post may contain affiliate links. Please see my full disclosure policy for details.
This Chicken Skillet Cornbread recipe is a hearty family meal that's perfect for dinner tonight. It's easy to create and quick for moms on the go.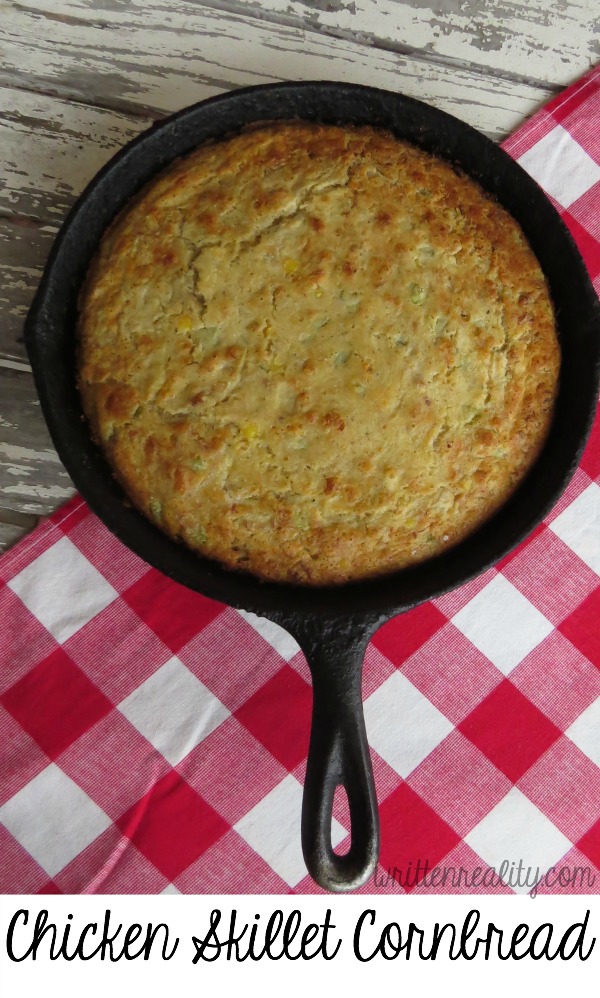 Southern Style Cornbread
I love cornbread.
I love to crumble up a slice in a bowl of chili or serve it with vegetables, like a nice bowl of freshly picked black-eyed peas. But I must confess, I'm a little particular about the cornbread and how I like it.
I like southern style cornbread. The kind you make in a cast iron skillet that crumbles perfectly when you're trying to make cornbread dressing for Thanksgiving–not that other stuff you bake in some cake pan, because around here, we call that cake.
Nothing wrong with it. It's just sweeter than what I'm used to, and reminds me more of a dessert than something I want to use to sop up my soup.
I was raised on skillet cornbread. Seriously, I think Mama served it to us at every supper as soon as we could reach the plate.
So cornbread, for me, is a comfort food classic. And there's plenty of ways to serve it to create a family style meal that's hearty enough on its own.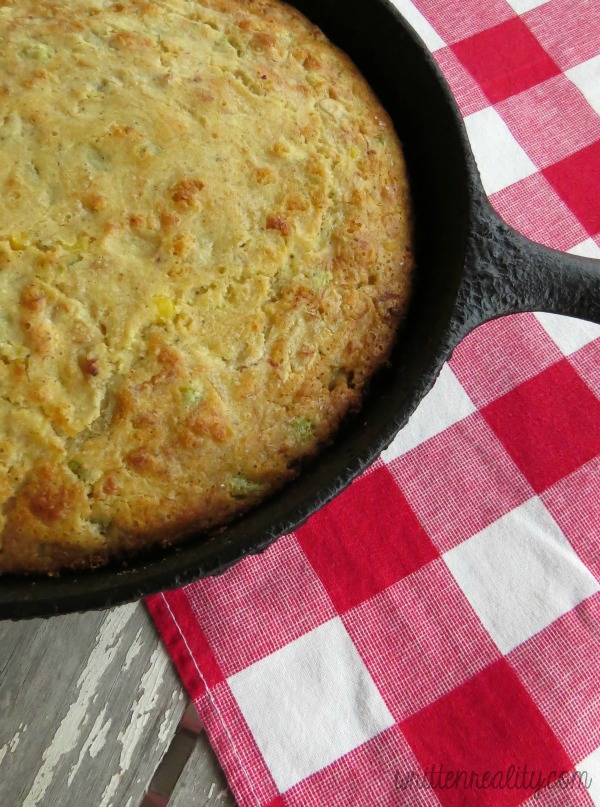 Chicken Skillet Cornbread
Chicken Skillet Cornbread is one of the easiest and heartiest ways to make a great cornbread meal. The celery and onions give it the homestyle flavors of a traditional cornbread dressing. But when you add the chicken, you take the cornbread to a whole new place.
I also add a little frozen corn to give it an even heartier texture. However, since it is filled with plenty of chicken, it's a hearty enough cornbread with or without the corn.
When you're making any type of skillet cornbread meal, the key is getting your skillet hot enough.
You want the crust of your cornbread crunchy, while keeping a moist texture within. So make sure to heat up your nicely greased cast iron skillet a few minutes in the oven before ever adding the mix.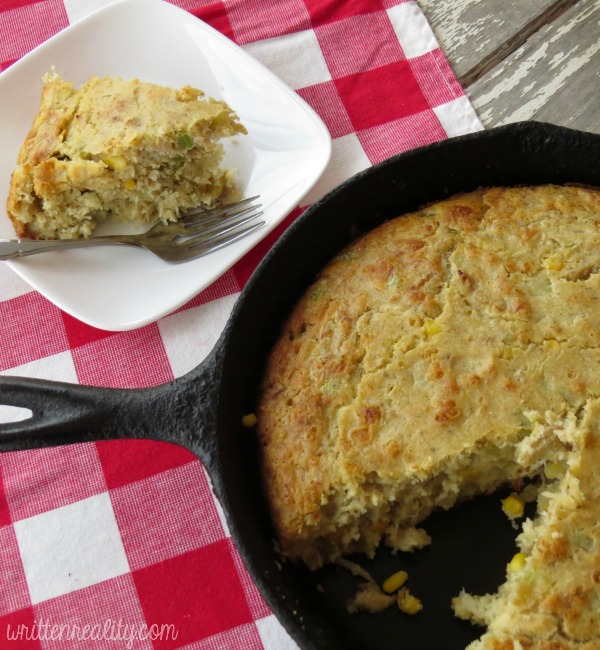 Remember, skillet cornbread isn't a dessert bread, so season the mix as you go. You want to make sure you add enough salt and pepper along the way to season throughout the pan.
You can check out how I make my Chicken Skillet Cornbread at the bottom of this post. Feel free to bookmark this page, pin it for later, or print out your own copy so you can cook it for your family tonight. –Enjoy!
Never Miss a Post
Other Recipes You May Enjoy
Butter Crusted Parmesan Pork Chops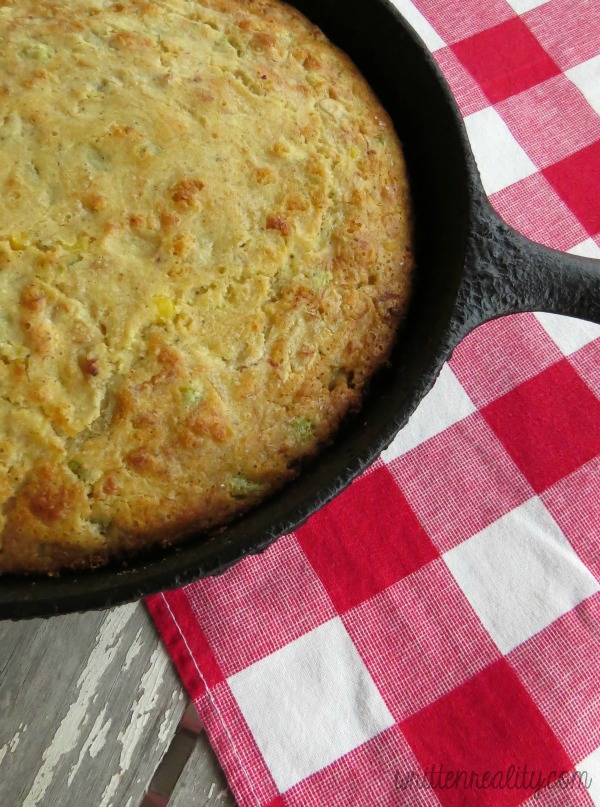 Chicken Skillet Cornbread
2014-11-19 12:24:49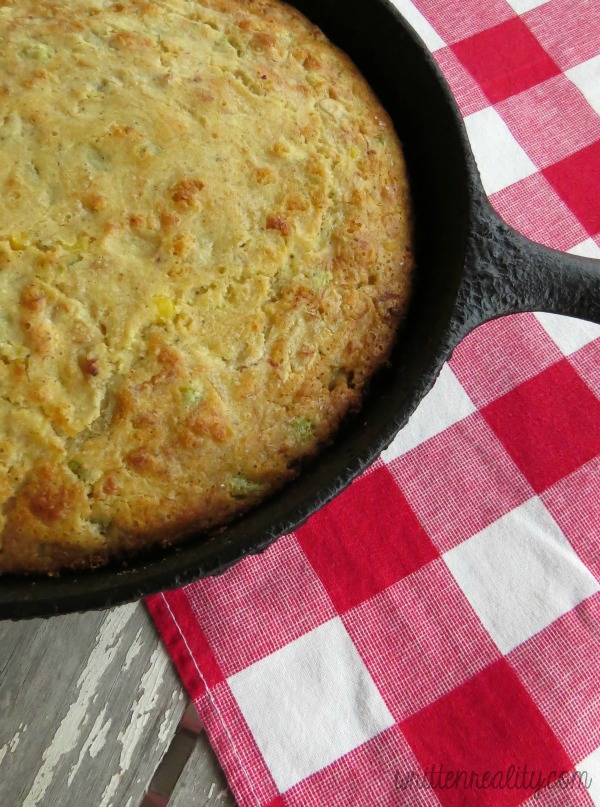 Ingredients
2 Tablespoons Butter
1 cup chopped onion
1 cup chopped celery
3 cups of cooked cubed chicken
2 pks. (6 oz. each) Buttermilk Cornbread Mix
1 Tablespoon vegetable oil
1 cup frozen whole kernel corn
1 1/2 teaspoons poultry seasoning
1 3/4 cup milk
2 large eggs, beaten
Instructions
Preheat oven to 400 degrees.
Melt the butter in a 10 inch cast iron skillet and cook the onions and celery until tender.
Place onions and celery in large mixing bowl.
Add oil to skillet and heat in the oven for about 5 minutes.
Add the remaining ingredients to onions and celery and blend well.
Pour cornbread batter into hot skillet and bake for about 30 minutes or until golden brown.
Enjoy!
Written Reality https://writtenreality.com/