This post may contain affiliate links. Please see my full disclosure policy for details.
When I worked on making over my front porch flowerpots, I tried several solutions. (Flowerpots Do Over front page)
This one was the easiest and –I think–turned out to be the brightest surprise.
[Tweet "Flowerpot Do Over-Just add Words!"]
I simply added a little red spray paint, allowed it to dry, then used a few leftover scrapbook stencils to add 'bloom.'
The red along with simple lettering really makes this one pop on my front porch. I chose a large yellow marigold and it looks great!
Flowerpots Do Over with Words
Writing with paint can get a little tricky. Just experiment with different points and brands of paint pens on scratch paper until you're satisfied with the size and flow.
For this project, I used the Sharpie Oil Paint Marker
with a medium point because I wanted a chunkier look–almost cartoonish feel–for my pot.
However, they also have a fine, extra fine, and bold as well. So you may want to pick up a couple of different ones for different ideas.
Just as a side note, I also used Making Memories Watercolor Collection
stickers as my stencil. It's called chunky font, I think. After the paint dried, it was easy to stick on the letter stickers and then just peel them off without any damage.
However, you could also find a letter in the color that works for you, stick them on, and spray on a little Mod Podge Acrylic Sealer
if you want a cleaner look to your print.
Looking for more Flowerpot Do Overs?
Check out these Links!
Click Here to read → Flowerpots with Fabric
Click Here to read → Flowerpots with an Old Shirt
Click Here to read → Flowerpots with Stripes, Polka Dots, and a Monogram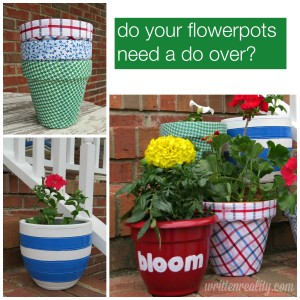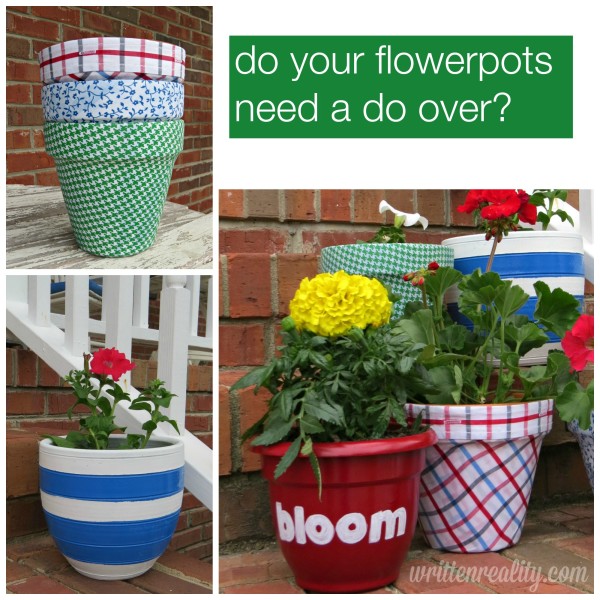 Mitzi@WrittenReality
What about you?
Do you have a favorite outdoor makeover idea?
Share with us!