This post may contain affiliate links. Please see my full disclosure policy for details.
While trying different materials and techniques for my Flowerpots Do Over project, I rummaged through the house for castaways and forgotten treasures.
That's when I found this old shirt. And well, it worked wonderfully!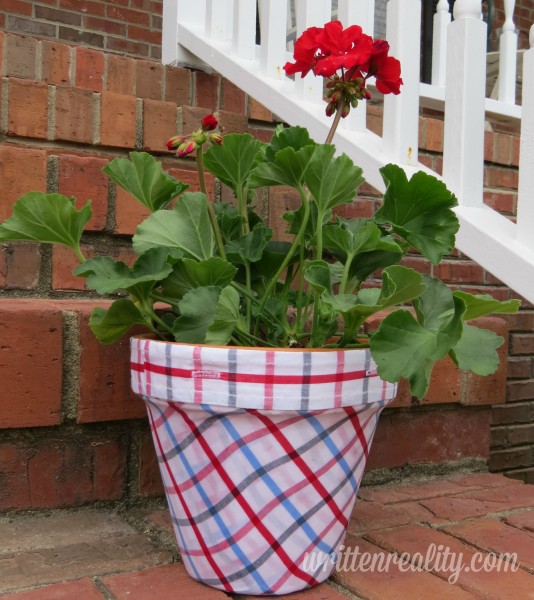 [Tweet "Flowerpots Do Over-an old shirt never looked so good!"]
Flowerpots Do Over with an Old Shirt
Out of all the flowerpot redo projects, this one is my fabulous favorite. First, I'm a big plaid fan, so the lines on this one look great.
I also love the patriotic feel it gives and can't wait to use it as a focal point for Memorial Day and the 4th of July.
That's why I chose a beautiful, bright red geranium for this pot. The color adds that extra pop.
Here's how I created this one:
Aside from the old shirt, you can find all the materials I used HERE →Flowerpots Do Over with Fabric
Instructions
#1 I cut out the back out of my son's old shirt from seam to seam to remove all stitching so that I had just a nice smooth piece of fabric–(my son's shirt was a youth extra large and the pot is a standard size terra cotta pot).
#2 I then cut out the button hole section from the front of the shirt and set it aside as a final touch.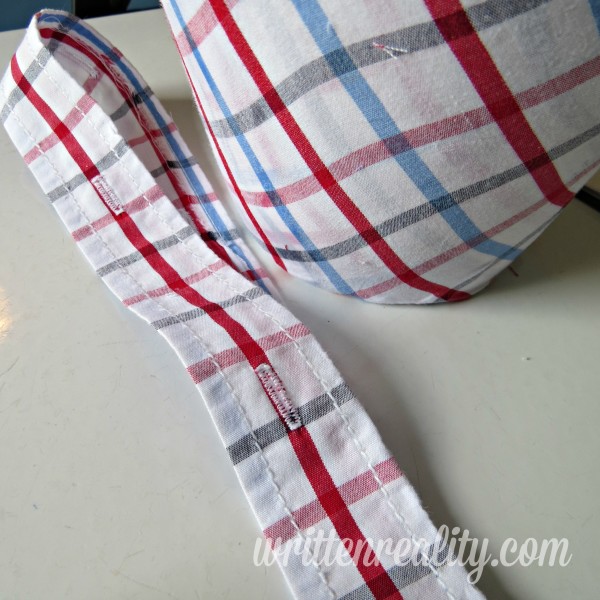 #3 Using the same method I used for my Fabric Flowerpot Do Over, I covered the terracotta pot with the shirt. This time, however, I snipped the fabric before going over the rim of the pot. It doesn't matter if it's raggedy because this edge will be covered.
#4 After allowing the fabric to dry, I wrapped the button hole strip to the rim using the same covering technique.
#5 Finally, I brushed on a couple of extra coats of Mod Podge, allowing each coat to dry for 15 to 20 minutes in between.
The flowerpot looks great with the other textures and flowers I now have on my front porch, creating a warm Southern welcome to anyone who stops by for a spell.
Do your flowerpots need a do over?
Click here to read →Flowerpots Do Over with Words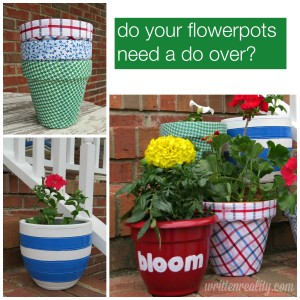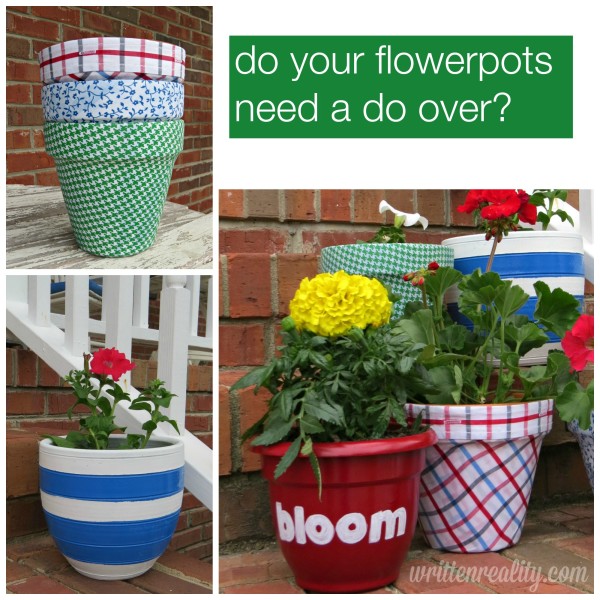 Click here to read →Flowerpots Do Over with Stripes, Polka Dots, and a Monogram
What about you?
What's your favorite flowerpot idea? Share with us!