This post may contain affiliate links. Please see my full disclosure policy for details.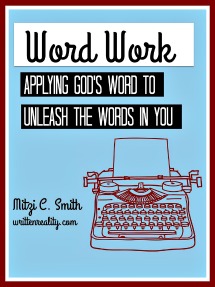 Are you a Christian writer struggling to find your focus?

Do you suffer from writer's block or struggle with finding your voice?

Grab a Copy of  My New eBook –it's FREE!

I am thrilled to announce the launch of my new eBook,

Word Work: Applying God's Word to Unleash the Words in You.

This eBook is a great place to start with the basics, so that you can begin to write the words your readers are desperately waiting to read.
Are you ready to build your platform and extend your reach?
Once you've taken these simple steps, building your platform will easily follow.
Are you ready to start?
Just join my subscriber list by clicking the link below and Word Work will be delivered straight to your inbox.
This eBook is just the beginning!
For the next few weeks I'll be sharing even MORE information on building your platform to extend your reach.So join my subscribers to follow along as we chase the Truth to change the world.
I look forward to sharing this journey with you!
Do you have other writing friends?
I'd be grateful if you'd share this link.
[Tweet "Download your FREE copy of Word Work: Applying God's Word to Unleash the Words in You… http://buff.ly/1cR6uUS"]