This post may contain affiliate links. Please see my full disclosure policy for details.

My Jesus Pin
Many years ago, I received a Jesus is the Reason for the Season pin for Christmas.  For my first few Christmases as a new Christian, I wore it to work as a "Hey, look at me, I'm a Christian. Please ask me about my pin and I'll tell you why you, too, should be a Christian." Or, more accurately, my attitude reflected, "I'll tell you what's wrong with you if you're NOT a Christian."
Then. . .
I went through several Christmases of wearing it sometimes, but not quite as proudly. For one, what if people asked questions I couldn't answer? I'd look pretty foolish wearing my Jesus pin and not knowing everything about being a Christian. For another, my actions were often a poor reflection of how I perceived a "good Christian" should be, so I didn't want people to think that *I* thought I was something special.
After that,
my Jesus Pin sat in the drawer for a few years because I felt uncomfortable "displaying" my faith. I didn't want to offend or upset anyone who didn't believe in Jesus. I talked about Jesus, but didn't want to draw attention to myself.  And I still didn't have all the answers.
I now realize that knowing Him is all the reason I need to wear my pin. He has miraculously healed and transformed me from the inside out – He is amazing!  As each Christmas season approaches, starting at about Thanksgiving, I praise God for all the blessings in my life. I thank Him for my family, my friends, my job, my gifts, my life…everything I have, and everything I am.
Most of all, I thank Him for Jesus, the most perfect gift of all time.
Every good and perfect gift is from above, coming down from the Father of lights with whom there is no variation or shadow due to change. James 1:17a
–And I put on my Jesus pin.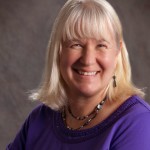 This is a guest post from Mary Scro.
Mary Scro is an author, speaker, and a joyful child of God. You can find out more about Mary through her ministry, Life is not a Formula or read her posts at the Life is Not a Formula Blog.
Life is not a formula. . .but it IS the sum of our choices!

What about you?
Ever feel insecure about 'displaying' your faith? Share your thoughts with us!