This post may contain affiliate links. Please see my full disclosure policy for details.
Join us for Fashion Friday and check out our mom style fashion. This week we're enjoying casual Friday with a few of my favorite sea glass accessories. It's mom style fashion that is fun and fabulous.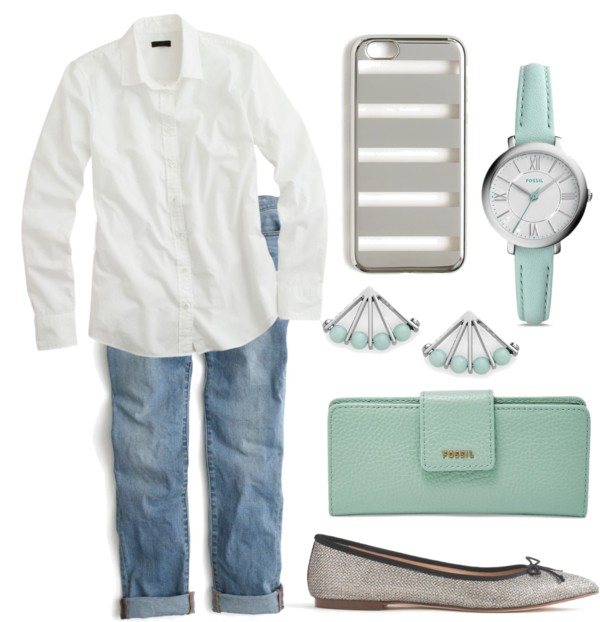 Mom Style Fashion
Here's another casual Friday idea, this time with a few sea glass favorites I found at Fossil.com. It's such a casual color that gives a tranquil feel of a walk by the ocean. It's the perfect way to refresh your wardrobe as you step from winter to spring. I love the touch of sea glass in the fan stud earrings, the iPhone case was just too cute not to include it, and the sea glass tabbed clutch gives just enough of the airy color to bring in a little spring breeze, too.
Don't just love this trendy spring color?
With a pair of your favorite boyfriend jeans and a white cotton shirt, you can simply grab a pair of flats and a couple of these sea glass accessories. It's the perfect mom style fashion for a relaxing weekend or hanging out with the family. By adding a couple of these accessories in a trendy color, you can take a comfortable go-to outfit up a notch to avoid looking frumpy. It's all about how you style them together. There's no need to fuss over what to wear, either. Stick with a minimal wardrobe to build from and add these type accessories to keep your look updated and fresh.
Just click on each link to find just what you need to create this mom style fashion look on your own. Here's where you can find these featured fashion favorites if you love theses sea glass accessories, too:
Metallic Patterned iPhone Case
Fossil Sea Glass Fan Stud Earrings
Jacqueline Sea Glass Leather Watch
Other Mom Style Fashion Favorites