This post may contain affiliate links. Please see my full disclosure policy for details.
Oatmeal Treat Recipes: Looking for some new ways to serve your oatmeal? Try one of these oatmeal dessert recipes from this sweet roundup your family and friends will love! These recipes take the ordinary breakfast out of the bowl to create some fabulous new favorites.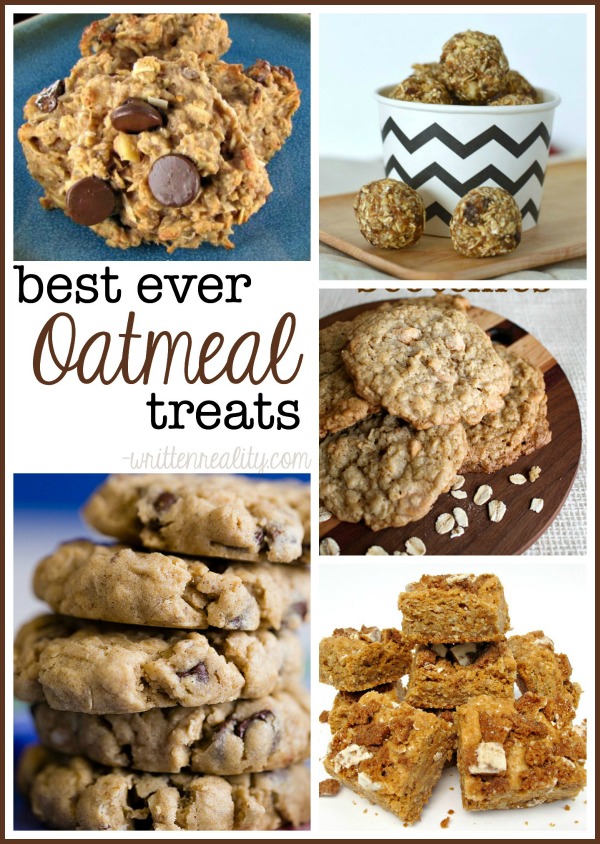 Did you know January is National Oatmeal Month? To celebrate, we're rounding up some of our favorite oatmeal treat recipes.

1. Oatmeal Raisin Breakfast Bites from Rick A Bam Boo— These breakfast bites are great on the go. They're super easy to make, packed with goodness, and taste just like cookies. Yep, that sounds like a perfect treat idea for busy moms, like me.
2. Gluten-Free Oatmeal Chocolate Chip Cookies from 5 Minutes for Mom–Here's a gluten-free version for those favorite oatmeal cookies with chocolate chips!
3. Healthy Oatmeal Peanut Butter Cookies from The Gardening Cook–Made with peanut butter and applesauce, this one is a healthier alternative that tastes just as sweet.
4. Butterscotch Oatmeal Bars from The Monday Box–This recipe gives a whole new meaning to oatmeal bars. It's rich in flavor and topped with crumbled oatmeal cookies!
5. Oatmeal Scotchies from Posed Perfection–How about oatmeal cookies–with butterscotch bits? yes, please.
6. Baked Blueberry Oatmeal from It Is A Keeper–packed with blueberries, syrup, and cinnamon, this baked breakfast is a wonderful way to start your day!
7. Raspberry Oatmeal Smoothie from The Taylor House –filled with sweet raspberries, this smoothie is perfect for moms on the go!
8. Skinny Banana Oatmeal Smoothie from Natural Chow –Speaking of smoothies, how about a banana version? It's another tasty way to fuel up in the morning and keep you satisfied until lunch.
9. No Bake Oatmeal Cookies from Creative K Kids — These take me back a long way. As a kid, I remember Mama making something similar as an extra treat. If you've never tried them, it's time.
10. Carrot Cake Oatmeal Cookies from Amy's Healthy Baking –Finally, here's one I just discovered. It's a soft and chewy oatmeal cookie with those carrot cake flavors I love!
10 Delicious Oatmeal Treat Recipes Click To Tweet
Other Recipes You May Enjoy