This post may contain affiliate links. Please see my full disclosure policy for details.
Christmas Cookies: Here's how to bake perfect sugar cookies with NO MESS that are evenly baked every time. They're sturdy enough for decorating, but soft in the middle for the perfect bite.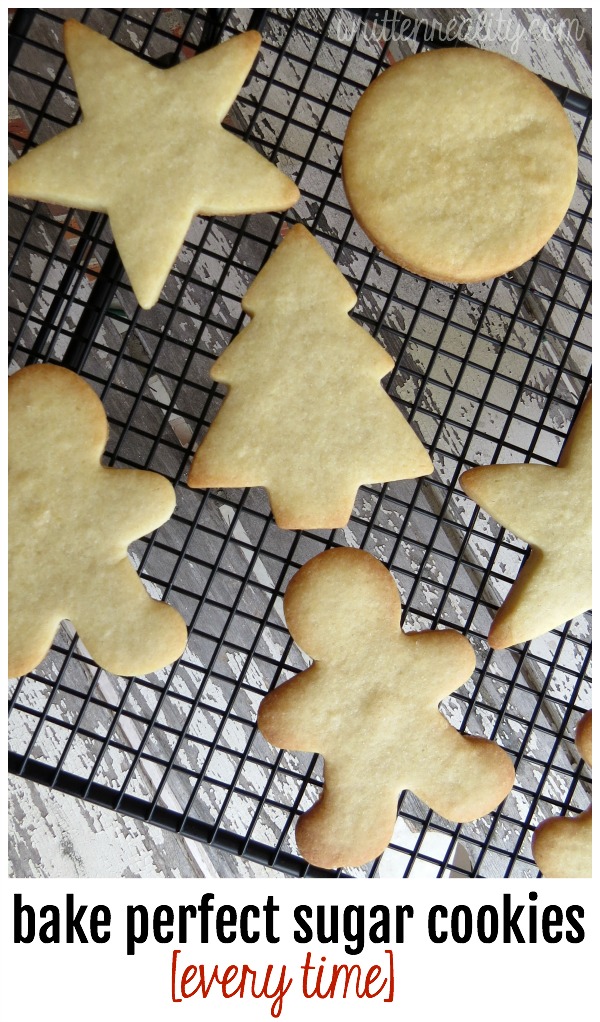 With two boys and a husband who loves all things dessert, I've baked many a sugar cookie.
For years, I've tried different recipes and experimented with all sorts of cookie cutter and dough rolling techniques. But most times the sugar cookies were either too hard, bland, or not sturdy enough to hold up against all the boys' sprinkles and rough housing as their small hands grabbed another cookie to decorate.

Bake Perfect Sugar Cookies
That's why I now use the perfect sugar cookie technique. It's sturdy enough for any cookie cutter, but soft enough to enjoy once you're done.
The best thing about this recipe is that it tastes great, too. While many sugar cookie recipes focus on the sturdiness factor, these bake up to be some of the best sugar cookies you'll ever taste.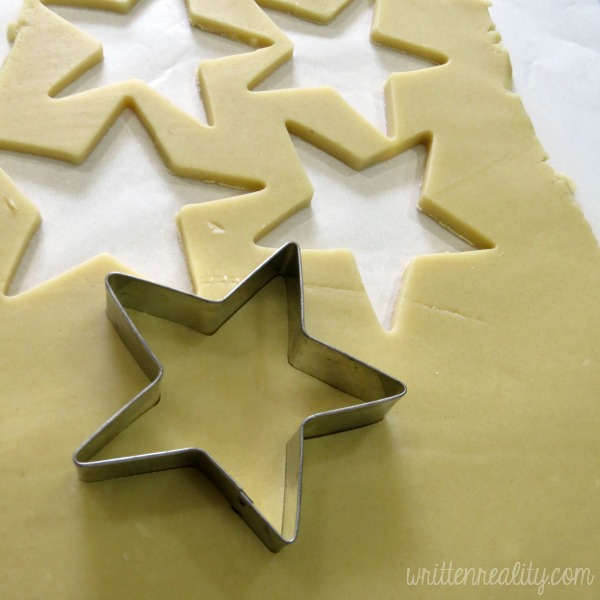 And there's no mess. at. all.
After years of trying flour, oil, powdered sugar, and other ways to keep the cookie cutters and rolling-pin from sticking to the dough, I now use nothing.
That's right. There's no flour, powdered sugar, or anything else all over my kitchen counters with this one.
With this technique I can roll the cookies out evenly, so that every single cookie is the exact same size and shape–and thickness–without any sort of mess at all to clean up in the kitchen when I'm done.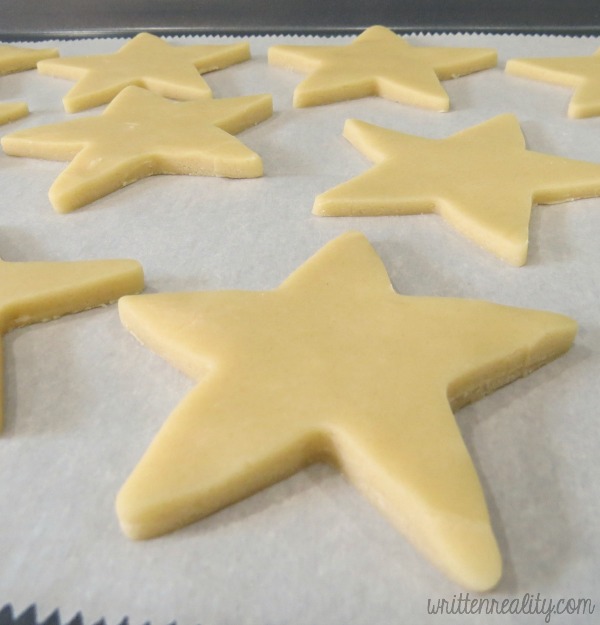 >>Best Stocking Stuffers for a Teen Boy<<
After preparing the cookie dough, I always pop it in the freezer to chill for just a few minutes. This keeps the dough from sticking and helps the cookies keep their shape.
My husband used wood scraps from his shed to cut me a couple of wood strips, too. That way, I could roll out the dough using the wood as a guide for my rolling-pin to make sure the dough stayed at the same thickness from one end to the other.
You could use dowel rods, rulers, or anything else that has the desired thickness you're going for. Just make sure your sticks are clean, of course, and the exact same thickness on each side.
My wooden sticks are 3/16th of an inch thick, which works perfectly.
Here's a quick tutorial clip showing how I prepare the dough for cutting. With this method, you'll have perfectly even sugar cookies every time:
Roll Out Even Cookies with NO MESS
>>Don't miss our Christmas Gift Guides<<
If you want to use this recipe for this year's Christmas cookies, check out how I like to make mine at the bottom of this post. Print your own copy, pin for later, or bookmark to revisit when you're ready to bake. Enjoy!

Here's how to bake perfect sugar cookies every time! Click To Tweet
Other Recipes You May Enjoy: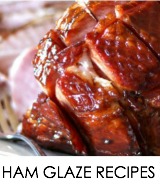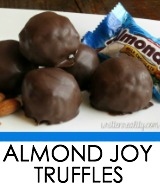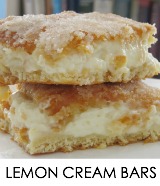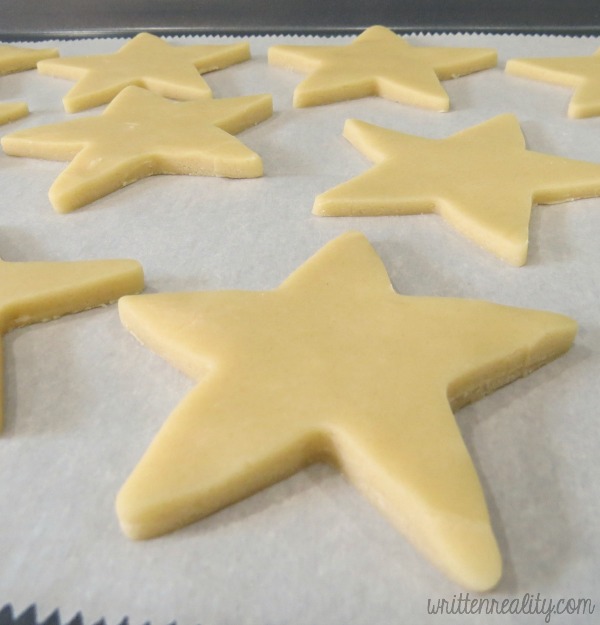 Perfect Sugar Cookies
2014-12-17 10:18:36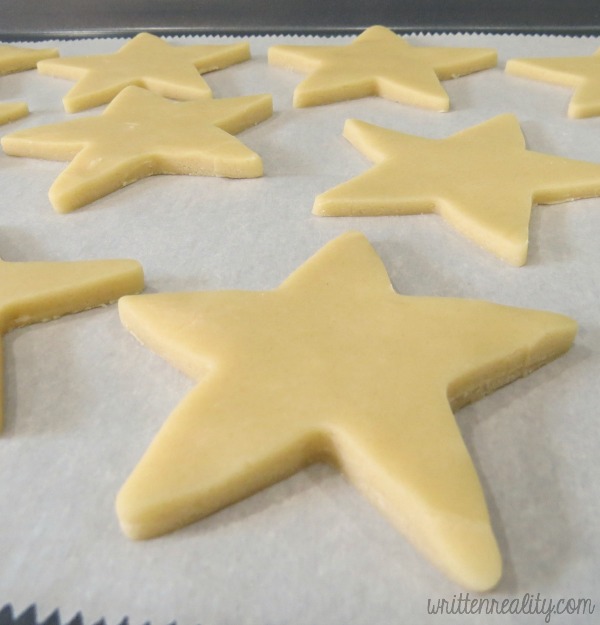 Ingredients
3 cups unbleached, all-purpose flour
2 tsp. baking powder
1 cup sugar
2 sticks of cold salted butter
1 egg
3/4 tsp. vanilla extract
1/2 tsp. almond extract
Instructions
Preheat the oven to 350 degrees.
Combine flour and baking powder in a separate mixing bowl and set aside.
Cream sugar and butter with mixer.
Add egg, vanilla, and almond extract and mix.
Gradually add in the flour mixture, beating until combined.
Make sure to scrape down the bottom and sides throughout the process.
Since the dough is crumbly, you'll need to knead it with your hands to keep together.
Wrap the the dough ball in plastic wrap and set in the freezer for 3-5 minutes before rolling.
Set on parchment paper, then cover with another sheet of parchment and roll out to desired thickness.
Cut out shapes, place on parchment covered cookie sheet, and set back in freezer for about 5 minutes.
Bake 10 - 12 minutes until golden.
Let sit on the cookie sheet for a few minutes and then on a cooling rack to finish cooling.
Written Reality https://writtenreality.com/