This post may contain affiliate links. Please see my full disclosure policy for details.
Scandal. Surveillance. Censorship.
Have you heard about the new movie Persecuted? It's in theaters July 18th and I can't wait–Even better, we're giving away the book, too! It's the novelization by Robin Parrish to give us the story across the page.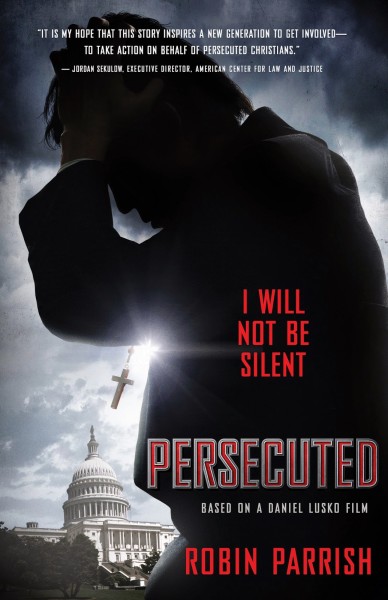 About the book:
The Question is Not IF Attempts Will Be Made to Limit Religious Freedoms, But When
John Luther simply wants to share the Gospel and enjoy a quiet life with his family. He never asked to be at the center of a political controversy, but an ill wind has been blowing through the halls of Congress, and supporters of a new religious-equality bill see Luther's endorsement as critical.
When Luther refuses to lend his support, he unknowingly sets in motion an explosive plan bent on destroying his reputation and undermining everything for which he stands. His once-normal life is turned upside down as he becomes a fugitive left with only one dangerous option–putting everything he holds most dear at risk while he fights to expose the truth. It is a mission that brings him face-to-face with the coming storm of persecution that could threaten the very fabric of our nations' freedoms.
Chillingly

Close to Home

The book is a fast-paced chase and reads like a roller coaster ride where your emotions are all over the place.

Thing is, it's set in a storm that's already brewing, so the possibility of its reality stirs deeper than fiction and sticks with you long after you've closed the book.

Persecuted is one of those books you keep talking about–that comes to mind later when you're watching the news or hear one of those tragic stories, where the truth is so easily distorted and dismissed as something else.

It's a book you'll recommend to others. And I'm so happy I have the opportunity to give it away!
in Theaters, July 18th
To see more about the movie, hop over to PersecutedMovie.com. Be sure to watch the trailer, share the website with others, and make plans to go see it soon.
Persecuted by Robin Parrish Giveaway
Now here's you chance to win a copy–so enter below!
"Disclosure (in accordance with the FTC's 16 CFR, Part 255: "Guides Concerning the Use of Endorsements and Testimonials in Advertising"): Many thanks to Propeller Consulting, LLC for providing this prize for the giveaway. Choice of winners and opinions are 100% my own and NOT influenced by monetary compensation. I did receive a sample of the product in exchange for this review and post.
Only one entrant per mailing address, per giveaway. If you have won the same prize on another blog, you not eligible to win it again. Winner is subject to eligibility verification."