This post may contain affiliate links. Please see my full disclosure policy for details.
Nerf Gun Accessories : Need help with Nerf gun accessories? We've got it covered. Check out the latest in popular Nerf gun accessories for your gift guides this year.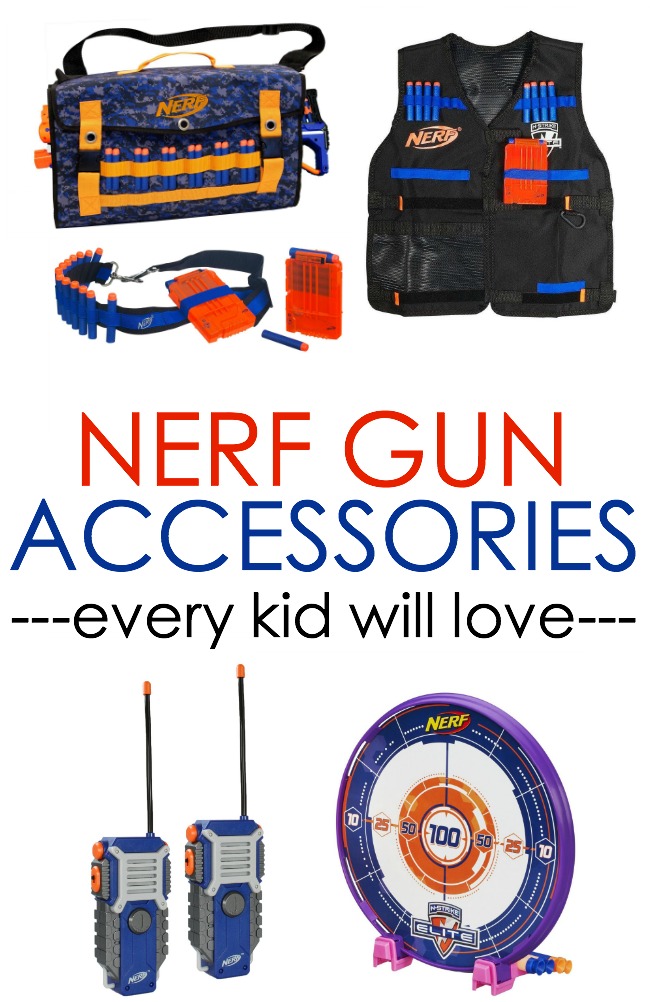 Between two boys and a husband, I've had more than my share of Nerf wars. We have a section in our bonus room designated to Nerf play storage and though it's not something I ever thought I would know anything about, I've actually learned quite a lot about the world of Nerf blasters and all their Nerf gun accessories.
More, in fact, than this mom really ever wanted to know. So I thought I'd share a quick gift guide to help lead other moms in the right shopping direction.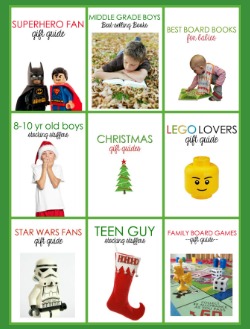 Believe me, if you haven't shopped for Nerf before, there are tons of blasters and Nerf gun accessories to quickly confuse you. So I decided to share just a few optional accessories that would work well with a whole range of blasters and any kid who loves Nerf play would enjoy. It's another favorite gift guide we're including this year. Hope this helps!
Most Popular Nerf Gun Accessories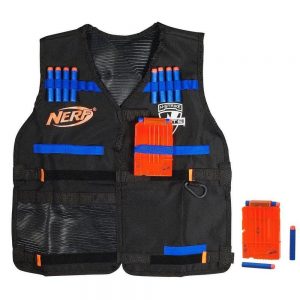 Every kid who loves Nerf war needs the Nerf N-Strike Elite Tactical Vest Kit. The vest features extra storage pockets to carry along another blaster and quick reload clip, as well as dart storage loops that holds 12 extra darts.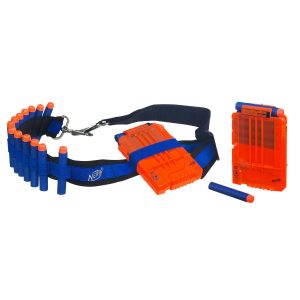 My son actually attempted to make his own dart belt before we surprised him with the N-Strike Elite Bandolier Kit. He thought it was the coolest and most necessary accessory for Nerf play. With storage for 4 clips and a dozen more darts, the strap is actually a great one.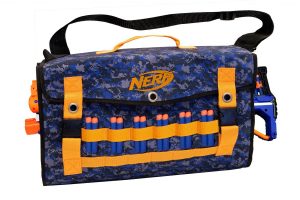 As a mom who loves things organized, I personally like the Nerf Elite Transport Door and Storage. It fits all standard doors and folds into a neat transport case (sort of duffel bag style) with a handle for carrying around. It's actually quite roomy and can hold 3 long Nerf rifle blasters or 6 small blasters, and, of course, plenty of extra darts, too.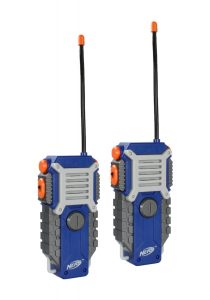 The Nerf Walkie Talkies are perfect to add to your kid's Nerf play collection. It includes 2 walkie talkies and stays in range for up to 1000 feet. There's also a Morse code button on the front of each one, too. This set does require two 9 volt batteries, so make sure you pick those up when purchasing.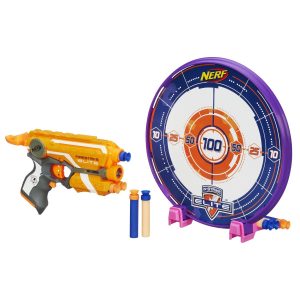 Nerf N-Strike Elite Precision Target Set actually comes with a blaster included. It's a great set to use for target practice and also a great one to keep the kids entertained between games.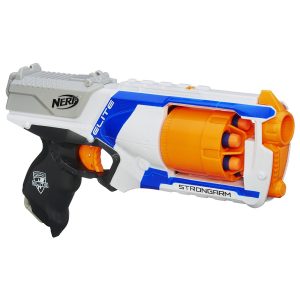 If you're looking for a new Nerf blaster, then make sure you check out the Nerf N-Strike Elite Strongarm Blaster. It's a best seller among Nerf play and perfect for quick draws and fast firing.
As a mom, I can't fail to mention the Nerf N-Strike Elite Dart Refill Pack. If your kid is anything like my boys then you'll find extra darts all over the place. And, unfortunately, that means they'll need refill packs to keep their blasters fully equipped for play. A refill pack of darts is always handy.
Check out The Latest in Popular Nerf Gun Accessories Click To Tweet

Other Topics You May Enjoy