This post may contain affiliate links. Please see my full disclosure policy for details.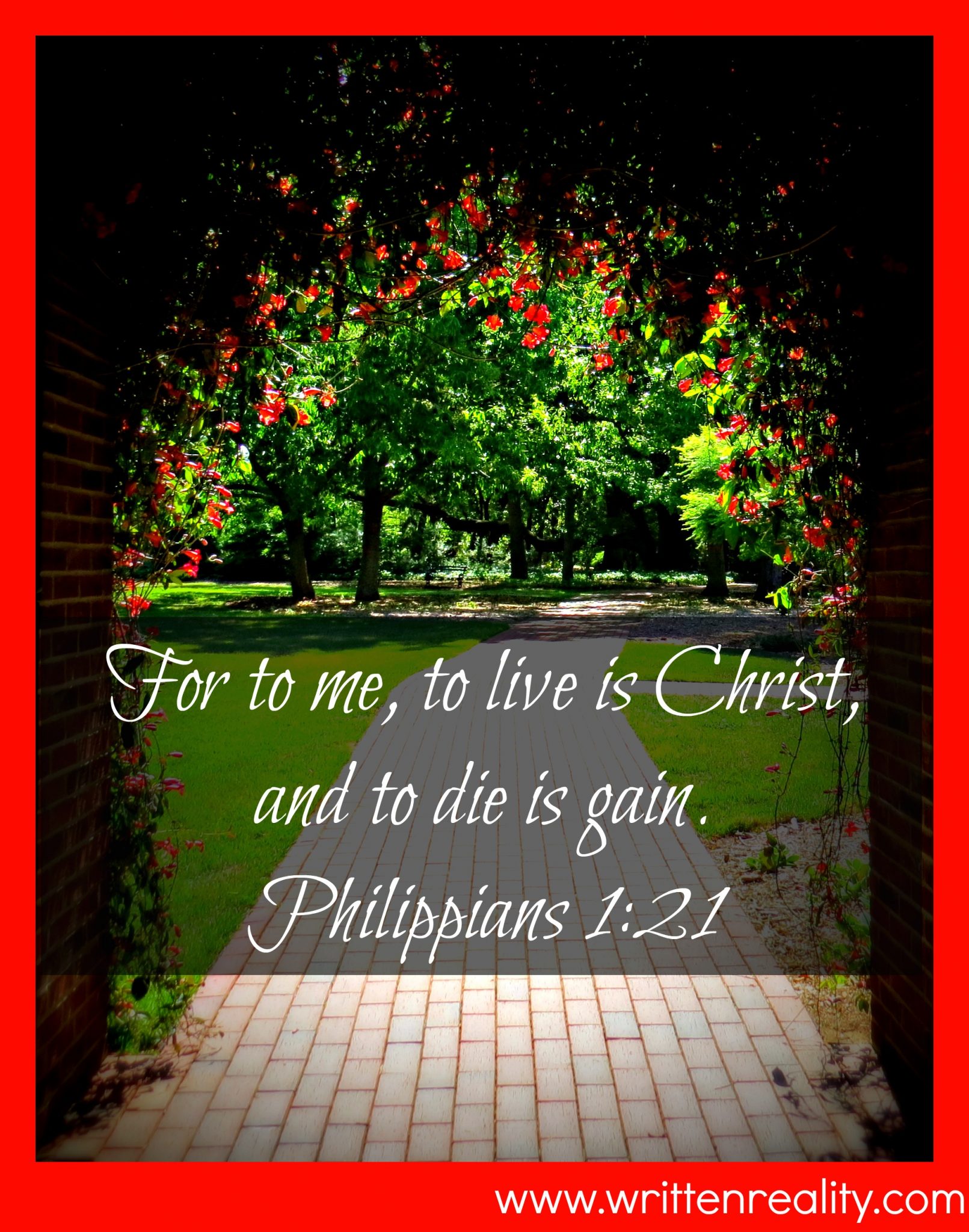 I sought the privilege without the sacrifice.
My dad was dying, but I refused to see it.
At first, the oxygen tank he carried made it easier for him to go about doing the things he'd always done. Though alarming, the extra backpack became a comforting joke as I watched him strap it to his lawn mower and carry it around the grocery store.
But all too soon the oxygen tank became essential as his chest barrelled and his body grew weak.
"To live is Christ, and to die is gain," he'd tell us. And when he died the verse became our family's hope and peace through the most difficult storm we'd faced.
For to me, to live is Christ, and to die is gain. Philippians 1:21
While Daddy struggled to live, I focused on the living of Paul's words to the Philippians and avoided the mention of death entirely. But when he died, gain became the only word to cling to.
Selfish within my own pain from loss and angry over my sufferings, I began to seek the privilege of Christ's reward without the sacrifice.
The reward of Christ creates hope and takes away our sorrow. The knowledge of the gain–our eternal reward–helps us celebrate when believers who've suffered are called home. The gain brings comfort to loved ones. It gives us peace when the world seems warring against us and offers a distant hope our human minds can't completely comprehend.
It's easy to seek the privilege of Christ's sacrifice.
The sacrifice within living it out is where we fail.
Death is inevitable. And as Christians we grab Paul's words as a badge of courage reminding us that regardless, to die is gain.
But are we seeking the privilege without the sacrifice?
No doubt we're thankful for the privilege of life eternal.  But what about the commitment within living today?
To live is Christ. Is that what we're living for?
Think about it.
–What do you spend your time and energy doing?
–What do you read about?
–What stirs passion within your heart?
–What drives you to get out of bed?
To live is. . .
to be entertained?
raise a family?
climb the corporate ladder?
a dream home?
another vacation?
I'm ashamed to say, throughout my life the blank has been filled with many of these statements and others I'd just as soon forget. I've learned none of them were worth the sacrifice and their gain was temporal and conditional, without the satisfaction or pleasure I'd sought them for.
The privilege of Paul's words is rooted within the life of Christ who gives it. Any substitution for the life changes the outcome within the death.
There can be no substitution for the life.
Replace Christ with any other life and, in death, there can be no gain. #Phil.1:21 [tweetable]
To live IS Christ.
"I have been crucified with Christ; it is no longer I who live, but Christ lives in me; and the life which I now live in the flesh I live by faith in the Son of God, who loved me and gave Himself for me." Galatians 2:20
We're not comfortable with crucified. It sounds painful and–sacrificing.
The truth is, we struggle to live our lives for anyone other than ourselves. Even Jesus. We are selfish and war against our selfishness for a greater reward.
The transformed life is found in Christ crucified where His sacrifice becomes our own.
Is your life defined as Christ? Share your comments.
Follow me on Twitter or check out the Facebook Page.