This post may contain affiliate links. Please see my full disclosure policy for details.
One of my favorite summer pasttimes is finding a great BEACH read. And for me, it's a plus when I discover a new book that's set in one of the many places I love to visit.
Looking for a great book to whisk you away?
How about a romantic getaway on the Carolina shores?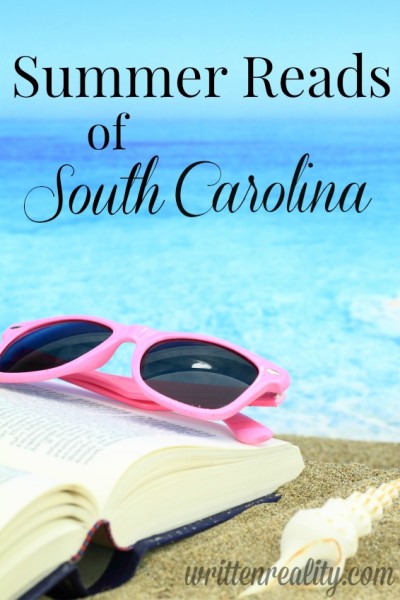 Summer Reads of South Carolina
For this list, I chose a few favorites that fit the following:
Christian Contemporary Fiction
set in great vacation spots in South Carolina
written by wonderful authors I enjoy reading
sweeps me away on mini-vacations around my wonderful state
Save the Date

by Jenny B. Jones
When Alex needs to win his bid for Congress and Lucy needs to save the girls' home, the two team up as the most unlikely couple and plan–their wedding to. . .each. . .other.
Great read and lots of page-turning moments between this duo!
A Lowcountry Romance series
a series by Rachel Hauck
Sweet Caroline

People pleasing Caroline finally has a chance for her own adventure in Barcelona. That is, until she inherits Frogmore Cafe.
Ever struggle with making the right choices? Then you'll relate to Caroline Sweeney.
Love Starts with Elle

Elle loves life in Beaufort with family, friends, and her work. When a young pastor sweeps her off her feet and announces his decision to take a large church in another state, she finds herself engaged, selling her successful art gallery, and packing her belongings to start a whole new life.
But is this the life of her own calling?
Dining with Joy
Joy Ballard is a cooking host on a popular cooking show–but can't cook!
Her fun-loving television personality can only take her so far, and when handsome and talented chef Luke Davis joins her show, Joy finds herself struggling with her facade and her conscience.
Love Finds You in Folly Beach, South Carolina

by Loree Lough
Marine biologist Holly Leonard heads to Folly Beach to help a charter boat captain (Parker Brant) write a book about sea turtles. Both are surprised when first impressions aren't what they seem.
A tension filled page-turner with all sorts of surprises, this one caused sleep deprivation–I couldn't put it down.
[Tweet "Check out these Summer Reads of South Carolina!"]
South Carolina: Southern Gentleman/After the Storm/Somewhere a Rainbow/Catch of a Lifetime (Heartsong Novella Collection)

by Yvonne Lehman
For those of us who love Romance sets, this is a sweet Carolina treat!
It's a set of 4 novels:
After the Storm
Catch of a Lifetime
Somewhere a Rainbow
Southern Gentleman
Yes! All 4 in this collection are set in the beautiful Palmetto State. I enjoyed this set of stories so much, I bought extra copies to give away to other reader friends.
Upcoming Books on My Own Reading List
To round off our list, I'm also including a few books on my own Summer List. Here's a couple I haven't read yet:
A Wedding to Remember in Charleston, South Carolina

by Annalisa Daughety


Palmetto Dreams

by Terry Fowler

Love, Charleston

by Beth Webb Hart

That's 10+ Great Summer Reads to travel across my beautiful home state of South Carolina!
So what are you reading? Share your best Romance Reads with us!