This post may contain affiliate links. Please see my full disclosure policy for details.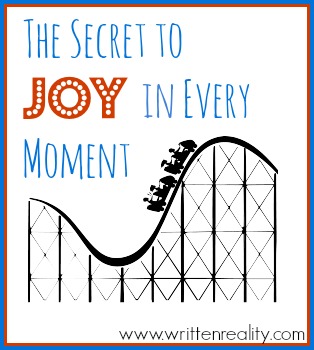 Ever feel like your life's a roller coaster of highs and lows? One minute you're soaring in success–then with just a quick jolt–you dip into a dark pit of despair.
Even as a Christian, I experienced life as an amusement ride. For many years, I sat buckled in my own rickety cart, reaching for joy in the high spots, then losing it on the way back down, so I could once again cling to the safety bar.
After one spin too many, I realized I'd outgrown the roller coaster. I then discovered I had a choice to get out of the cart and walk on level ground.
The Secret to Joy in Every Moment
God is the source of everlasting joy.
God is all we need in all our moments.
With God–
1. We have power.
The power of the Holy Spirit works within us–transforming our thoughts, renewing our strength, and leading us in the right direction. As God's people, we have the power to do whatever is needed to accomplish His will through our lives.
2. We have hope.
We believe in His promises and live a life abounding in the hope of what He will accomplish. God IS our hope who fills us with everlasting joy and peace. Regardless of circumstances or other opinions, we walk in the hope of who God is and who we are as His people.
3. We have right now.
God gives us this moment.
Right now, God is with us.
Right now, God gives us the power to serve where we're planted.
Right now, God offers an opportunity to glorify His name and do the work for which He's called us.
God's Written Reality:
"Now may the God of hope fill you with all joy and peace in believing, that you may abound in hope by the power of the Holy Spirit." Romans 15:13
We have the power to do whatever is needed. We have hope, believing His promises. And we have now as our moment to serve.
Life is difficult and complicated. Life throws us situations with all sorts of twists and turns.
In this world, joy can only last a moment. But with God–the source of everlasting joy–we can walk through life steadied and assured. For He is the secret to joy in every moment, regardless of our circumstances.
Are you living a life of overflowing joy? Share your comments.