This post may contain affiliate links. Please see my full disclosure policy for details.
Don't have a lot of time to spend on dinner tonight? This Chicken & Bacon Pasta Bake is a delicious meal that can be ready in 30 minutes or less! One of our easy casserole recipes you'll love!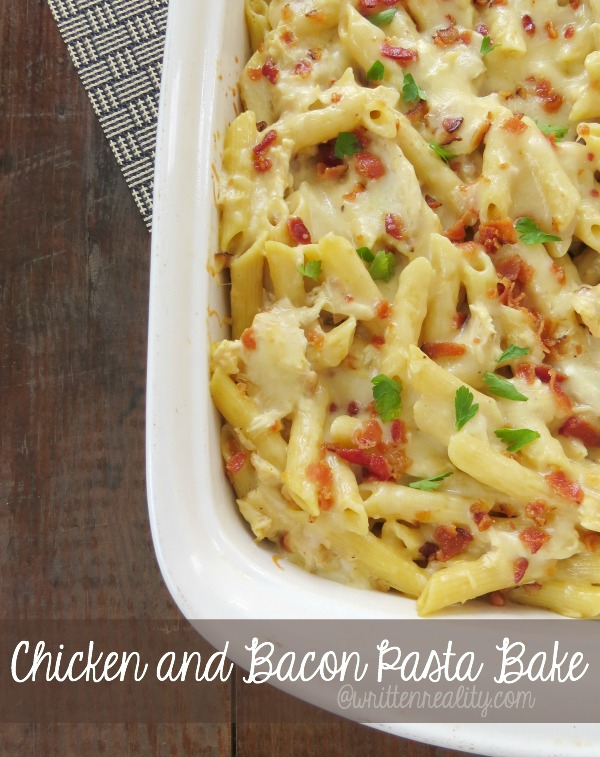 We love pasta at the Smith House. And when combined with cheese and bacon, well, ordinary pasta is taken to a whole new dimension.
I'm always looking for easy recipes for dinner.
I want dinner ideas that are tasty, of course, but don't require a lot of fuss in the kitchen. As a busy mom, I like a simple recipe that can be cooked and served in less than an hour, doesn't require some strange ingredients, and is hearty enough to feed my growing boys.
Here's a delicious Chicken and Bacon Pasta Bake your family will love! Click To Tweet
Chicken & Bacon Pasta Bake
That's why I love this Chicken & Bacon Pasta Bake.
It's a comfort food classic that I can cook and serve in less than 30 minutes. By using a Rotisserie chicken I purchase in the deli section at my local grocery store, I save a lot of prep time. The Rotisserie gives it a wonderful flavor that's much tastier, too.
I also like that it's a one dish meal. I love to assemble meals in my casserole dish, so that while it's cooking, I can clean up all my mixing bowls and other cooking utensils, and my kitchen is cleaned before dinner.
I like to fry bacon for this one, so I have it frying while I assemble everything else. But you could easily eliminate this step, too, by using precooked bacon, since it's only adding a little extra flavor and not the star of the show.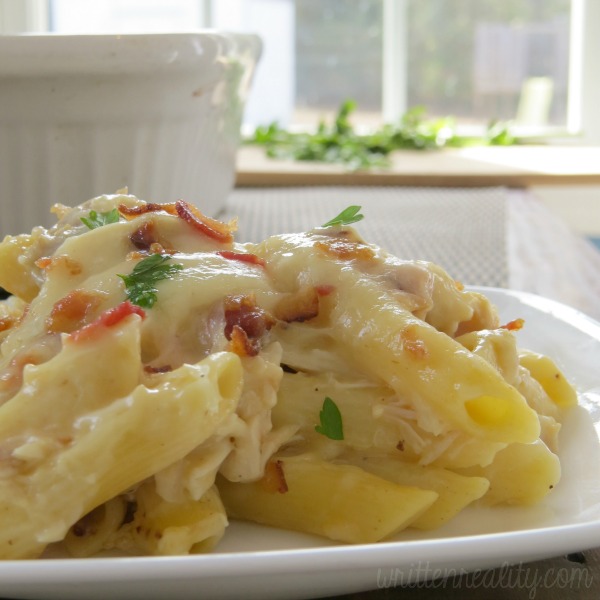 Even better, it is absolutely delicious.
The cream of chicken soup gives it a creamy texture, and the bacon and cheese add the comfort food flavors we all love.
I usually just pick up some dinner rolls to serve with it, but my family enjoys it so much, they often skip the bread to keep room for another serving of the pasta instead.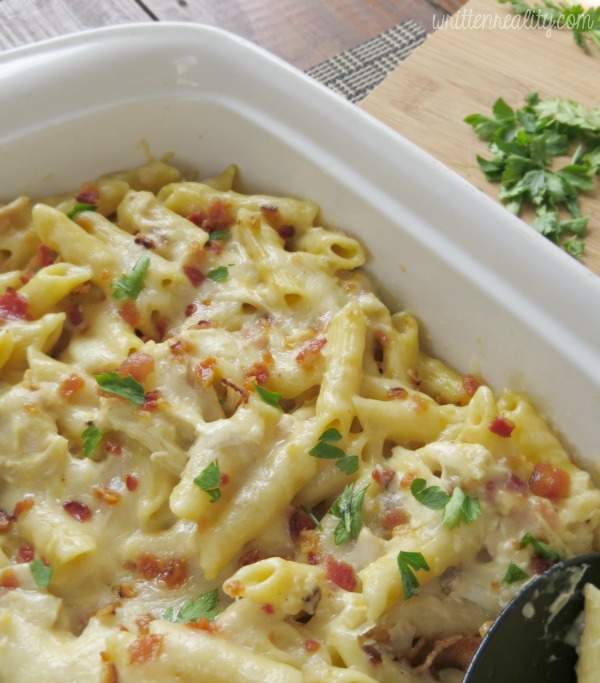 Feel free to print your own copy of how I make it–the recipe card is found just at the bottom of this page to add to your own easy dinner recipes collection. Enjoy!
Other Recipes You May Enjoy
Chicken & Bacon Pasta Bake
2015-01-23 10:39:17
Ingredients
1 box of penned pasta, cooked and drained
1 Precooked Rotisserie Chicken, cubed
1/2 lb. bacon, cooked and crumbled
2 cans of cream of chicken soup
1 1/2 teaspoons garlic powder
1/4 cup Parmesan cheese
1 cup shredded Mozzarella cheese
1 cup shredded Monterrey Jack cheese
salt and pepper to taste
parsley for garnish
Instructions
Preheat oven to 400.
Spray 9 x 13 casserole dish with non-stick cooking spray.
In a small bowl, blend the cream of chicken soup with 1 cup of water.
Combine cubed chicken, crumbled bacon, garlic powder, soup mixture, salt, pepper, and pasta.
Pour into the prepared casserole dish.
Bake for about 10 minutes, then sprinkle with cheese.
Bake for another 10 minutes or until cheese is melted.
Garnish with parsley and let stand for just a few minutes before serving.
Written Reality http://writtenreality.com/