Surprise your family with this easy skillet apple pie recipe. It's baked in a cast iron skillet and covered in a sweet and flaky sugar and cinnamon crust.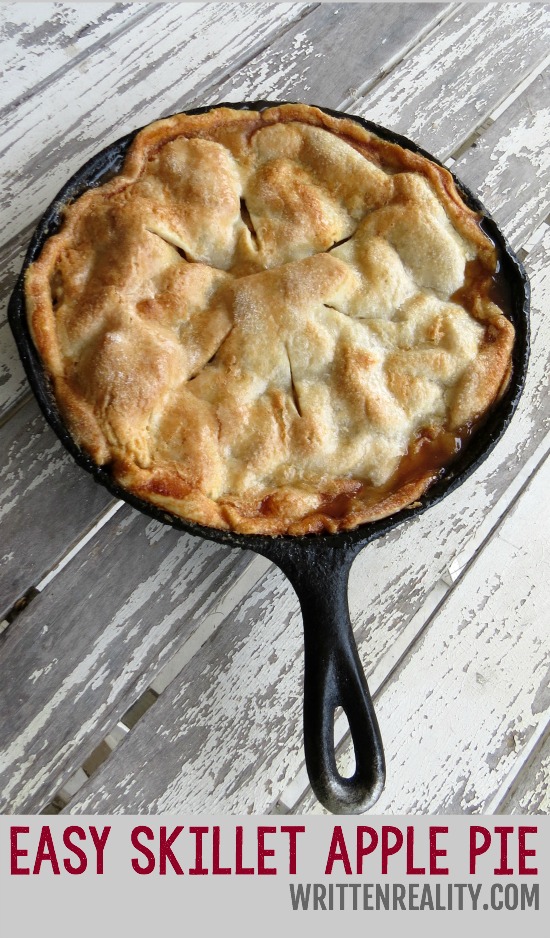 Apple desserts are my all-time favorite.Whether baked in a pie dish, wrapped in a tart, or deep fried into rings, I love a freshly chopped apple sprinkled with cinnamon and buried in a flaky crust.
That's why this dessert is a home run at our house. It's piled high with fresh apples and baked in a cast iron skillet to create a perfect pastry that's baked to a beautiful golden brown.
I love this pie for two reasons:
1. It's filled with apples.
2. It's baked in a cast iron skillet.
With that, this skillet apple pie recipe sings my sweet comfort story. And along with its magical mix of cinnamon and brown sugar, it's a go-to dessert in the Smith House and an all-time favorite to enjoy every fall.
Well, not just fall for us. 'Cause we like it with a little vanilla ice cream all year long.

I'm not sure why, but for me, apple desserts remind me of home cooking and comfort. And if there's a choice between an apple pastry or some other dessert, I'm choosing the pastry. So I've created plenty of apple tarts and fried pies at the Smith House. But I must admit this Skillet Apple Pie deserves the blue ribbon over them all.
Easy Skillet Apple Pie Recipe
Thankfully, it's a super easy recipe.By using a refrigerated pie crust, you basically chop up the apples and throw it all in the pan. It can't get much easier. And the wonderful mix of Braeburn and Granny Smith apples creates the perfect bite.
Hungry, yet? Here's how I like to make mine.
Ingredients
2 lbs. Granny Smith apples, peeled and chopped
2 lbs. Braeburn apples, peeled and chopped
3/4 cup granulated sugar
1 tsp. ground cinnamon
1 stick butter
1 cup light brown sugar
1 package of refrigerated pie crusts
1 egg white
2 Tablespoons granulated sugar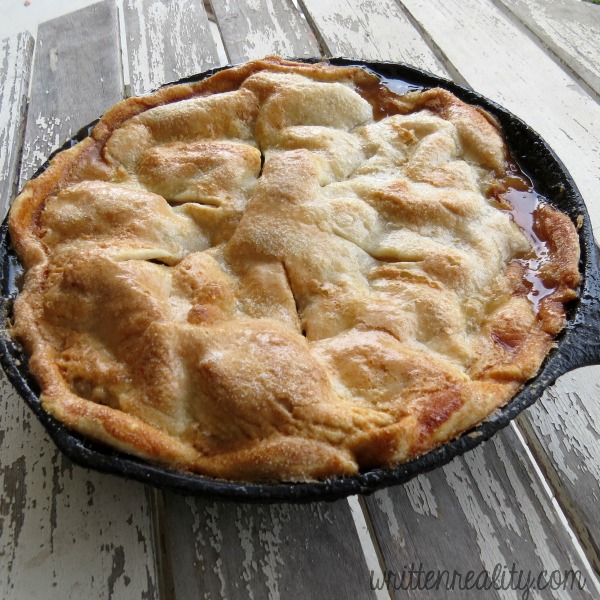 Directions
Preheat oven to 350 degrees.
Toss chopped apples in 3/4 cup of granulated sugar and cinnamon.
Melt butter in skillet then add brown sugar.
Allow brown sugar to heat until dissolved.
Remove the skillet from the heat and place one of the pie crust in the bottom of the pan.
Add apple mixture then top with remaining pie crust.
Whisk the egg white to a foamy consistency and brush across the top of the crust.
Sprinkle the remaining granulated sugar across the entire pie.
Make sure to cut a few slits in the top for steam to escape.
Bake for about an hour or until the crust is a golden brown.
Here's an easy skillet apple pie recipe you'll love! Click To Tweet
Other Recipes You May Enjoy: