This post may contain affiliate links. Please see my full disclosure policy for details.
Are you feeling discouraged? Or do you know someone who needs encouragement? These 10 bible verses on hope are great to memorize and share with others. Here's God's reminder of the hope He gives.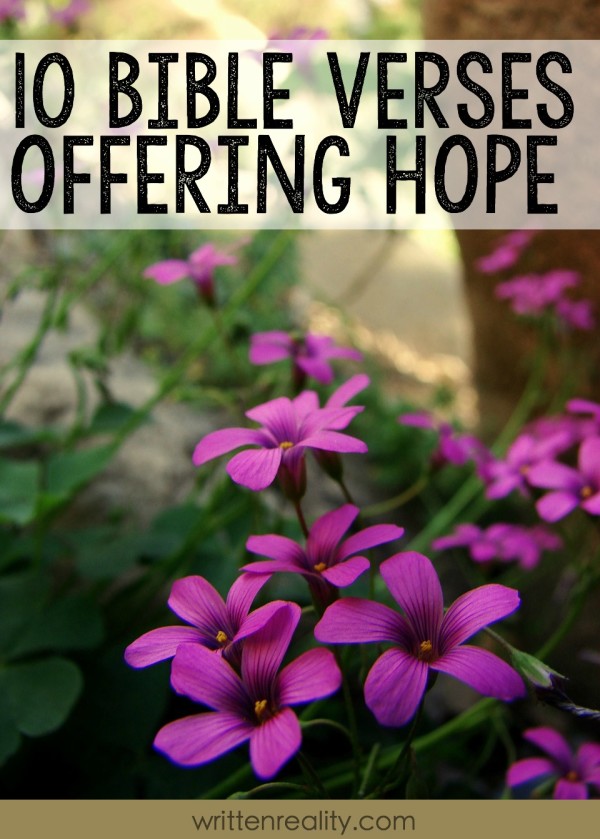 Bible Verses About Hope
Ever feel desperate?
or depressed?
or frightened by your feelings of hopelessness?
It's easy for us to fall prey to our stressful situations. Painful experiences can cripple our progress. Fears can fuzzy our focus where we fall off track.
In times when hope seems fleeting, look to God who offers Himself as the Source of all the hope you need.
10 Bible Verses Offering the Hope You're Needing
#1 Hope in His Peace
For in the time of trouble He shall hide me in His pavilion; In the secret place of His tabernacle He shall hide me; He shall set me high upon a rock. Psalm 27:5
#2 Hope in His Presence
The Lord your God in your midst, The Mighty One, will save; He will rejoice over you with gladness, He will quiet you with His love, He will rejoice over you with singing. Zephaniah 3:17
#3 Hope in His Plans
For I know the thoughts that I think toward you, says the Lord, thoughts of peace and not of evil, to give you a future and a hope. Jeremiah 29:11
#4 Hope in His Wisdom
So shall the knowledge of wisdom be to your soul; If you have found it, there is a prospect, And your hope will not be cut off. Proverbs 24:14
#5 Hope in His Goodness
The wicked is banished in his wickedness, But the righteous has a refuge in his death. Proverbs 14:32
#6 Hope in His Resurrection
Blessed be the God and Father of our Lord Jesus Christ, who according to His abundant mercy has begotten us again to a living hope through the resurrection of Jesus Christ from the dead 1 Peter 1:3
#7 Hope in His Grace
Therefore gird up the loins of your mind, be sober, and rest your hope fully upon the grace that is to be brought to you at the revelation of Jesus Christ 1 Peter 1:13
#8 Hope in His Eternity
that having been justified by His grace we should become heirs according to the hope of eternal life Titus 3:7
#9 Hope in His Promises
God is not a man, that He should lie, Nor a son of man, that He should repent. Has He said, and will He not do? Or has He spoken, and will He not make it good? Numbers 23:19
#10 Hope in God
who through Him believe in God, who raised Him from the dead and gave Him glory, so that your faith and hope are in God 1Peter 1:21
10 Bible Verses about Hope Click To Tweet
Other Topics You May Enjoy