This post may contain affiliate links. Please see my full disclosure policy for details.
Need a fun way to freshen your spring or summer wardrobe? Then check out today's Mom Style Fashion Friday featuring espadrilles you are sure to love.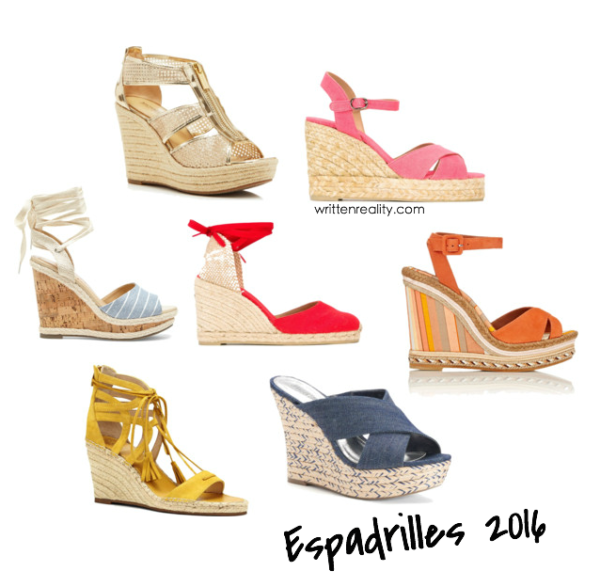 Here's a confession. So I'm in love with espadrilles. It's a problem. Now I love all sorts of shoes. I love a great pump or regular sandal. And let's not forget my favorite run-around-town shoe, my all-time comfy red pair of converse sneakers.
But a great pair of espadrilles gets me pumped for spring and summer. I love the jute roping look on the bottom. And, for me, I love the high-heeled versions because they ten to dress up the outfit, no matter what the look.
Through the years, the ones I've purchased are all super comfortable and they come in some really great colors and super awesome styles. The only problem I have is that I tend to fall in love with a pair and then wear them way too much until I need a new pair. That's why, when I do find a pair I love, I need to buy a couple of different colors or patterns and rotate them. Espadrilles are easily paired with all sorts of outfits, so experiment with different things you already have in your closet. You'll be surprised how a great pair of espadrilles can really change the look.
So for today's Mom Style Fashion Friday, I'm featuring the wonderful world of espadrilles. I hope you'll find your new favorite pair to enjoy this summer, too. Here are just a few I'm highlighting this week for Spring and Summer of 2016:

These Valention Native Couture 1975 Espadrille Wedge Sandals come in this beautiful melon sorbet stripe that I am loving. If you look closely, you'll also notice a woven jute rope band around the bottom that gives it a nice detail, too.
These Castañer 'Blaudell' wedge espadrilles come in a coral pink cotton. It's a great shoe to add just a pop of color to any outfit this summer or spring.
Who wouldn't want a cool pair of suede espadrilles, seriously? These lace ups in yellow suede are gorgeous!
I love red everything and these Castañer 'Carina' wedge espadrilles come in the most beautiful bold red I've ever seen on a shoe. I can see this shoe paired with all sorts of wonderful dresses and shorts this summer.
These Michael Kors Glitter Metallic sandals are gorgeous! I love the neutral color with all that bling.
Jennifer Lopez Wedge sandals will go with just about anything you have planned to wear this summer.
These Sena Espadrille Wedge sandals in chambray just look like summer. I love the ankle wrap strap that would look great with a sundress, and the light, airy feeling the stripe gives, too.
Other Fashion Friday Favorites